Japan, U.S. Defense Ministers Reaffirm Cooperation Against Possible 2nd Launch by North Korea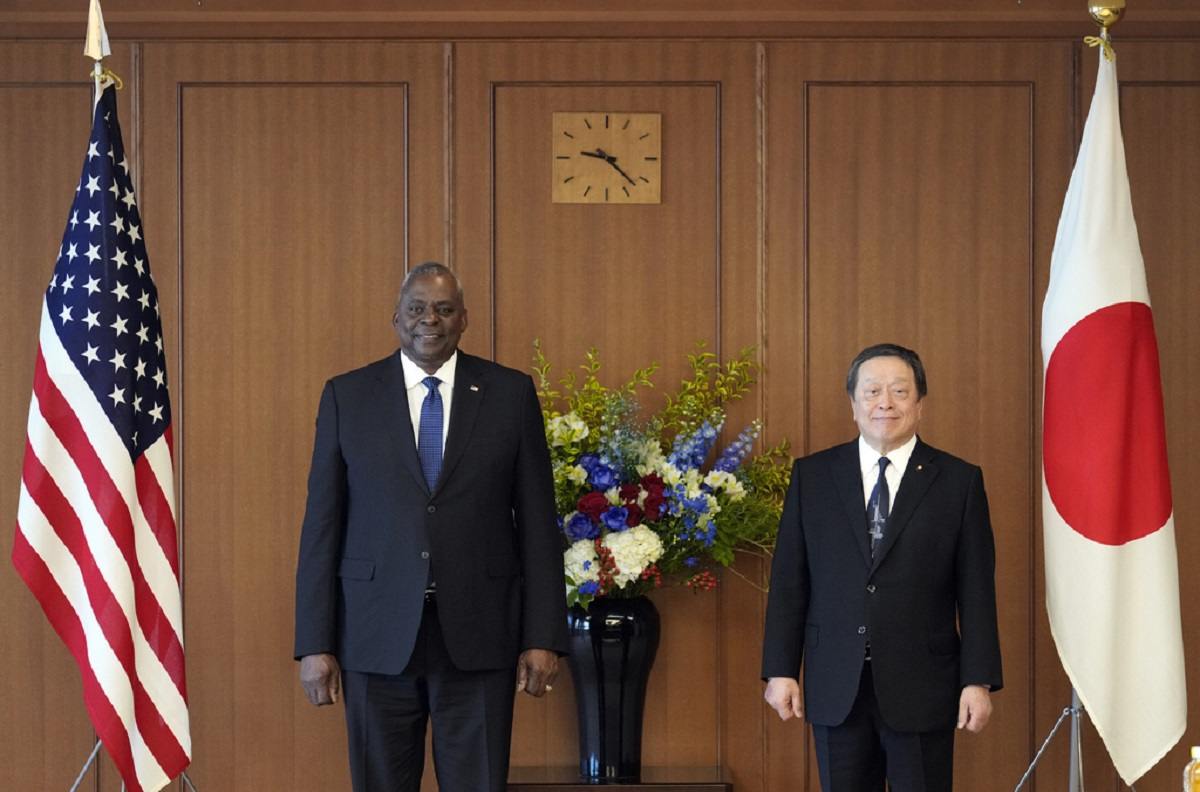 17:19 JST, June 1, 2023
Japan's Defense Minister Yasukazu Hamada and U.S. Secretary of Defense Lloyd Austin confirmed Thursday that their two countries and South Korea would cooperate against the next launch of a purported military reconnaissance satellite, which North Korea has preannounced.
During their meeting at the Defense Ministry in Tokyo, the two leaders also agreed to strengthen the deterrence and response capabilities of the Japan-U.S. alliance with China in mind.
At the beginning of their meeting, Hamada said he "strongly condemns" Wednesday's "satellite" launch, which ended in failure.
North Korea vowed to conduct a second launch soon.
Hamada said at a press conference after the meeting, "We confirmed to further work closely between Japan and the United States, and Japan, the United States and the Republic of Korea, so that we can rapidly act in a concerted manner against North Korea's provocative actions."
He also pointed out the importance of extended deterrence, including the U.S. nuclear umbrella.
Austin said, "As we face these shared challenges, I am here to reaffirm America's unwavering commitment to Japan."
North Korea's "satellite" launches utilize technology that is applicable to ballistic missile development, and Tokyo and Washington are wary of Pyongyang's growing nuclear and missile capabilities.
In preparation for missile launches, radar systems of Japan and South Korea are expected to be linked via the United States to quickly share missile-related information. Japan, the United States and South Korea plan to hold a trilateral defense ministerial meeting in conjunction with the Asia Security Summit, or the IISS Shangri-La Dialogue, in Singapore from Friday to Sunday. Austin said that there has been important progress in cooperation among the three countries.
Hamada and Austin also discussed measures against China's growing military power.
"We are deeply concerned by [China's] coercive behavior and its attempts to undermine the rules-based international order," Austin told reporters.
As for Japan's decision to acquire self-defense capabilities to attack missile launching bases and other targets, the U.S. secretary of defense said, "I strongly support Japan's updated national security policies, including your decision to increase defense spending and to acquire counterstrike capabilities."
During Thursday's meeting, they also exchanged views on the division of their roles in a contingency.
Austin said, "We continue to strengthen our interoperability through training and exercises."
Add TheJapanNews to your Google News feed.