Japan, ROK Eye Radar Link with U.S. to Detect N. Korean Missiles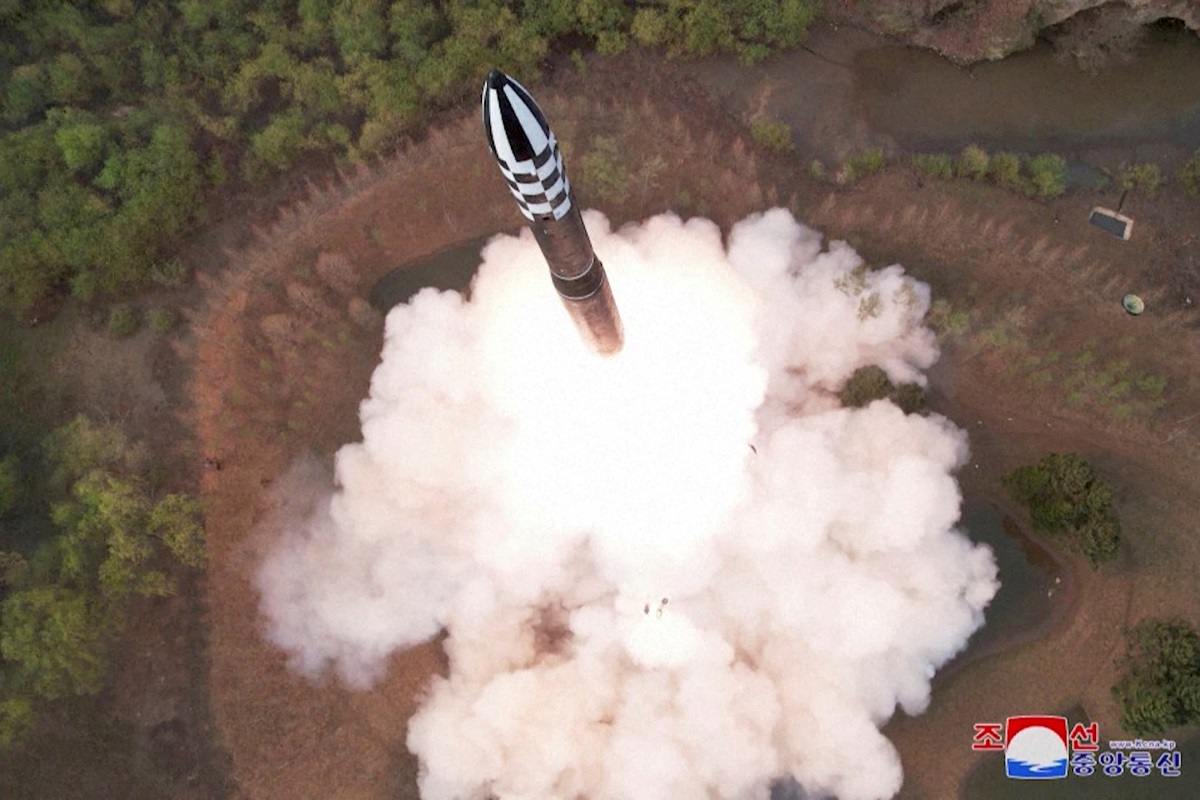 17:48 JST, May 9, 2023
Japan, South Korea and the United States plan to link the radar systems of Tokyo and Seoul via Washington to detect, track and instantly share information on North Korean ballistic missiles, The Yomiuri Shimbun has learned.
The three nations intend to reach a basic agreement at a defense ministers' meeting in Singapore scheduled for early June, according to sources in the three governments.
The countries are aiming for a swift implementation of the new data-sharing framework, which is expected to strengthen Japan's response capabilities.
At a November summit in Phnom Penh, the leaders of Japan, South Korea and the United States said they intend to "share DPRK missile warning data in real time," and launched discussions on specific measures for that purpose.
An agreement on the radar link is expected to be reached, amid improved Japan-South Korea relations and tailwinds from Prime Minister Fumio Kishida's two-day visit to South Korea through Monday.
The three countries intend to affirm coordination on the matter at the Group of Seven summit in Hiroshima City on May 19-21.
There is currently a command and control system of radar and other equipment used by the Self-Defense Forces and U.S. forces based in Japan, and another used by the South Korean military and U.S. forces in South Korea.
The three countries are considering linking the two command and control systems through the U.S. Indo-Pacific Command headquartered in Hawaii to facilitate the swift sharing of information.
As it would be difficult to directly link the systems of Japan and South Korea, which are not allies, linking their systems via the United States, an ally of both nations, was considered to be the most appropriate solution.
The Trilateral Information Sharing Agreement concluded by defense authorities of the three nations in 2014 is expected to be utilized for the purpose.
If the new radar-sharing system is realized, Japan and South Korea will be able to instantly share intelligence on missiles detected and tracked by the radar of Aegis-equipped destroyers and ground-level radar, which should enhance their response capabilities and deterrence against North Korea.
The success of Japan's ballistic missile defense and J-Alert nationwide early warning system is dependent on how fast it can detect and track North Korean missiles, but there is a limit to what Japan can achieve alone.
When North Korea launched its new Hwasong-18 intercontinental ballistic missile on April 13, Japanese radar data made part of the missile appear as if it was another missile and the Japanese government issued a J-Alert because of a mistaken prediction that it would fall in the proximity of Hokkaido.
If Japan could receive information instantaneously from the South Korean military's radar, which can more swiftly detect missiles because of South Korea's proximity to North Korea, it is expected to improve the accuracy of Japan's interception system and J-Alert warnings.
As Japan, South Korea and the United States have different opinions regarding the level of sensitive radar information that will be shared, they plan to expedite working-level negotiations about such issues as the extent of links in their systems.
Although Japan and South Korea currently share North Korean-related information based on the General Security of Military Information Agreement, it is limited to the exchange of information after incidents.
Add TheJapanNews to your Google News feed.