Japanese prime minister eyes action plan to promote rule-based international order in Indo-Pacific region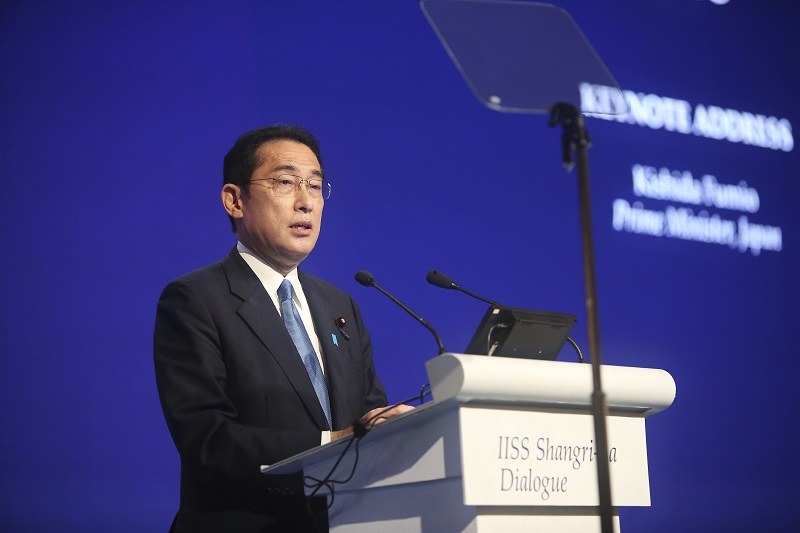 17:13 JST, June 11, 2022
SINGAPORE — Prime Minister Fumio Kishida emphasized the importance of enhancing rule-based international order during a keynote speech Friday that opened the three-day Shangri-La Dialogue security summit in Singapore.
In the address, Kishida expressed his intention to develop by next spring an action plan to promote a Japan-led "free and open Indo-Pacific."
He also outlined steps to provide in the next three years a minimum of about $2 billion in aid to Indo-Pacific countries — including those of the Association of Southeast Asian Nations — for maritime security equipment such as patrol vessels, and the development of maritime transportation infrastructure.
Kishida's speech was the first keynote address by a Japanese prime minister in eight years.
Referring to Russia's invasion of Ukraine, Kishida said, "No country or region in the world can shrug this off as 'someone else's problem.'"
With China in mind, the prime minister touched on ongoing attempts to change by force the status quo in the South China Sea and East China Sea, saying, "Confidence in the universal rules that govern international relations is being shaken."
The prime minister also announced the "Kishida Vison for Peace" and the role that Japan should play. The five-pillar vision calls for: maintaining and strengthening the rule-based international order; enhancing Japan's defense capabilities in tandem with reinforcing the Japan-U.S. alliance and strengthening security cooperation with other like-minded countries; promoting realistic efforts to bring about a world without nuclear weapons; strengthening the functions of the United Nations; and strengthening international cooperation in new policy areas such as economic security.
Kishida also spoke on the issue of peace and stability in the Taiwan Strait, expressing his determination to fundamentally reinforce Japan's defense capabilities within the next five years and secure a "substantial increase" in the nation's defense budget.
On the issue of denuclearization, he said, "Mindful of the non-transparent manner in which some countries have been increasing their nuclear capabilities, we call for all nuclear-weapon states to disclose information regarding their nuclear forces."
Kishida also said he intended to encourage the United States and China to engage in bilateral dialogue on nuclear disarmament and arms control.
The Shangri-La Dialogue summit — also known as the IISS Asia Security Summit — allows Asian and Western officials involved in national defense to discuss regional security. The event is organized by the International Institute for Strategic Studies in the United Kingdom. This is the first summit to be held in three years due to the novel coronavirus pandemic.