Kishida boosts security ties across Asia, Europe on recent trip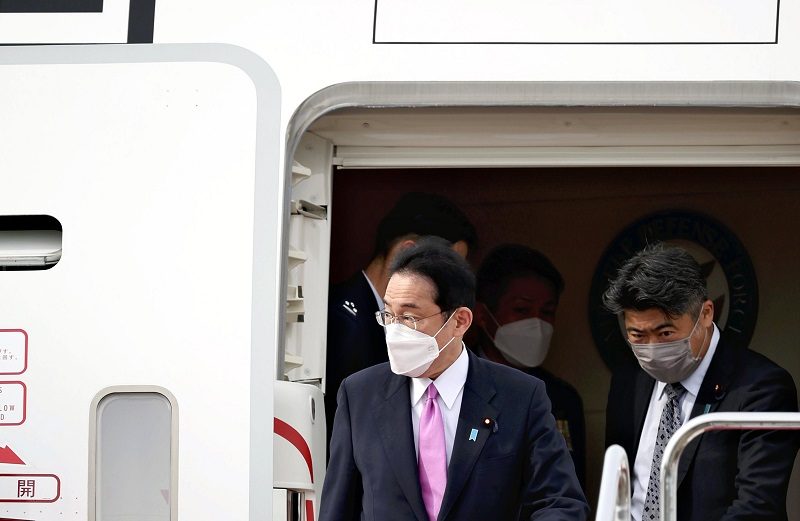 14:02 JST, May 7, 2022
During his latest trip abroad, Prime Minister Fumio Kishida achieved solid results in obtaining from Southeast Asian countries humanitarian support for Ukraine, despite differences in the degree of enthusiasm between those countries and Japan, while also confirming bilateral security cooperation with them, as well as with European countries.
Kishida returned to Japan on Friday from visits to the Southeast Asian countries of Indonesia, Vietnam and Thailand, and the European states of Vatican City, Italy and Britain.
At a press conference in London late Thursday night, just before flying back to Japan, Kishida emphasized, "With the international community at a major historical crossroads, I visited six countries in Southeast Asia and Europe for the purpose of protecting peace, and achieved solid results."
Kishida had chosen these countries for his latest trip abroad, chiefly to achieve unity with them in dealing with Russia and China, both of which aim to unilaterally change the status quo by force, the former in Europe and the latter in the Indo-Pacific region.
During the summit and other talks, leaders of the Southeast Asian countries took conspicuously neutral attitudes toward Russia, such as by refraining from criticizing Russia by name.
Even so, during a summit with Indonesian President Joko Widodo, Kishida confirmed a concerted effort to bring Russia's use of force in Ukraine to an immediate stop. The two countries also agreed to start a study that will enable Japan to provide Indonesia with patrol vessels.
Also, during his talks with Kishida, Vietnamese Prime Minister Pham Minh Chinh, whose country has historically strong ties with Russia, clearly stated that Vietnam was extending humanitarian assistance of $500,000 (about ¥65 million) to Ukraine. The two countries also agreed that Japan's Self-Defense Forces will extend within this year their assistance to the Vietnamese military in building up its cybersecurity capability.
During a summit between Kishida and Thai Prime Minister Prayuth Chan-o-cha, the two countries signed an agreement enabling the mutual transfer of defense equipment and technology.
Thus, Japan has deepened its defense cooperation with the three Southeast Asian countries.
A senior Foreign Ministry official explained, "Japan aims to keep China from taking advantage of the turmoil in Ukraine to attempt to increase its influence in Southeast Asia."
During his visits to European countries, Kishida renewed his call for their involvement in the Indo-Pacific region at a time when European attention has shifted to the threat posed by Russia.
During Kishida's talks with British Prime Minister Boris Johnson, the two agreed that they would not accept any unilateral change to the status quo by force, anywhere in the world.
Later this month, U.S. President Joe Biden is scheduled to visit Japan. Kishida intends to get what he calls a "realism diplomacy for a new era" into full swing, in light of his achievements during his visits to these countries.
Add TheJapanNews to your Google News feed.