Broad agreement on defense pact shows deepening of Japan-U.K. security ties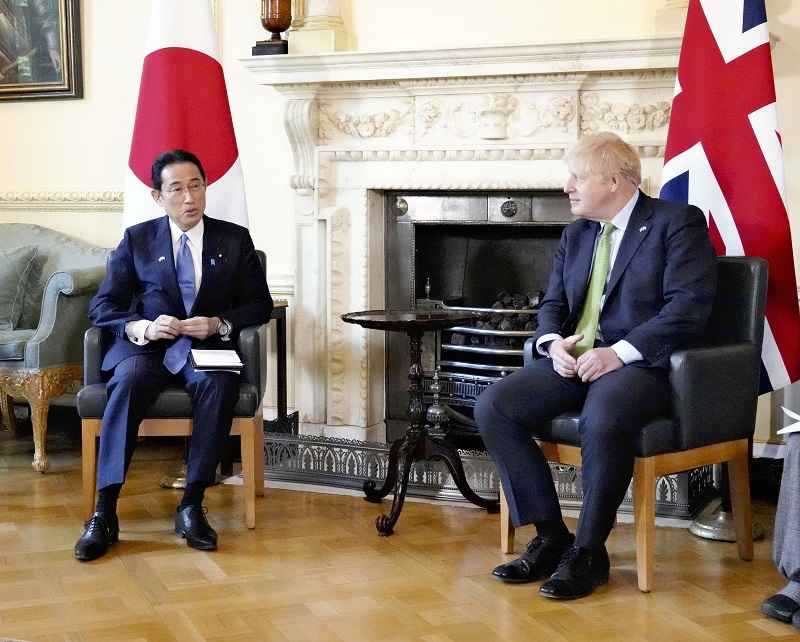 21:00 JST, May 6, 2022
The government views a broad agreement on the Reciprocal Access Agreement (RAA), which will set a legal framework for activities of the Self-Defense Forces and British military personnel in one another's countries, as a symbol of deeper security cooperation between Japan and Britain.
Having shared concerns over China's attempts to unilaterally change the status quo in the East China Sea and South China Sea, the two countries intend to strengthen bilateral cooperation in the Indo-Pacific region.
The Japanese government has regarded Britain, which is an ally of the United States, as its "quasi-ally," according to a senior Foreign Ministry official. Since 2015, Japan and Britain have held four two-plus-two meetings of their foreign and defense ministers, and the SDF and the British military have conducted joint exercises. Last September, Britain's state-of-the-art Queen Elizabeth aircraft carrier made its first port call in Japan.
The two countries have also advanced their cooperation on the development of a next-generation fighter jet, which will succeed the Air Self-Defense Force's F-2 fighters. At a summit on Thursday, Prime Minister Fumio Kishida and his British counterpart Boris Johnson confirmed that the two countries would reach an agreement on an overall picture of cooperation on the fighter development by the end of this year.
The Japanese government seeks to reinforce security cooperation with Britain as the security environment has become increasingly severe due to China's maritime expansion and North Korea's nuclear and missile development. The government aims to enhance deterrence by deepening security ties with Britain, Australia and other countries, with the Japan-U.S. alliance at the core.
In 2017, the Japanese and British governments concluded the Acquisition and Cross-Servicing Agreement (ACSA), under which the two countries provide each other with food, fuel and other logistic support. To deepen the bilateral defense relationship, formal negotiations for the conclusion of the RAA began last autumn.
Unlike the Japan-U.S. Status of Forces Agreement, which is based on the assumption that U.S. forces will stay in Japan for long periods of time, the RAA is applied on an equal basis in both countries. The RAA is intended to waive immigration and other procedures and simplify procedures to transport arms and ammunition when relevant personnel temporarily stay in one another's countries for joint training or other purposes.
Currently, Australia is the only country with which Japan has concluded an RAA. Negotiations to conclude the pact with Australia took more than seven years, partly due to concerns raised by the Australian side about Japan's death penalty system. Britain too reportedly has concerns about Japan's death penalty. However, because the RAA between Japan and Australia is expected to serve as a precedent, a senior Foreign Ministry official said, "Things might go relatively smoothly for the conclusion of an RAA between Japan and Britain."
Add TheJapanNews to your Google News feed.