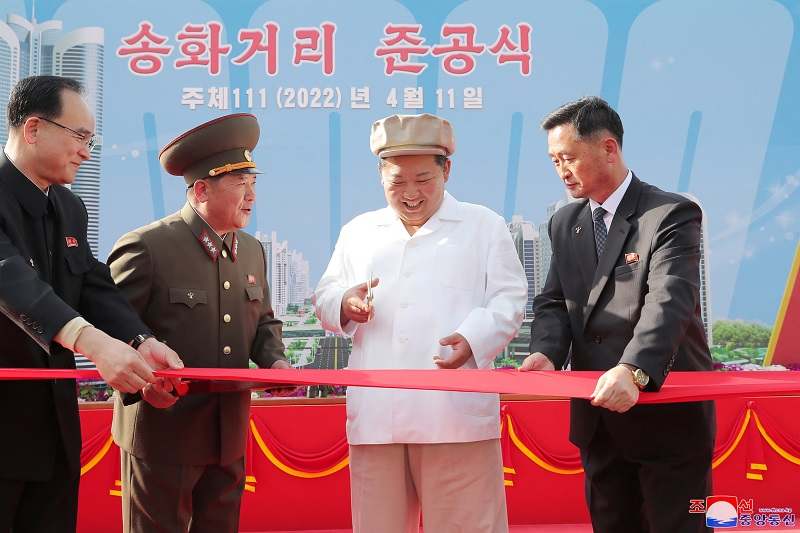 17:33 JST, April 15, 2022
The government has been on high alert this week for military provocations from Pyongyang, as North Korean leader Kim Jong Un marked 10 years at the helm of the ruling Workers' Party on Monday, and 110 years since the birth of his grandfather Kim Il Sung on Friday.
The United States and South Korea have also expressed concerns that the isolated nation could carry out more military provocations, such as a missile launch or nuclear test.
At a press conference on Thursday, Chief Cabinet Secretary Hirokazu Matsuno said: "North Korea has turned its back on the international community and remains determined to continue its nuclear and ballistic missile development programs. It is possible that [North Korea] will make further provocations."
If North Korea conducts a nuclear test, some Japanese government officials have proposed countermeasures to step up pressure on Pyongyang, such as freezing the assets of more entities, including Russian firms and individuals involved in nuclear development, in line with the United States.
Takehiro Funakoshi, the director general of the Foreign Ministry's Asian and Oceanian Affairs Bureau, had phone talks with the U.S. special envoy for North Korean affairs Sung Kim on Thursday, reaffirming that Japan and the United States will work together toward the complete denuclearization of North Korea and also cooperate in a trilateral framework with South Korea.
It is believed that North Korea aims to enhance its nuclear arsenal and increase the number of warheads it possesses to make it more difficult for its missiles to be intercepted. Such capabilities would "dramatically increase the threat level," a senior official of Japan's Defense Ministry said.
During U.S. President Joe Biden's planned visit to Japan in May, the Japanese government is expected to reaffirm the continuation of U.S. deterrence, including its nuclear umbrella.
Japan is also working on strengthening the nation's deterrence by acquiring capabilities to attack enemy bases such as missile launch sites for self-defense purposes.
Regarding the definition of enemy bases, the Liberal Democratic Party's Research Commission on Security is mulling the inclusion of military facilities with command functions, such as headquarters, as North Korea is enhancing capabilities for launching surprise attacks with equipment such as mobile launchers.
The LDP commission plans to discuss specific equipment systems, such as long-range missiles, in conjunction with the revision of three security and defense policy documents, including the National Security Strategy, which are scheduled to be finalized by the end of the year.
Add TheJapanNews to your Google News feed.