12:56 JST, February 17, 2022
Coming from a country with seasons that she describes as "hot, hot and hot," it's not surprising that Jamaican Ambassador Shorna-Kay Richards finds the changing seasons in Japan one of the cool things about the country.
"The seasons are so defined in Japan," Richards said in a recent interview at the embassy in Minato Ward, Tokyo.
Richards, an avid gardener, sees flowers and plants changing with the seasons as a metaphor for life, a sort of "rebirth" which inspires her to overcome challenges in her own life.
"The connection with nature is very important," Richards said. "To see those little blossoms and then some of their leaves, and everything is green again. That's so powerful.
"And that has so much meaning not just for nature but for your own life, for yourself. You know you might have challenges and difficulties, but you can come back."
Connecting the dots
Come back is literally what Richards did when it comes to Japan.
Richards made her first trip to Japan in 2005, when she was working in the Foreign Affairs and Foreign Trade Ministry and took part in a United Nations fellowship program that took her to several countries to talk about international security and disarmament.
She visited Hiroshima and Nagasaki, which she calls a defining moment of her career.
Richards was among 30 junior diplomats who met atomic bomb survivors known as hibakusha and listened to their stories. At the end of the program, she was asked to give remarks at a reception, where she said: "If I ever go to the United Nations to work, I will take their appeal of 'Never again.'"
Eight years later, she found herself in New York as Jamaica's deputy permanent representative to the U.N., working on nuclear disarmament and international security.
She said she never imagined that 15 years after making that promise to the hibakusha, she would be back in Japan, this time as an ambassador.
"I feel like I have come full circle," she said. "I feel like there was an invisible hand connecting the dots."
Her mission this time is different: To enhance relations between the two countries.
"I feel privileged that my first ambassador assignment was to a major country like Japan, which is of course, the third largest economy in the world," she said.
She hopes to facilitate cooperation under a "trustworthy partnership" that helps her developing country. Jamaica is currently seeking support for the development of a smart city in its Special Economic Zone.
As ambassador to Japan, Richards also serves as the non-resident envoy to six other countries — Australia, Indonesia, Malaysia, New Zealand and the Philippines.
Asked how her Jamaican background helps in her job, Richards replied, "In Jamaica we have a saying, 'Wi likkle but wi tallawah' [which in the local dialect means, 'we're a small nation, but we're strong-willed, determined and fearless']. Even though we don't have a lot of resources, we find a way to make things happen.
"That takes energy, private commitment. And I'm very much committed to public service and to my country, serving Jamaica at the very best in international relations and diplomacy."
The J-J garden
Her commitment to Jamaica-Japan relations is on full display at her residence, where she tends to what she calls the "J-J Partnership Garden."
"I have some Japanese style and Jamaican style, so I have more hot colors," she said. "But the only difference for me now is I want to learn how to garden in winter because in Jamaica, we don't have winter."
Richards, whose father was a gardener who hosted several gardening events, grows tiger grasses, ferns, mosses and colorful Bougainvillea. She recently planted tulips, pansy and begonia.
When she first arrived in Japan, she had a gardening-loving chauffeur who took her to a garden center, where she said she was overwhelmed by the various kinds of plants.
"You can get so many different varieties from around the world here. Ahh … I could go bankrupt," she said with a laugh.
Richards calls her garden a "fusion."
"I believe that I'm a person who has been enriched by different cultures, experiences, and I tried to take that and find harmony within that," she said. "Here in Japan, I have Japanese sensibilities in terms of the garden, but I introduced some Caribbean, tropical elements. They work together to find a unified and harmonized way to exist together."
She applies this attitude in her approach to diplomacy.
"[In the] J-J partnership, I have my Jamaican self and I'm learning so many things from the Japanese side that enrich my personality, my government and my work."
---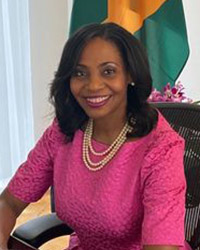 Shorna-Kay Richards / Jamaican ambassador to Japan
Born in 1972, Richards earned a bachelor of arts degree from the University of the West Indies in Jamaica and a master's degree in international policy and practice at George Washington University in the United States. She joined the Foreign Affairs and Foreign Trade Ministry in 1994 and served as minister-counsellor of the Jamaican High Commission in South Africa from 2009 to 2012. From 2012 to 2016, she worked on international security and disarmament as deputy permanent representative to the United Nations, then returned to the ministry to work in the bilateral relations department. She assumed her current post in 2020. In addition to gardening, she lists her interests as art, literature, music and gastronomy.
---
Add TheJapanNews to your Google News feed.