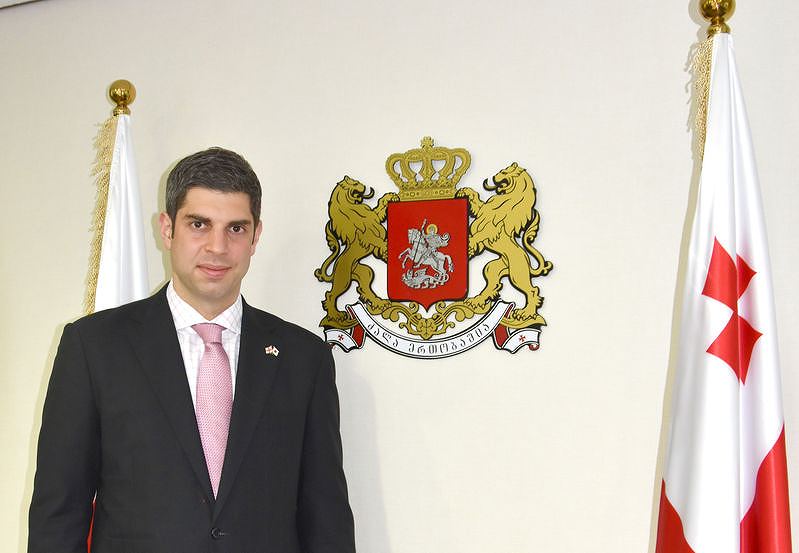 12:56 JST, November 28, 2021
Teimuraz Lezhava believes his home country of Georgia and Japan, the country he has called home for more than half his life, have good chemistry. Given the startling similarities, that's not too surprising.
"Georgia and Japan have much in common in terms of culture, tradition and cuisine," Lezhava, who currently serves as the Georgian ambassador to Japan, said in fluent Japanese.
Georgia is increasingly achieving a visible presence in Japan. Georgian wines are often featured in the media and are appearing on more shop shelves, and a major restaurant chain started a trend by including the traditional Georgian dish "Shkmeruli" — chicken cooked in milk and garlic sauce — on its special menu.
The dish's popularity spread quickly, with convenience and grocery stores stocking it as a precooked item, and even a Shkmeruli-flavored instant ramen has appeared.
Teimuraz Lezhava, Georgian ambassador to Japan, holds a Georgian wine in front of a qvevri, an egg-shaped clay pot used to make wine, at the Georgian Embassy in Tokyo.
"Before the coronavirus pandemic, the number of Japanese travelers to Georgia had been on the rise," Lezhava said in a recent interview with The Japan News. "The two countries have good chemistry in the first place and potential in developing good ties. That has just taken shape now."
In 2013, washoku was added to UNESCO's Intangible Cultural Heritage list; coincidentally, also added that year was the traditional Georgian wine-making method of Qvevri that dates back to 8,000 years. Like the Japanese, Georgians value hospitality, giving guests a warm reception of food and drink.
Georgia also has a martial arts culture, producing world-class athletes in sports such as judo and wrestling. The country even had its own sumo star, with Tochinoshin in 2018 becoming the first Georgian-born rikishi to capture an Emperor's Cup.
The more people in Japan hear about Georgia, the more interest grows in the country located at the crossroads of Asia and Europe.
Born in Tbilisi, the 33-year-old Lezhava has a long connection with Japan, having spent more than 20 years of his life here. He first came at age 4 in 1992, the year the two countries established diplomatic relations. Georgia declared independence in 1991 following the breakup of the Soviet Union. The family lived in Hiroshima Prefecture, where his father studied fermentation at Hiroshima University.
Lezhava likes to call himself a "Hiroshimajin" (a native of Hiroshima), and immediately replies, "Of course" when asked if the Hiroshima Carp is his favorite baseball team. He then adds, "I support Sanfrecce Hiroshima, too," referring to the J.League soccer team.
"I think my Japanese roots are in Hiroshima. I've received so much from the people there, so I feel close to Hiroshima," he said, recalling that a close friend of the family bought him a randoseru, the Japanese-style school backpack for elementary students, as his parents could not afford one.
His school years were marked by constant relocation, chiefly because his father's studies and research jobs took him back and forth between Japan and both the United States and Canada. That led him as a high schooler to ask himself, "Who am I?"
To look for the answer, he spent a year in Georgia, exposing himself to the culture, art and traditions and interacting with the people of his homeland. That experience confirmed his identity as a Georgian, and he returned to Japan with a new perspective.
"I was always aware I'm different. I don't look like a Japanese, so I stood out. I came to think about how I can use standing out from others to my advantage," he recalled.
Lezhava attended Waseda University's School of International Liberal Studies and, after graduating in 2011, landed a job with major soy sauce maker Kikkoman Corp. as a sales and marketing representative. "I'm interested in cuisine," he said. "Having lived in various places, I've seen a wide variety of food culture and eating habits. That has piqued my interest in food."
After working at Kikkoman for three years, Lezhava left to return again to Georgia, where he started a delivery business in 2017.
"I don't give much thought to my career in the future as things wouldn't go as planned anyway," he said.
A career as a diplomat was not something he planned, but the result of "a series of lucky coincidences," he said.
"After receiving an offer, I joined the Foreign Ministry, and then I was posted to Japan," Lezhava said. "I just went with the flow.
"I think everything that has happened is fateful. I left Japan over and over, but I've always come back. There must be something that pulls me here."
Taking advantage of his language skills, Lezhava actively posts information related to Georgia on Twitter in Japanese. His friendly and sometimes witty messages have attracted more than 50,000 followers.
Lezhava attended the Sokuirei-Seiden-no-Gi enthronement ceremony at the Imperial Palace in 2019 wearing a traditional Georgian outfit called a Chokha. Because it resembles a Jedi robe from the Star Wars movies, someone called him "Jedi Knight" in a tweet. Lezhava directly replied to it, and the tweet caused a buzz on the internet.
"I like people. I like to get people's feedback directly," he said. "Social media is an effective and good tool to get more people to know about my country."
As a diplomat, Lezhava said he wants to serve as a bridge between Japan and Georgia.
"I believe many values can be created through cultural exchanges," he said. "I want to create an environment where we won't miss any potential for that. I hope I can help build a foundation to facilitate communication between the two countries."
---
Teimuraz Lezhava
Georgian ambassador extraordinary and plenipotentiary to Japan
Born in Tbilisi in 1988, Lezhava spent much of his childhood overseas, living in Higashi-Hiroshima and Tsukuba in Japan as well as the U.S. state of Ohio. After graduating from Waseda University's School of International Liberal Studies in 2011, he worked at Kikkoman Corp. Returning to Georgia, he joined the Foreign Ministry in 2018 and became the charge d'affaires ad interim at the Georgian Embassy in Japan in August 2019. He assumed his current post this month. He likes reading and practicing yoga.
---
Add TheJapanNews to your Google News feed.