12:56 JST, June 19, 2021
"We have a community here that we want to make sure we maintain," said Anthony Cala, who manages Tokyo American Club, a private membership club established in 1928.
Nestled in the quiet neighborhood of Azabudai in Minato Ward, Tokyo, the current club facility, opened in 2011, features a rooftop swimming pool with a fantastic view of Tokyo Tower, American-style restaurants and a bar, a gym, a spa, a bowling alley, basketball and squash courts, meeting and event rooms, a library and a childcare center.
With fewer expats coming to Japan due to the novel coronavirus pandemic, the club now has a slightly smaller than usual membership of about 3,800, or about 11,000 people including family members.
"The club is a very family-oriented place. After school, a lot of kids come here to study, play basketball, swim or meet friends. They'll then meet up with Mom and Dad later on," Cala said with a smile.
Born in Tokyo to an American father and a Japanese mother, Cala was nurtured in this very community. "When we were growing up, this was the club that everybody came to. My first communion dinner was here, my high school prom was here," he recalled.
Cala was "exposed to club life" since he was about 6 years old, as his father, who came to Japan as a serviceman, retired in Tokyo and started working for clubs.
For a mixed-race child in 1960s postwar Japan, "there was some discrimination back then," Cala admits. But with the community that surrounded him, he "didn't feel out of place."
Cala attended St. Mary's International School, an all-boys Catholic school in Tokyo, for all 12 years from elementary school to high school. "I graduated in 1975, and we have a pretty good network for my class. There's about 15, 20 of us that have known each other since we were 6 years old," he said.
Now established in various fields, including finance, information technology, business, medicine and entertainment, the class of '75 still keeps in contact online and occasionally meets up for social events.
"For me, hospitality was my main area where I wanted to work in. You can have fun and get paid; that was my understanding," Cala said with a chuckle.
He spent his university years in California, but he has not lived outside of the Tokyo area since 1978, when he landed a job as a marketing specialist for a U.S. government contractor and came back to Japan, later switching to the hospitality and recreation industry. "For my profession, Tokyo is a great place to be. The food is fantastic, the people are fantastic, it's so clean, and compared to some of the other major cities, it's safe," he said.
In 2012, when he was considering retirement, he was asked if he would be interested in applying for the general manager position at Tokyo American Club.
The club had opened its current facility in January 2011. Just two months later, the Great East Japan Earthquake and the nuclear power plant accident in Fukushima Prefecture led to a sudden exodus of expats.
As businesspeople were returning to Japan in 2012, Cala took over the club management and brought the new facility into full operation, leading it to earn recognitions from private club leaders' organizations.
The club has been hit hard again, this time by the pandemic since last year. "It has been a challenge," said Cala. The club closed for the first state of emergency in April 2020 and went through meticulous restructuring. Now it is back in operation with more socially distanced seating arrangements and extensive sanitizing and ventilation systems in place. Many of the events have been modified, and committee meetings are held online.
"But there are some things that you know you can't do virtually. We're in the hospitality industry, so we have to be here," said Cala, who leads a staff of nearly 400 people of over 40 nationalities.
The club's members are even more international, drawn from over 60 countries. To become a member, an applicant needs to have a good command of English, go through a screening and interview with members, and pay an entrance fee of ¥1.5 million for foreign nationals or ¥3.5 million for Japanese. Half of the members are Japanese with some overseas experience.
"It's a unique club, very diverse. You learn about different cultures. They bond and blend together. It's almost like the United Nations here," Cala said.
"I'm in the people business. We provide food and we provide recreation, but our focus is on people, always."
---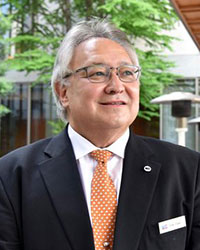 Anthony Cala
General Manager of Tokyo American Club
Cala is a Tokyo-born American citizen who has lived in the metropolis for most of his life. He worked at hospitality and recreation facilities, including the Tama Hills resort and golf course, for over 25 years prior to assuming his current role. He likes winter sports, starting to ski from the age of 10 or so and then learning snowboarding before it became popular in Japan. He played fast-pitch softball in a semipro league and traveled across Japan to play in championships. He loves both Italian and Japanese food as he grew up eating them. His Italian American father passed on family recipes to his Japanese mother. He loves going to different restaurants, both as a hobby and for inspiration for his work.
---
Add TheJapanNews to your Google News feed.