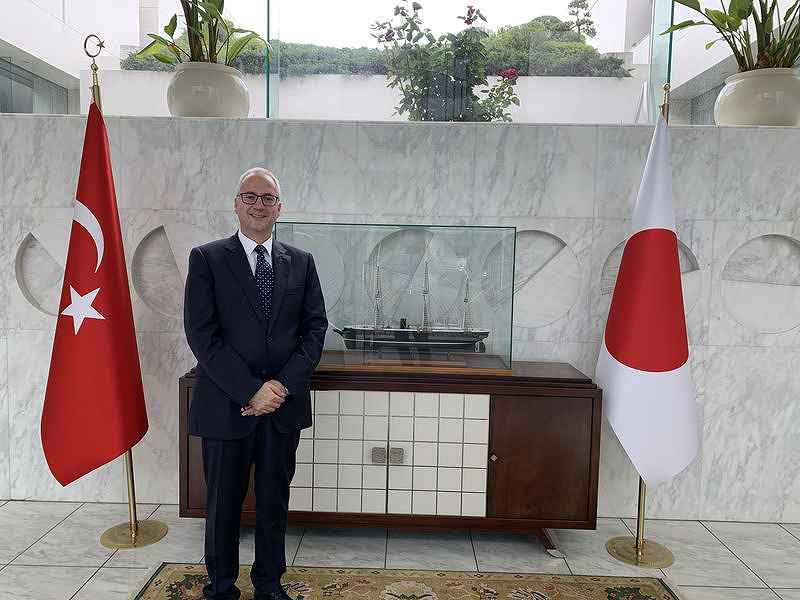 12:56 JST, June 5, 2021
Everything is new and interesting for Turkish Ambassador to Japan Korkut Gungen, who came to Japan for the first time in March.
Amid the spread of the novel coronavirus, the newly appointed ambassador experienced relatively few of the usual welcoming events at which he could mingle with people, including diplomats from other countries. Still, his curiosity lets him entertain himself by simply taking a walk, his favorite activity on weekends in the past few months.
"I am a long walker. I go out of the embassy and, for example, I walk around six hours," Gungen said in an office at the Turkish Embassy in the Jingumae district of Shibuya Ward, Tokyo, in May.
Gungen, who has an adult son and daughter outside Japan and awaits his wife moving to Japan, has learned how to use the capital's subways and trains, and has gone to "many, many different places in Tokyo," he said. He has been to temples, museums and many other points of interest. He has gone to Tokyo Tower and Tokyo Skytree, though he did not go up to the observation decks.
One attractive spot near the embassy is Takeshita-dori street near Harajuku Station, which would ordinarily be packed with people from across Japan and around the world who consider it a nerve center of youth fashion and culture. In these pandemic days, the uncrowded street that Gungen walked did not match the bustling Takeshita-dori image he has seen on video.
"But I still think sometimes less crowded is much better. There are many nice places, and when you have too [much] crowd, you are not able to see properly," said Gungen, who went through a two-week quarantine in early March. His remark highlights the benefit of avoiding the Three Cs — closed spaces, crowded places and close-contact settings — while out and about.
He enjoyed a visit to Sensoji temple in the Asakusa district in Tokyo's Taito Ward, where he could walk on a street lined with many small souvenir and food shops without heavy crowds.
Outside Tokyo, he had visited Kamakura, Yokohama and Yokosuka as of May 21.
One place he wants to go when the pandemic subsides is Kushimoto, Wakayama Prefecture, where there is a monument to the sailors of a navy ship of the Ottoman Empire that sank off the coast there in 1890. Kushimoto locals tried to save the sailors, hundreds of whom died, and helped survivors heal.
"We will be praying for the dead and pay our respects to the sailors and our thankfulness for the Japanese people," he said.
Gungen has not yet contacted the Kushimoto mayor or other people in the town — which occupies the southernmost point of land on Honshu — but he said he will do so before visiting there.
While he may have to wait a little while to travel as much as he would like, he can familiarize himself with Japanese pop culture at home. His daily routine is to open a music app on his mobile phone after waking up and hit "top Japan" or a similar playlist category.
One singing group that stood out for him was Yoasobi, who made a sensational YouTube debut last year and continue to gain fame this year. "I looked up [the name of the group] because I liked it," he said.
In his ambassadorial efforts to promote exchanges with Japanese people, Gungen has not given up on holding events. To celebrate the National Sovereignty and Children's Day of Turkey on April 23, the embassy organized an online painting contest, for which it gathered about 200 paintings from Japanese children aged 5 to 12. The embassy will select winners and send them gifts.
Gungen hopes exchanges will soon go beyond those held online so that Japanese can visit his home country in person.
"In Turkey people love Japanese people," he said. "I am not exaggerating. If you say you are from Japan, they are ready to hug you."
---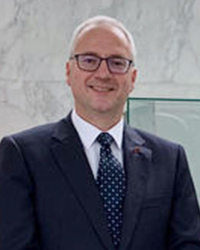 Korkut Gungen / Turkish Ambassador to Japan
Born in Istanbul on March 17, 1968, Gungen began his diplomatic career in 1989 and has had assignments in Turkey, Cyprus, Lithuania, Belgium, Austria and Ecuador. He has been the Turkish ambassador to Japan since March 15.
He obtained a bachelor's degree in international relations at the Faculty of Political Sciences, the University of Ankara, and a master's degree in history at the College of Arts, Humanities and Social Sciences at the University of Edinburgh. He also holds a diploma from NATO Defense College in Rome.
He is fluent in English and competent in Spanish and French.
---
Add TheJapanNews to your Google News feed.