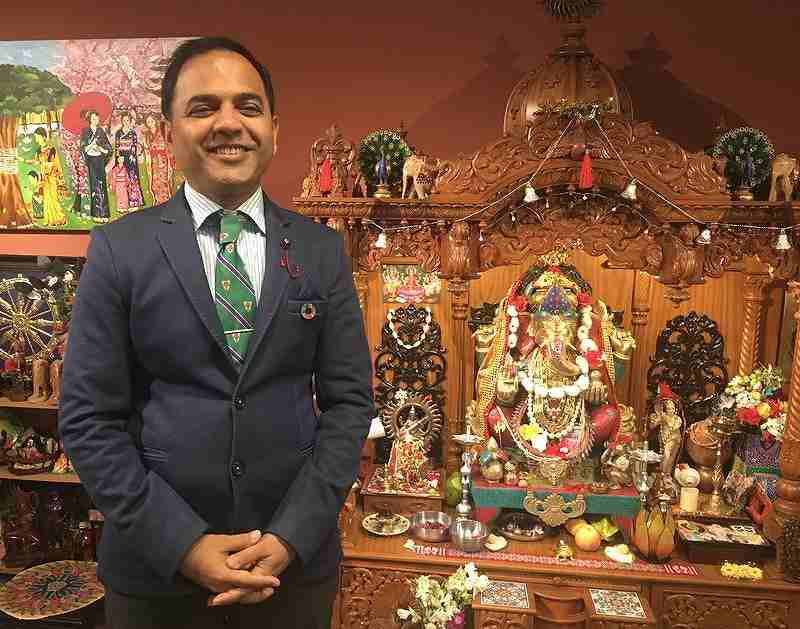 12:56 JST, April 25, 2021
The first thing that came to Yogi's mind, when asked about his initial impression of Japan upon arriving nearly 25 years ago, was his host mother's driving skills.
"She took me to a department store, and she backed her car into the parking lot precisely on the first attempt," Yogi said in fluent Japanese. "I thought 'Wow.' I still clearly remember it."
That is how the 43-year-old assembly member of Tokyo's Edogawa Ward — one of the few foreign-born elected public officials in Japan and the first from India — started a fascination with Japanese preciseness, meticulousness and discipline.
"As I stayed in Japan longer, I came to learn that Japanese people practice and work hard not only on their driving, but also to do other things right," said Yogi, whose real name is Yogendra Puranik.
Yogi made his first trip to Japan in 1997 as a university student on a government exchange program. Visiting major Japanese cities with about 120 others from around the world, he became impressed with the cleanliness of Japan's public spaces, the smoothness with which things run, and the politeness of the people.
"I fell in love with Japan," he said.
Yogi came back in 1999 with a grant from the Japanese government to pursue his studies, then again on a more permanent basis in 2001 to work for an information technology company as an engineer.
After that, he shifted to the banking sector, serving in management posts at Mizuho Bank and other financial institutions. "By working at Japanese companies, I learned the Japanese way of organizing documents and managing schedules," he said.
Not surprisingly, he leads a disciplined daily life in Japan. Every morning, he drinks a milk shake of fresh fruit mixed with spices such as ginger and turmeric and a raw egg. He also likes the common Japanese breakfast dish of tamagokake gohan (raw egg on rice).
"I was once hooked on tamagokake gohan. I couldn't stop eating it," he said with a laugh.
Aside from his assembly duties, Yogi keeps busy managing an Indian restaurant and Indian culture center, all the while working out three times a week in his home gym, constantly reading and learning new things, and keeping active in community events and volunteer activities.
He has become a familiar face in the neighborhood by taking on various community roles, such as serving as an executive of the local residents association, which now distributes information on garbage separation and other matters in various languages to avoid misunderstandings with foreign residents.
"They don't mean to not follow the Japanese rules and manners," Yogi said of foreign residents. "They just don't know these rules."
Such selfless dedication is based on a philosophy emphasizing a balance between body, mind and soul.
"To live a good life, we need to eat well and exercise for the body, study as much as possible to obtain wisdom for the mind, and be compassionate by contributing to society for the soul," Yogi said.
It was only natural for him to come to others' aid when the Tohoku region was devastated by the 2011 Great East Japan Earthquake, which he did by gathering friends and cooking Indian food for those affected in the region. And while many foreign residents left Japan in the wake of the disaster, Yogi decided to obtain Japanese citizenship.
"I never thought of leaving Japan," he said. "I was connected to many people in Japan, so I felt I belonged here."
His compassion and high-spirited character helped him win election to the Edogawa Ward Assembly in 2019. The ward is home to about 5,000 Indians, or more than 10% of the total Indian population in Japan. Following his victory, he said, "I want to be a bridge between Japanese and foreign residents."
Yogi advocates the creation of an inclusive society in which people can mutually respect differences regardless of nationality, age, gender and culture, and cultivate a sense of unity.
"People don't unite by words, but by spending time together through cooking, holding festivals and working together," Yogi said. "We need a place where people can mingle with each other throughout the year.
"India is known for unity in diversity," he continued. "I know the good parts of both Japan and India. I'm looking for the key to blending the best from both countries."
"Public administration in Japan doesn't widely or deeply analyze the issues, whether it's measures for disasters or the coronavirus, or the nation's education. Many are handled individually in a fragmented way," Yogi said. "I want to strongly call for comprehensive government services that won't leave anyone behind."
---
Yogi (Yogendra Puranik)
Assembly member of Edogawa Ward, Tokyo
Born in a suburb of Mumbai in 1977. He majored in physics and mathematics at Pune University while taking Japanese and German language courses, and later acquired a master's degree in economics from the university. After moving to Japan, he raised a son as a single parent and faced the issue of a shortage of childcare facilities. Yogi obtained Japanese nationality in 2012 and entered politics in 2019, winning election to the assembly of Edogawa Ward, Tokyo, with support from the Constitutional Democratic Party of Japan. He is also the founder of the All Japan Association of Indians (AJAI) and has served as its chairman. His childhood dream was to become an astronaut.
---
Add TheJapanNews to your Google News feed.