Ninja-themed Tour Proves Hit Among Overseas Visitors in Japan's Mie Prefecture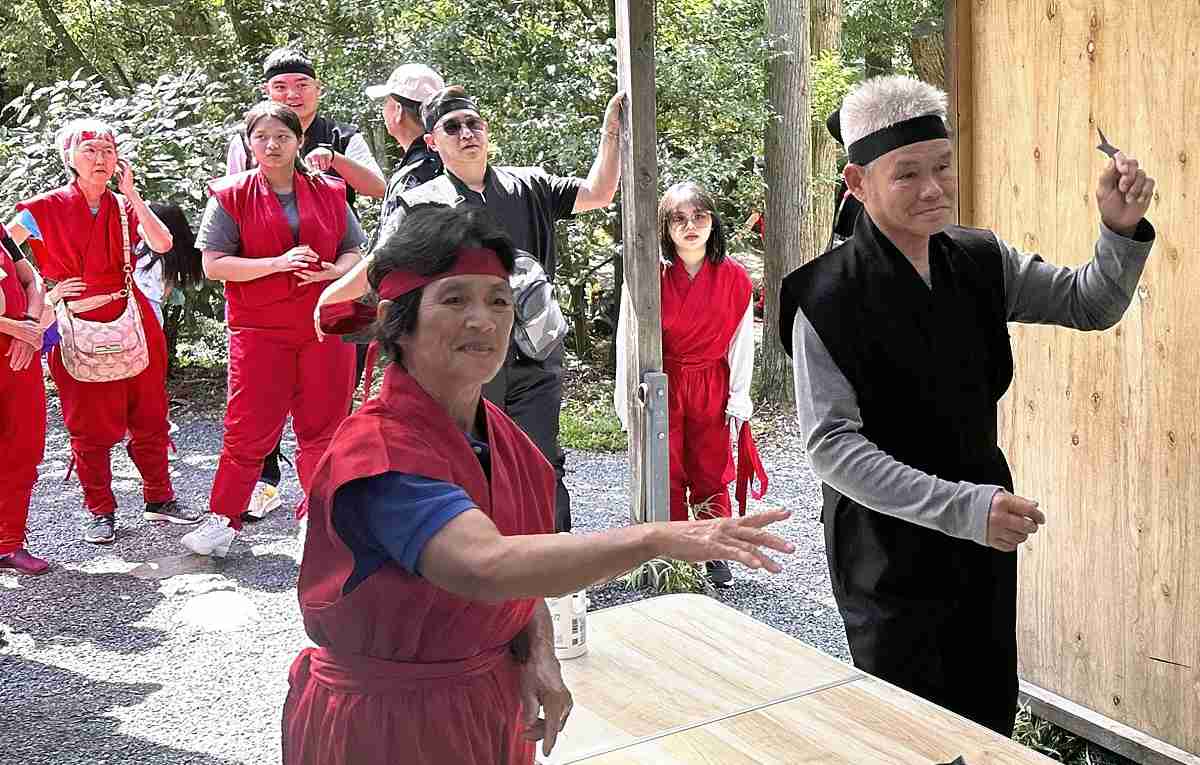 11:23 JST, November 6, 2023
IGA, Mie — Iga City in Mie Prefecture is known for its ninja warriors who were active during the Sengoku period (late 15th century to late 16th century). But despite the overseas popularity of the stealthy fighters, relatively few foreign tourists visited the area.
However, about 10 years ago, the city made a tourism breakthrough by creating a ninja-themed, public-private sector package tour that has proved immensely popular with foreign visitors.
On Sept. 24, a group of tourists from Malaysia visited the city's Ninja Museum of Igaryu. Members of the about 30-strong group, including a bank employee and a university student, expressed enthusiasm while throwing shuriken ninja stars at a wall.
Frankie Kong, 26, a first-time visitor to Japan from Kuala Lumpur, said: "I learned about ninja from Japanese anime. I'm happy to be able to experience such ninja techniques."
The tour, which lasts two days with an overnight stay, allows participants to spend a night in the Misugi Resort hotel in Tsu City, and take them by bus between various sites, including the museum.
The tour also includes a ride on Iga Railway Co. train cars decorated with illustrations of ninja, and a visit to a ninja show featuring Ashura, The Iga Ninja Group.
Iga sits between the Kanto and Kansai regions — both known for hosting many of Japan's most notable tourist spots and international airports. The city struggled to attract overseas tourists, prompting strong concerns.
The tour was conceived in 2012. At that time, the late Ken Iwata served as deputy chief of the tourism and international affairs bureau of the Mie prefectural government. Iwata, who was loaned from the Land, Infrastructure, Transport and Tourism Ministry, turned his attention to the Iga ninja, with an eye on highlighting them as part of "Cool Japan" — a strategy to disseminate information overseas regarding Japanese culture.
The prefectural government became the driving force behind the idea and asked for cooperation from various related entities, including the Iga-Ueno Tourist Association, Iga Railway and Misugi Resort. The hotel was chosen because it has received a number of overseas tourists.
The entities' officials held numerous meetings in Iga and negotiated with foreign travel agency companies through Misugi Resort so the ninja package tour would be included as part of other tours targeting visitors to Japan.
The ninja package plan began in April 2013. Initially, tourist office officials were concerned that visitors might be hesitant to travel on unfamiliar routes while dressed in ninja costumes. However, such fears were soon dispelled.
In fact, foreign participants quickly embraced the playful elements of the tour. For example, when they check into the Misugi Resort hotel, they receive missho "secret letters," spelling out tasks and how to behave as a ninja.
As of spring 2020, a total of about 16,800 people from such countries as Italy, France, Spain, Thailand and Singapore had taken part in the tour, exceeding organizers' expectations.
The tour was temporarily suspended due to the novel coronavirus pandemic, but resumed in October 2022, with more than 1,500 people booking tickets for the then upcoming six-month period.
"A foundational point was to weave a story," said Junichiro Nakaura, 49, secretary general of the tourist association who helped formulate the package a decade ago. "Participants' experiences are linked to a scenario in which they practice ninja skills based on instructions in the secret letters."
However, the schedule for the package means foreign tourists only spend half a day in Iga City. Future tasks include finding ways to increase the length of overseas visitors' stays and boosting the number of repeat visitors.
"We're keen to come up with new measures," Nakaura said.
Wide range of tours
Other parts of Japan are associated with ninja, too.
Koka, a city in Shiga Prefecture, was a base for Koka ninja — another sect of the secretive warriors. Koka Ninja House in the city, built during the Edo period (1603-1867), still has a pitfall trap, rotating walls to facilitate hiding and other ninja-related gimmicks. Many ninja fans visit the house.
Ureshino in Saga Prefecture has a ninja theme park named Ninja Village Hizenyumekaido, where visitors can experience ninja practices and watch ninja shows.
The Japan Ninja Council — primarily comprising local governments connected with ninja — was established in 2015 with the main aim of revitalizing their local economies.
The local government members include 12 municipalities in six prefectures, including Iga, Koka and Ureshino.
The council is weighing the establishment of a wide range of ninja-related tourism routes.
Iga's history
Iga sits in the northwestern part of Mie Prefecture. Iga ninja were originally samurai warriors native to the area, who practiced their ninja skills in the mountains. It is said that daimyo warlords across the nation favored the use of Iga ninja.
Iga ninja are also famous for a particular historical episode: In the wake of Honnoji incident in 1582, Tokugawa Ieyasu escaped from enemies to his base in the Mikawa region in Aichi Prefecture, passing through the Iga region; local ninja warriors escorted Ieyasu through the region's mountains.
Add TheJapanNews to your Google News feed.