New York Strains as Migrants from Latin America Bus into City Seeking Better Life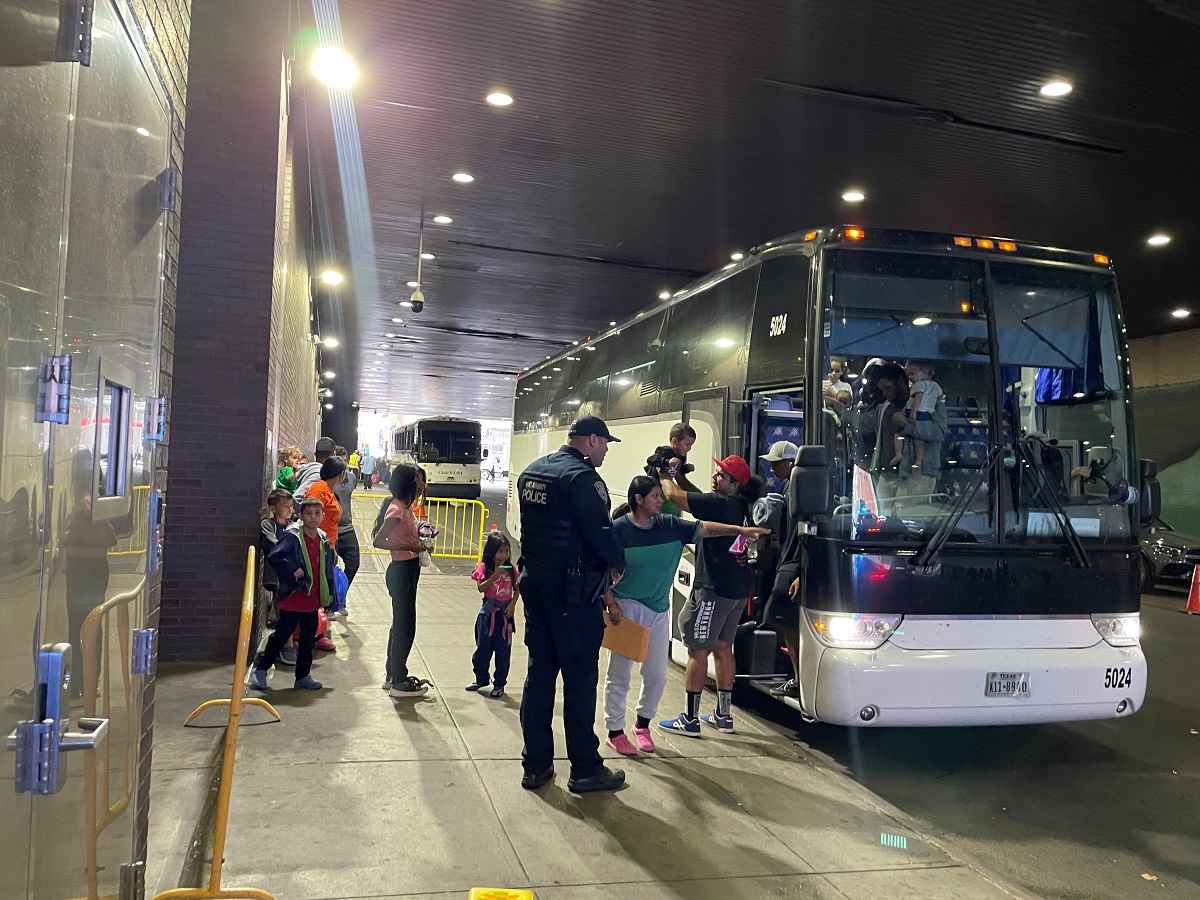 8:00 JST, October 9, 2023
The following is an installment of the "Letter from New York" column by Jacob Margolies, The Yomiuri Shimbun's General Counsel for America. Having practiced law for over three decades in New York, he explores a variety of topics — cultural, economic and political — in and around the Big Apple, and examines issues that the United States, Japan and the world at large are facing.
Brian, Jahaira and their 4-year-old son, migrants from Peru, arrived in New York in May. After crossing the Mexican border, they were detained for several days by U.S. Immigration and Customs Enforcement agents, before being released and given papers for an initial court date to start assessing their asylum claim.
Since making their way to New York, the family has been living in a shelter for migrant families in the borough of Queens. Every day Brian goes to the parking lot of a Home Depot store, hoping to be chosen by local contractors for off-the-books construction work. Brian said he gets paid a daily wage of about $150 when he gets picked up, but he is not always able to get work. Jahaira plans to clean houses now that her son has started attending a local school. When asked if she is glad they came, Jahaira, speaking in Spanish, says: "We have lots of stress and miss our family. We want to get out of the shelter and have a stable place to live. But in Peru there are no jobs; here we hope there will be opportunity to move ahead."
Jahaira and her family are among the more than 60,000 asylum seekers now living in housing provided by New York City. They are part of a wave of over 122,000 migrants who started coming to New York in large numbers in the spring of 2022.
To house the migrants, the city has opened over 200 emergency shelters, many of them in hotels that usually cater to tourists. New York City Mayor Eric Adams, in sometimes apocalyptic language, has for many months been warning that the costs of providing services to migrants are not sustainable. At a Sept. 6 community meeting, the mayor, noting that over 10,000 migrants a month are entering the city shelter system, declared: "I don't see an ending to this. This issue will destroy New York City … The city we knew we are about to lose." Adams has ordered all city agencies — including police, hospitals, and schools — to reduce costs by 5%. City officials have estimated the cost of providing services to the migrants at over $12 billion over the next three years.
New York is a city of immigrants. Over one-third of its residents were born outside the United States. The city offers municipal identification cards for all New Yorkers, regardless of their immigration status, and since 1989, New York has provided legal protections to its undocumented residents, including by limiting its cooperation with federal immigration authorities. These rules, sometimes referred to as sanctuary policies, were continued by Republican mayors Rudy Giuliani and Michael Bloomberg. But the current surge of migrants appears to be changing attitudes. In a recent Siena College poll of New York State registered voters, 82% said the recent influx of migrants is a serious problem, and nearly 60% agreed that New York should attempt to "slow the flow, rather than accepting new migrants."
The surge of impoverished asylum seekers into the city is a result of the convergence of several factors.
Border Patrol agents detained roughly 232,000 migrants who crossed the U.S.-Mexico border without authorization in August, and monthly arrests rose over the summer. Many of those crossing the border are from Venezuela. Nearly 8 million have left their country in recent years. Initially, many settled in Colombia and Peru, but as economic conditions in those countries have also deteriorated, many are now heading further north.
As of August, Venezuelans made up 41% of asylum seekers who have arrived in New York since the spring of 2022. Ecuador and Colombia were the second and third most common countries of origin for migrants at 18% and 13%, respectively. There are also large numbers coming to New York from Peru, West Africa and Russia.
New York is the only large city in the U.S. that provides shelter to anyone who requests it. This legal right was established through a court case and consent decree in 1981, but until now, that right had never been applied to housing a large wave of newcomers arriving from outside the U.S.
Migrants interviewed at local city shelters explained why they made their way to New York. Several said they had heard through word of mouth, as well as on TikTok, that New York offers newcomers housing and the chance to find work. Others said they had relatives already living in the area who could provide assistance. Further fueling the influx is Republican governor of Texas Greg Abbott, who has chartered buses for over 14,800 to come to New York. He has sent newly arrived migrants out of his state in an attempt to score political points against big cities controlled by Democrats and highlight U.S. President Joe Biden's failure to control the border between Mexico and Texas.
Adams and New York State Gov. Kathy Hochul have been pressing the Biden administration to provide financial assistance to help with the costs of housing migrants and to accelerate work authorizations. Until now, most asylum seekers could not get authorization to work legally for at least six months after their initial asylum claim, and because of case backlogs, the actual wait was much longer.
On Sept. 20, in response to political pressure, the Biden administration announced it would grant temporary legal status to 472,000 Venezuelans already in the U.S., and that it would aim to give them work permits within 30 days. According to Stephen Yale-Loehr, professor of immigration law at Cornell University: "This action will help ease the strain on New York and other cities … However, migrants from other countries will continue to create fiscal problems because they can't immediately work. And increasing numbers of people crossing the U.S.-Mexico border ensures that this problem will continue."
Republican Party elected officials criticized Biden's action, saying the expedited work permits for Venezuelans will only encourage further migrants, and Republicans in Congress have proposed a return to former President Donald Trump's "Remain in Mexico" policy that sought to keep migrants seeking asylum either in detention facilities or on the opposite side of the border.
In early October, the Biden administration, no doubt mindful of the mounting criticism, announced two new actions in an attempt to address the surge in migrant border crossing. The first waives a number of federal regulations in order to expedite building barriers at the border in South Texas, using money allocated for the project when Trump was president. On the same day, the Department of Homeland Security also said it would begin deporting Venezuelans entering the country illegally.
The advent of smartphones and the ease of money transfers has made migration from the Global South to wealthier countries considerably easier. And with climate change, wars and widening inequality, it seems likely that mass movements of people from poor parts of the world to developed nations will only increase.
Across much of Europe, right-wing populist politicians have had increasing success in recent elections by claiming they will get tough and stop the uncontrolled movement of people across national borders.
Over the past 30 years in the United States, neither major political party has shown an ability to control illegal migration, but the politics of the immigration issue strongly favors Republicans.
In a late September ABC News-Washington Post poll, only 23% of respondents approved of Biden's handling of immigration at the U.S.-Mexico border. And in a hypothetical November 2024 matchup between the two leading candidates for president, Trump was backed by 51%, while Biden only had the support of 42%. Other polling has shown the race to be a dead heat.
In the meantime, buses filled with migrants continue to roll into New York's Port Authority Terminal. A few days before the ABC News-Washington Post poll was released, Leonel, his wife Mariela and their 5-year-old daughter, along with other migrants, disembarked from a bus. The family had started its very long journey in Venezuela, and their ride from Brownsville, Texas, had been 29 hours long, but Leonel seemed exultant: "I need to find work … but I'm happy to be in this country and to achieve our goal of arriving, after all the hardships and difficulties we went through to get here. Thanks to God, we are here."
Add TheJapanNews to your Google News feed.