Two Children Depicted in 'Flee to Safety' Vietnam War Photo by Pulitzer Winner Kyoichi Sawada Speak in Exclusive Interview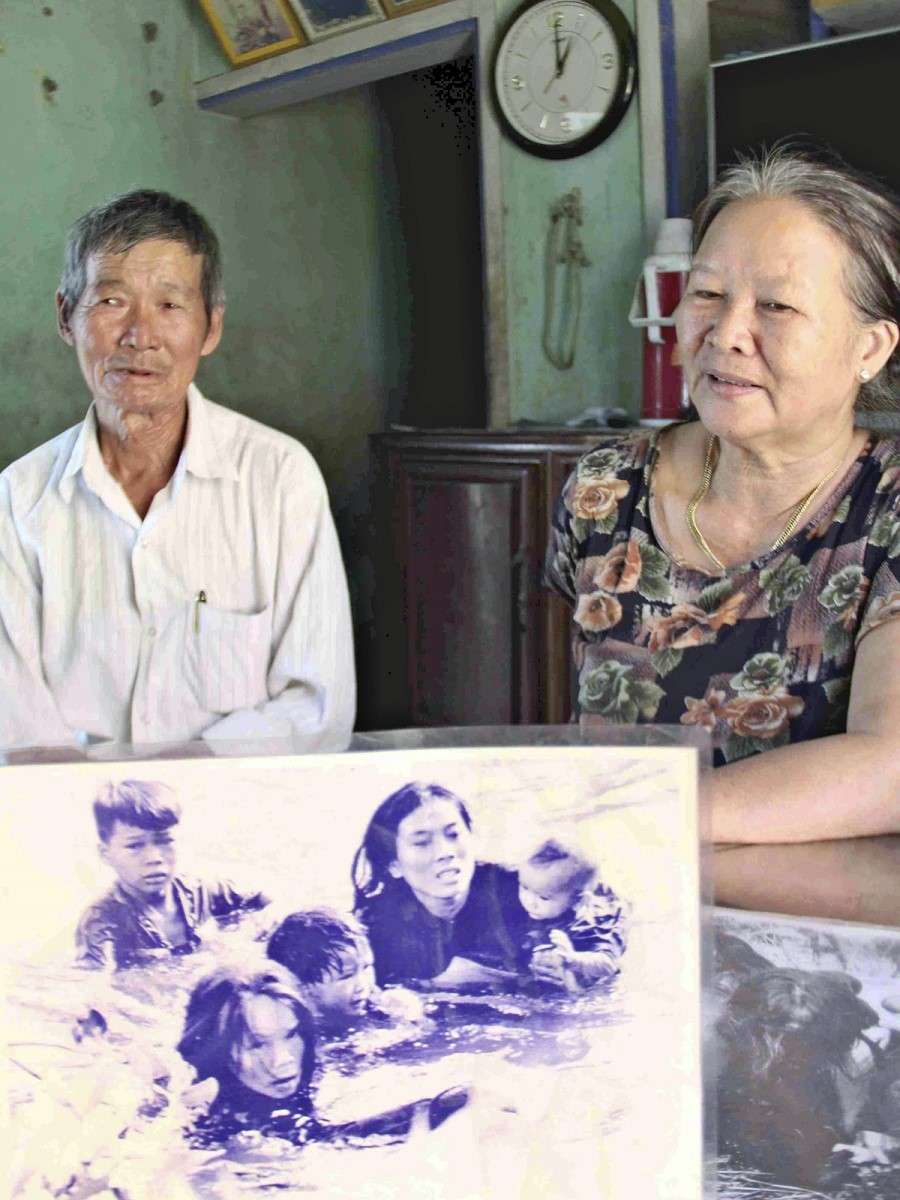 15:36 JST, September 27, 2023
BINH DINH PROVINCE, Vietnam — When photojournalist Kyoichi Sawada won the 1966 Pulitzer Prize in photography for his images of the Vietnam War during 1965, one photo was especially cited. "Flee to Safety" depicted two women taking their children across water, seeking safety. Two of the children in that photo recently spoke to The Yomiuri Shimbun about what they recall from that time.
The Vietnam War pitted U.S.-backed South Vietnam against socialist North Vietnam. The United States intervened in the war in earnest in 1965 but withdrew in 1973. In April 1975, the war ended with the North conquering the South.
Sawada, born in Aomori, worked for the U.S. news agency United Press International. He went to South Vietnam in 1965 and captured images of the horrors of the war, winning World Press Photo of the Year. He was later found dead, gunned down in Cambodia in 1970, at age 34.
"Flee to Safety" was taken nearly 60 years ago in Loc Thuong Village in Binh Dinh Province. When this writer visited the village in late August, people wearing traditional Vietnamese conical hats were doing agricultural work among rice fields, with mountains in the background.
In 1965, the U.S. military continued search-and-destroy operations on a daily basis against the Viet Cong.
On Sept. 6, 1965, the day the photo was taken, the skies were clear. Around noon, then 14-year-old Nguyen Van Anh was holding his breath in an air-raid shelter with his then 8-year-old sister, Nguyen Thi Kim Lien. Their mother and other villagers were with them when they heard the roar of the bombs.
From what Anh, now 72, and Lien, 66, remember, U.S. soldiers then approached and pointed guns at them. They and other children cried. The women, putting their palms together, pleaded for the soldiers not to shoot. Anh said he thought he was going to die right then and there.
The U.S. soldiers ordered them to move to a safer place away from the bombing. Led by their mother, Anh and Lien left the shelter.
Amid the sounds of bombs, they waded into a river in front of their house. About 10 meters from the opposite bank, they saw a man in a military uniform. He was pointing at them with what appeared to them like a gun.
Suddenly, they heard clicking sounds and thought they were being shot at. They struggled to get to the shore, where there were bodies of villagers lying around. The children and others were gathered to a safe place, before they were permitted to return home around 5 p.m.
A year later, when Sawada visited the village with his photographs, they learned that he was the uniformed man on the bank. They did not talk with Sawada, but they remembered that he was handsome and friendly. Sawada visited them again in 1968 with rice and cash to hand out as gifts.
Anh and Lien both have married and are engaged in farming. They say their life is not easy, but they are surrounded by many children and grandchildren. Their mother died about 40 years ago.
Anh still lives in Loc Thuong Village.
"Comparing it to those days when death was so close to me," he said, "I am satisfied with even having only a bowl of rice with just a pinch of salt on top."
Lien said: "I am grateful I do not starve and do not hear the sound of bombs whenever I wake up."
About the image depicted in "Flee to Safety," Lien said: "It was a common sight everywhere in Vietnam at the time. We were not special."
She adds that she is still grateful to Sawada, as whenever she sees the photo, it reminds her of their brave mother leading her children to safety.
When Lien was 6, their father left the family. Their mother raised the children by herself, working as a farmer and hired laborer.
"I am proud of her," Lien said. "I am happy if people who see the photo will have a good impression of my mother."
Anh, who later fought as a soldier in the Vietnam War, feels sad that so many civilians have been killed during the Russian invasion of Ukraine.
"Even after nearly 60 years, war still goes on. I can't believe it," he said. "I just want to say 'no' to war forever."
Add TheJapanNews to your Google News feed.