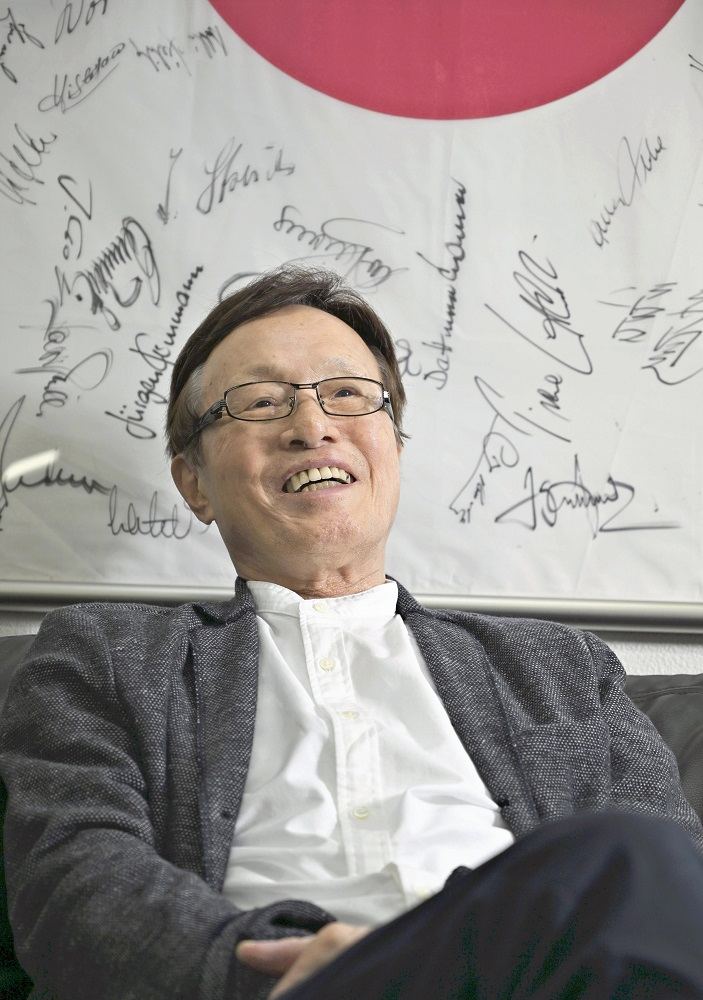 12:02 JST, June 20, 2023
Sitting in his Osaka office surrounded by countless trophies, Kunishige Kamamoto talks with a gentle expression and a hint of pride about his career as one of Japan's greatest soccer players and its most prolific scorer.
Now 79, he still holds the all-time national team record with 75 goals, and commands the title of "greatest striker in Japan history."
"When you receive a pass, you have to make sure to put it into the goal," Kamamoto says. "Otherwise, the ball won't be coming your way again. [A forward] must prove their worth [by scoring goals]."
Kamamoto, who played in 76 international matches for Japan, currently serves as president of a sports event planning and management company.
Born in the Uzumasa district of Kyoto, his childhood playground was the area around the famous Koryuji temple. Baseball was the game for Kamamoto and his friends, and his goal was to join the baseball team upon entering junior high school.
But he had a change of heart while in elementary school, after his older sister's homeroom teacher told him, "In baseball, the only place to go is the United States. But if you play soccer, you can go anywhere in the world, and play in the Olympics."
He began to prepare. In the bathtub, he would quickly flutter his legs to strengthen his muscles. He would work on sharpening his vision on trains by counting the number of passengers on the platform as they sped through non-express stations. In town, he would zig-zag to dodge oncoming pedestrians walking toward him.
"Many goal-scorers are a bit peculiar," he said. "They demand the ball. They're a smug lot, right?"
At Yamashiro High School in Kyoto, he led the team to the title at the National Games and a runner-up finish at the National High School Championship, making Kamamoto known far and wide around the country as a goal-scoring machine.
Emerging as a star
Kamamoto was selected for the Japan national team right after entering Waseda University, and as a sophomore in 1964, he played in the Tokyo Olympics. That was when he first met Dettmar Cramer, the Japan team's German coach who became known as the "father of Japanese soccer." His career would subsequently take off from there.
"More than anything, he hammered the basics into me," Kamamoto recalled. "And that became the foundation for me."
Properly trap the ball. Move after making a pass. Think in advance. Such were the lessons learned, but not necessarily all on the field.
Kamamoto recalls the time Cramer yelled at him for chugging a beer at a party after a game during a European tour. "What are you thinking by drinking something cold all at once, even though your internal organs are warm after a match?" Cramer said.
It was at the 1968 Mexico City Olympics that Kamamoto stole the spotlight. He was the top scorer of the tournament with seven goals and helped Japan to a surprising bronze medal.
He credited his exploits, which made him known around the world, to an awareness of the need to get in shape physically, which was not yet common in Japan.
Prior to the Olympics, Kamamoto spent time on a short-term training program with Saarbrucken, then a second-division club in the former West Germany. There he met Jupp Derwall, who would later become a top German national team coach.
Derwall had Kamamoto work on building physical strength and controlling his weight. At 1.80 meters in height, Kamamoto was told his ideal weight was 76 kilograms.
"I hadn't given any thought to my weight until then," Kamamoto said. "But before heading to Mexico, I worked on controlling my weight, and I was able to move more sharply."
The result of his weight control, which took into consideration the local weather conditions, the air travel and the timing of meals, paid off with an Olympic medal.
What might have been
Japan has a well-established professional league, and there are a number of players plying their talent in Europe. However, differences in body size and attitude remain, making it difficult for a Japanese player to become an ace at a European powerhouse.
One can only wonder how Kamamoto, who had gained worldwide fame as an amateur, would have fared had he taken a shot at Europe.
A number of foreign clubs had tried to lure him, and he considered accepting an offer from Saarbrucken in 1968. "I thought about going. My intention was to first gain experience in the second division, and then try to make it in the first division," he recalled.
However, in 1969 he contracted viral hepatitis and was hospitalized. Even after leaving the hospital, it took him about three years to fully recover.
After that, he received an offer from the North American Soccer League, where Brazilian great Pele was playing, but he turned it down. "I was about 30 years old, and thought there's no point in turning pro then," he said.
For the player whom Cramer regarded as being on a world-class level, the dream was over.
After graduating from college, he went on to play for Japan Soccer League club Yanmar (present-day Cerezo Osaka), following the advice of Taizo Kawamoto, his elder teammate on both the Waseda and national teams. Kamamoto said Kawamoto told him, "You're a Kansai person, so go back to your hometown."
Yanmar was far inferior to the strong Kanto teams that Kamamoto had considered joining, but he went down that path anyway, thinking, "I will make the weak team stronger."
He would remain with Yanmar his entire career until retiring at age 39, winning the league Player of the Year award seven times and leading the team to four league championships and three Emperor's Cup titles. He put his words into action.
When the conversation turned to the national team at last year's World Cup in Qatar and its inability to once again break into the top eight, Kamamoto became quite animated.
"To get to the top, you need a goal-scorer. I remember clearly my goals at important times in the Olympics in Mexico City and the Emperor's Cup. None of them were chance shots. I thought out the stages leading up to the goal, and moved exactly how I imagined and scored."
Since retiring, Kamamoto has devoted himself to nurturing the next generation of players. Even now, he travels about 10 times a year to give soccer clinics or attend kids tournaments around the country.
As he approaches 80, the great striker remains as full of passion for soccer as ever.
Research pays off in flood of goals
In the fading black-and-white photo, Kunishige Kamamoto is seen trying to score with a header. As he tumbles to the ground, Kamamoto keeps both eyes firmly locked on the ball.
"He's watching the ball all the way to the end," says veteran award-winning soccer writer Hiroshi Kagawa as he shows the photo to The Yomiuri Shimbun. "That's what he was all about. Shooting without strain. He blasts it only at the moment of impact. He did the basic things right."
Kamamoto's development as Japan soccer's most prolific scorer came from a passion for studying techniques and a determination to put them into practice.
In his long career in the Japan Soccer League, the predecessor to the current J.League, Kamamoto netted 202 goals in 251 games and won seven scoring titles. His constant efforts to raise his game gave him the ability to score from any situation, whether it be with his left foot — his nondominant one — or with his head.
During a short-term training program in the former West Germany, Kamamoto watched films every night of the greats of the game. Realizing he would not be able to imitate the actions of Pele, he focused on Portuguese legend Eusebio.
Kamamoto noticed that the striker, nicknamed "the Black Panther" for his supple moves and powerful shots, made one less move while taking a shot than he did. Dettmar Cramer, the German coach of the Japan team at the 1964 Olympics, pointed out that Kamamoto's timing followed a "one, two, and three" rhythm, and likened him to a plodding bear.
"European players shoot at one-two, and Brazilians one," Cramer was quoted as saying. Kamamoto then studied how quickly he could position himself forward and get off a shot.
"Kamamoto was very demanding about the exact place and timing for us to send a cross pass," said Akihiro Nishimura, 64, a former national team defender and teammate of Kamamoto's at Yanmar. "He was a player who voraciously studied ways to score goals, and conveyed that passion to others."
The Legend feature profiles era-defining figures in culture, sports and other fields.
Add TheJapanNews to your Google News feed.