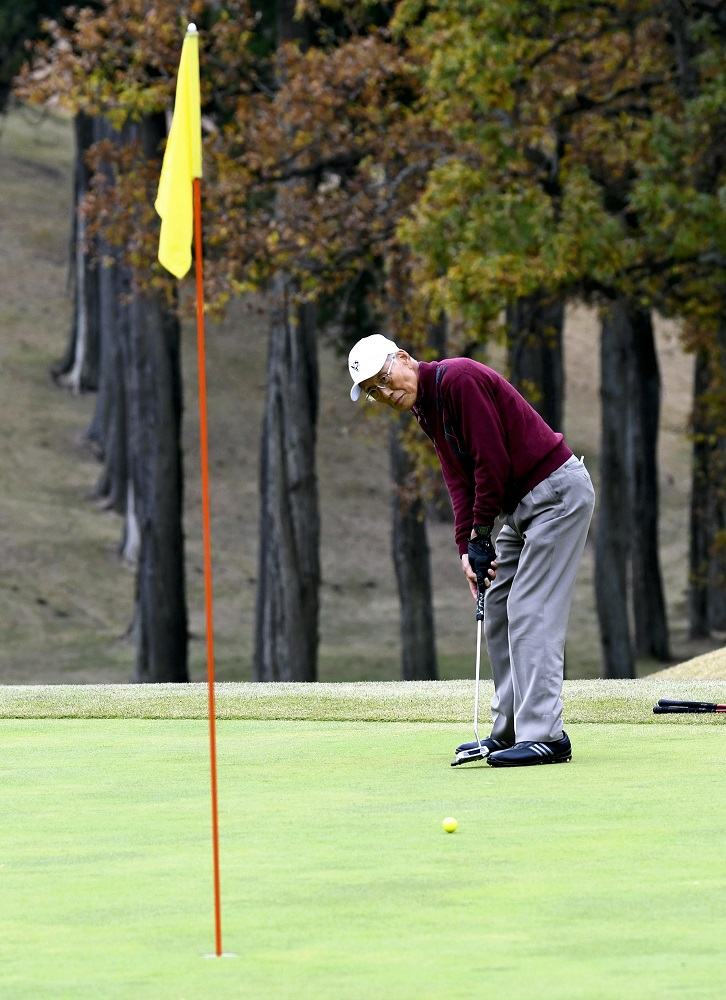 11:53 JST, May 22, 2023
I think it used to be the norm to enjoy sports with friends — games such as futsal, basketball and golf. However, as lifestyles have changed, an increasing number of people are playing sports with people they meet for the first time. I booked a golf course for myself and played with three other people, all of whom were meeting for the first time on the course.
I played a round of golf with three men in their 40s to 70s at the Chiba Kokusai Country Club in Nagara, Chiba Prefecture. All of us used a solo booking service offered by Pacific Golf Management K.K. (PGM).
Solo bookers are asked to gather near a golf cart they will share. We exchanged a few words such as "Good morning" and briefly introduced ourselves. Then, we started the round.
Hitting my tee shot on the first hole made me a little nervous. I have played golf for four years. Usually, my ball flies to the left first and then gently curves to the right. However, on that day, it just flew to the left. I struggled to get the ball out of a sharp slope and my fellow players encouraged me saying, "Don't worry about it!"
After that, even though we had just met, we began to call out things like "Good shot!" and enjoyed a friendly atmosphere. Since we traveled in the same cart, we had a lot of opportunities to talk. We spoke with each other about our own golfing experiences, our jobs and other things.
Nobuyoshi Obata, 79, of Funabashi, Chiba Prefecture, was the oldest in the group. Before retirement, he had worked for a construction company and was involved in the construction of railways and tunnels.
He used to be into golf but he stopped playing about 30 years ago because he was busy with work. After being invited by friends, he started playing again in June last year. However, he does not have many golfing friends due to his long absence from the sport. So, he books golf courses mainly in Chiba Prefecture via the online solo booking service and plays a round of golf once a week.
"Playing with friends might be the best option but I enjoy the once-in-a-lifetime encounters that solo bookings allow me," Obata said.
Another member of the group said, "I can play a round easily when I unexpectedly get a substitute day off," while another said, "I can practice before competitions to get better than my peers."
I am in my 30s and was the youngest in the group. However, since golf was a common topic of our conversation, I was able to enjoy playing the round without feeling awkward. It may not be like a competition with friends whose personalities and skills I know and vice versa, but it's convenient that I can play golf when it suits me without needing to coordinate schedules.
I played on a weekday and the fee was ¥9,300. The fee varies depending on the location, day of the week, the season and other factors.
Avoid crowds while playing at your own pace and level
PGM has been actively accepting bookings by solo players on its website since September 2017. At the beginning, about 60,000 people used the solo booking service, but the number increased to about 220,000 in fiscal 2021 and is expected to amount to about 240,000 this fiscal year. This increase is apparently because large-scale golf competitions have been cancelled due to the spread of the coronavirus and because solo booking allows people to avoid crowding.
Users select the available time slots for solo bookers on a given golf course and apply on the booking website. Some people might be concerned about the playing level of other players, so they can check their age, sex, golfing experience and average score in order to choose players on a similar level or those who are slightly better so they can learn from them.
As the term "business golf" suggests, many people have an image of golf as involving work-based relationships. The solo booking service is apparently popular among people who want to simply enjoy playing golf as a recreational activity.
The solo booking service is also offered by websites run by Rakuten Group Inc. and Golf Digest Online Inc.
Easy-to-join futsal events flourish after pandemic
Futsal is probably the pioneer of solo bookings. Fans call it "individual futsal." I belonged to a soccer club during my school days and later participated in individual futsal.
One night in Sumida Ward, Tokyo, people returning from work visited the Sumida Futsal Arena one after another. Calcio, a company that helps people book futsal and soccer events online, was holding an individual futsal event and 20 men and women in their 20s to 50s joined.
The participants were divided into two groups: A "serious" group comprised mainly of those who have played futsal before and an "enjoy" team for beginners and women. They repeated five-on-five matches. Every time someone scored a point, a big cheer came from the audience.
In individual futsal events, organizing companies or facilities designate a court and start time in advance and seek participants via the internet or other means.
Eriko Suzuki, a 31-year-old company employee in Minato Ward, Tokyo, who participated in this particular event, plays in individual futsal events about three times a week. "Individual futsal is held every day in various places so I can participate anytime I want," she said. "As I participate regularly, I've made friends."
Daiki Tono, the president of the company, says that a total of 160,000 entries for individual futsal events via Calcio were logged in 2022, more than double that of 2019 before the arrival of the coronavirus.
To rent a court and play futsal with friends, there must be at least 10 participants, which is difficult for working people to arrange. Some people apply to the same individual futsal events with one to four friends. Even some experienced futsal players who used to play in teams are choosing easy-to-join individual futsal events because they do not like the duties assigned by their teams such as arranging cars and the hierarchical relationships.
"Teams have been refraining from their activities due to the spread of the coronavirus, which has also helped increase the popularity of individual futsal," Tono said. The participation fee is about ¥2,000 for many such futsal events.
Add TheJapanNews to your Google News feed.