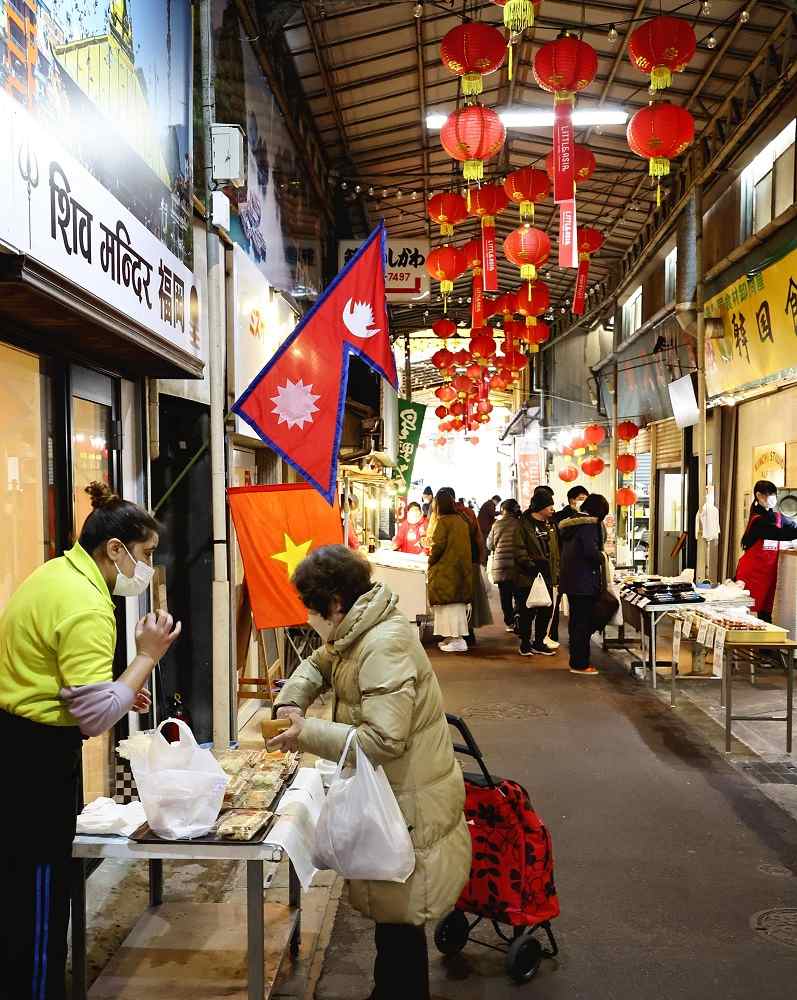 15:20 JST, March 7, 2023
According to a survey conducted by the Small and Medium Enterprise Agency in fiscal 2021, there were 13,000 shopping streets in the nation that year, with an average store vacancy rate of 13.59% — about double the figure of 6.87% in fiscal 1995. The coronavirus pandemic and high prices further fueled the decline of shopping streets, which had already been hit hard by the spread of large-scale stores and the nation's low birthrate and greying population. I visited two shopping districts struggling to stay afloat, and report on their endeavors below.
FUKUOKA — The Yoshizuka Little Asia Market in Fukuoka bustles with customers snapping up a wide array of goods from about 40 different shops, including a Korean food outlet, a Myanmar-themed general merchandise store, and shops selling Japanese fresh fish and tsukemono pickles.
Chinese-style lanterns hang from the roof of the shopping arcade, while a red flag flies above a Vietnamese restaurant famous for its pho noodles. "It's a strange place reminiscent of the Showa era [1926-89], with the smell of spices wafting through the air," said a 35-year-old Fukuoka-based company employee.
The market is a short walk from JR Yoshizuka Station, which is one stop from Hakata Station.
At lunchtime, ethnic dishes from various countries are displayed outside numerous storefronts. A family group stopped in front of an Indian-Nepalese restaurant with lively music playing. "These are very popular; delicious!" a Nepalese staffer called to the group while pointing to classic snacks from her country, including momos and samosas.
The Yoshizuka shopping street is said to have started as a postwar black market. Its convenience attracted a large number of shoppers, and there were more than 150 stores in the 1960s. That number had dwindled by about 80% prior to the market's opening in December 2020.
The district was dim and lined with many empty stores, causing shoppers to turn away. Shopkeepers in the district had struggled to break free of this vicious cycle.
Buddhist temple
The chairman of the shopping district, Yoshihiro Kawatsu, hit upon the idea of reenergizing the area by attracting ambitious foreigners. The shopping district is located close to a university and a Japanese language school, both of which attract students and workers, primarily from Southeast Asia.
Kawatsu, who also serves as president of Torizen Holdings, was born and raised in the district. His company runs Hakata Hanamidori chicken restaurants in Fukuoka, Tokyo, Osaka and other cities. Based on his experience of doing business in Southeast Asia and hiring multiple foreign employees, Kawatsu, 69, invited Hakata-based restaurants that serve food from Vietnam, Myanmar and other countries in Hakata to launch businesses in the Little Asia Market.
Gradually, foreign residents living in Fukuoka Prefecture who dreamed of operating their own business began to open up shops. A central government subsidy allowed for a new roof and restrooms to be installed. The shopping district began to attract families and younger people. When a Myanmar-made, 2-meter-tall Buddha statue was installed as a prayer point, the market started to attract foreign Buddhists.
Livelihood support
Cooperation is essential in maintaining a shopping district's liveliness. Local veteran shopkeepers regularly drop by the foreigner-run stores to offer support and encouragement.
Khadka Pramod Kumar, 33, opened a Nepalese restaurant and souvenir store last February. "I am grateful that [the experienced shopkeepers] teach me the kanji I need to fill out documents," he said.
The shopping district has a rule that restaurants in the market purchase their foodstuffs from other stores in the market as much as possible. And when a foreign customer needs help speaking to a Japanese shopkeeper, staff from other shops often come to help out. Steps such as these create a win-win relationship that enriches the entire town.
In December, a human resource center opened to provide consultation services to foreigners living and working in Japan. The goal is to become a "center of multicultural coexistence," Kawatsu said.
"It's not an easy task, but I want to keep coming up with ideas to make the Little Asia market more interesting," he added. "In this era, we live hand-in-hand with people from other countries."
Shopping district role
"Shopping streets aren't just for shopping; they serve as public spaces where locals can gather and support each other," said Tokyo City University Associate Prof. Kyosuke Sakakura, an expert in community studies. "Now that people can shop without visiting stores, shopping districts are starting to realize that their areas transcend the mere selling of goods. Shopping districts can develop if there is a sharing of ideas and cooperation among shopkeepers, residents, students and various other people who use the stores," Sakakura said.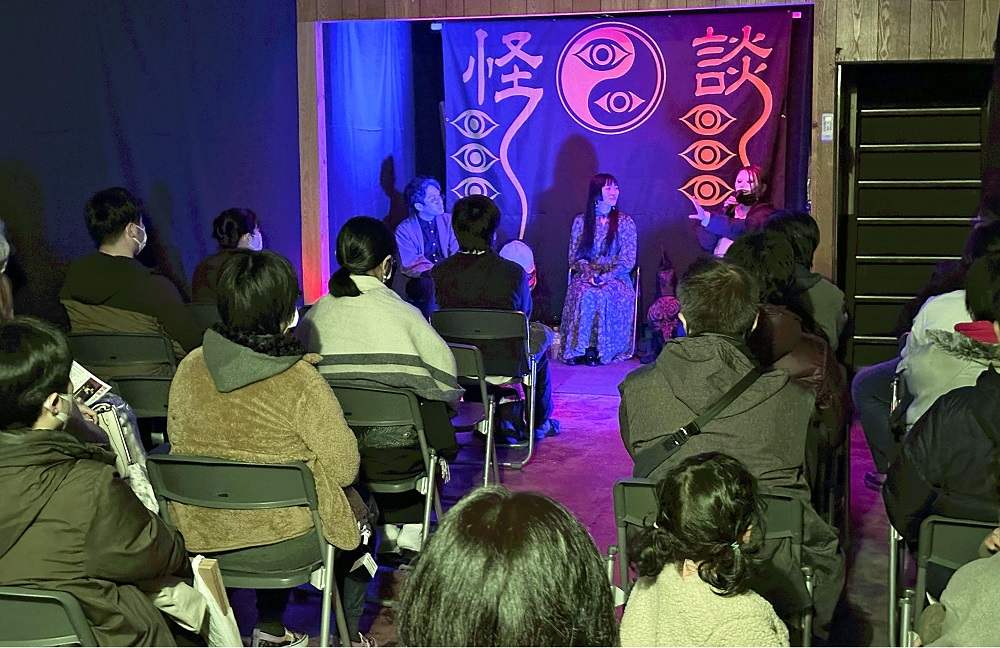 Yokai monsters lure visitors to shopping street in Kyoto
KYOTO — "Soon, the sound of clattering footsteps coming from the emergency staircase was heard," said a storyteller to an audience of roughly 30 people one night in mid-January at a ghost story event in Ukyo Ward, Kyoto City. The event was held in the warehouse of a tsukemono pickle shop located on the Daiei-dori Shotengai shopping street.
Listeners came from the city as well as outside to hear tales of strange happenings, such as one story that was said to have actually occurred at a part-timer's workplace.
"This is my first time coming here, and it felt so refreshing. I'd like to come again to shop," said Yasushi Nakahara, a 27-year-old company employee from the city.
Parade of demons
The legend of the "Hyakki Yagyo," the night parade of one hundred demons, in Kyoto dates back to the Heian period (794 to the late 12th century). According to the legend, old tools and household items transformed into yokai monsters and demons that paraded near Kitano Tenmangu Shrine at night.
Attempts to revitalize local shopping streets along Keifuku Electric Railroad Co.'s Randen tram line are underway by utilizing yokai as a resource for local tourism. The line connects the central part of the city and Arashiyama, a popular tourist spot.
The ghost story event was part of a campaign called Zoku Zoku Kaidan O-uridashi. The name roughly translates to "chilling ghost story bargain sale." Business owners in three shopping streets along the tram line, Daiei-dori, Taishogun and Ryoan-ji Sando, held the event for the first time in cooperation with the city government.
A costume parade at the Taishogun Shotengai that began in 2005 set off the collaboration between the shopping streets and yokai. The shopping street is located by Ichijo-dori street, the traditional setting of the Hyakki Yagyo parade, and the modern-day parade recreates the legend.
Since then, domestic tourists as well as overseas tourists have visited the shopping street in search of goods featuring yokai.
"Conveying the history of the local community is also an important role of shopping streets. Thanks to that history, many people will visit the area," said Junya Kono, 40, one of the organizers of the parade. He is also a researcher of yokai-related culture and a senior official of an association that promotes the Taishogun Shotengai. Utilizing local culture to attract people and entertain them will result in an increase of customers.
Shopping streets are facing hardships because of the increasing age of shop owners, the novel coronavirus crisis and surging prices.
Shinichi Nishimura, 59, head director of the association, also raised the price of the popular yokai croquettes at his fried food shop by ¥10.
"If we did not hold the yokai-related campaign, the damage to our businesses might have been even worse and this shopping street might have disappeared," he said.
Luckily, in October of last year, the costume parade that had been canceled during the COVID-19 crisis was held for the first time in three years. The shopping street was crowded again and signs of recovery are in sight.
"We can survive if we can show off our unique points," said Nishimura. Their efforts with yokai will continue.
Haunted houses
Other shopping streets are also utilizing something scary. A promotion association of Otaru Sakaimachi-dori Shotengai in Otaru, Hokkaido, is using the decrease of shoppers due to the pandemic to its advantage. Starting in 2020, events have been held in autumn every year to make the street into a literal ghost town. In one of the events, people dressed as zombies appeared on the street.
Last year, a closed ryokan inn was made into a haunted house. It was so popular that visitors had to wait five hours at one point to enter the haunted house.
Another haunted house frightens people near Honan Ginza Shotengai in Suginami Ward, Tokyo. Aiming to contribute to the local community, the company that manages the haunted house opened it in 2012. "I hope to make the shopping street like an amusement park," said Takeru Hibi, president of the company.
Add TheJapanNews to your Google News feed.