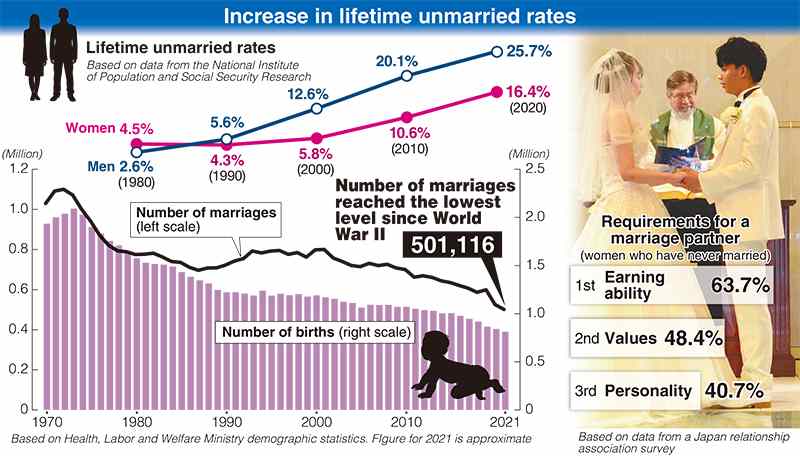 10:00 JST, August 9, 2022
Marriage is on the wane in Japan. According to the latest figures, the number of couples tying the knot hit a historic low in 2021. In the past, marriage was a milestone event for over 90% of men and women. Now, however, nearly one in four men and one in six women will never marry.
People considering getting married may have heard the term "June bride." The phrase is thought to have its origin in a European legend that said women who wed in June will be happy. The term is also believed to have connections with Juno, the mythological Roman goddess of marriage.
However, June marriages are relatively uncommon in Japan, likely because the sixth month coincides with the rainy season. The most popular months for nuptials are September through November and March through May, when the weather is more clement.
Nevertheless, the institution of marriage is falling out of favor. According to Health, Labor and Welfare Ministry demographic statistics, there were about 500,000 marriages in 2021 — the lowest figure since the end of World War II, and less than half the 1972 peak, when the baby-boom generation was around 25 years old.
But this sharp decline cannot be explained solely by a drop in number of young people caused by the declining birthrate.
1 in 4 men to stay single
"Japanese people's regard for marriage has changed dramatically over the past 40 years," said Ayumu Ochiai, director of the Recruit Bridal Research institute.
According to the National Institute of Population and Social Security Research, the lifetime unmarried rate — the percentage of people who have never married by the age of 50 — was 2.6% for men and 4.5% for women in 1980. By 2020, these figures had risen to 25.7% and 16.4%, respectively.
An increasing number of people are putting less priority on marriage and attaching more importance to other aspects of their — single — life, such as career advancement.
Ochiai opined that unless people are willing to proactively pursue marriage, known as "konkatsu" (marriage hunting) in Japan, they may find it difficult to find a partner.
It is this change in attitudes, as well as the decline in the number of young people due to the declining birthrate, that has led to marriage's fall from ubiquity.
Based on data from a five-yearly survey conducted by seven member countries of the Organization for Economic Cooperation and Development in fiscal 2018, 50.9% of respondents in Japan said it was "preferable to be married," representing an 11.6 percentage point fall from the previous survey.
Despite this drop, Japan's figure was second only to the United States (52.7%) and higher than that of the U.K. (47.4%), South Korea (46.1%), Germany (45.9%) and France (41.5%). Conversely, 35.4% of respondents in Japan said it was "preferable to remain unmarried," the lowest figure among the seven surveyed countries. It could be said that Japanese people are still highly interested in getting married.
Local govt-led matchmaking
Matrimony's long-term downward trend is being further exacerbated by the novel coronavirus pandemic. Recently, many people have been opting to stay home rather than going out to socialize, which has meant fewer opportunities to meet new people and develop relationships that may lead to marriage. This trend is expected to continue for some time to come.
The decline in wedlock has affected Japan's social structure. Here, marriage is strongly linked to pregnancy and childbirth. "The fall in the number of marriages is directly linked to a decrease in newborns, the future bearers of society," said Kanako Amano, a senior researcher in demographics at the NLI Research Institute.
This decrease has led to a societal sense of crisis that has prompted some local governments to introduce AI-based matchmaking initiatives. According to the Cabinet Office, 22 prefectures were operating AI-based matching systems as of Aug. 1, 2021. Saitama Prefecture's online matchmaking service led to 128 marriages in FY2021.
Marriage 'prerequisites'
During the economic bubble that spanned the Showa and Heisei eras (1926-1989 and 1989-2019, respectively), the term "3-highs" (high income, high education, and high stature) was popular among women seeking a marriage partner.
Data for the Reiwa era (2019-) differs slightly, however. In December, A Tokyo-based association that offers courses to build good relationships surveyed about 400 women ages 25-49 nationwide. The top requirement for both married and unmarried women seeking a partner was "earning ability," with 28.6% of never-married women saying their "ideal annual income" is "between ¥6 million and ¥8 million," while 20.3% cited "between ¥4 million and ¥6 million."
According to the National Tax Agency, the average annual income for men in 2020 was ¥5.32 million. The figure for ages 25 through 29 was ¥3.93 million, and ¥4.58 million for 30-34-year-olds. There appears to be a considerable gap between "ideal incomes" and reality.
"After the burst of the bubble economy, lifetime employment collapsed and the number of non-regular employees increased," said Masahiro Yamada, a professor of family sociology at Chuo University and an expert on marriage trends. "The idea that men are responsible for household finances is deeply rooted, and this has led to a decline in marriage numbers."
Even so, a survey by the National Institute of Population and Social Security Research found that nearly 90% of young people wanted to get married someday, but various factors, such as living expenses, housing, and concerns about balancing work and child-rearing, were holding them back.
Measures are needed to reduce such disincentives and encourage young people to wed.
Add TheJapanNews to your Google News feed.