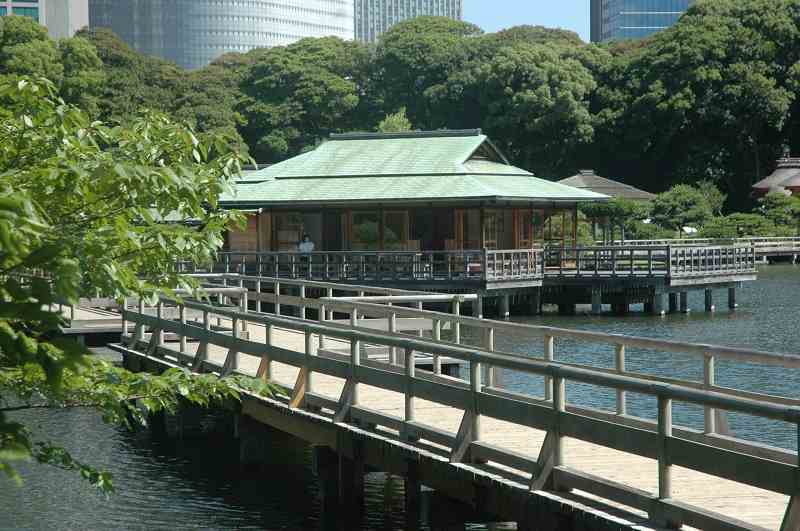 11:00 JST, July 15, 2022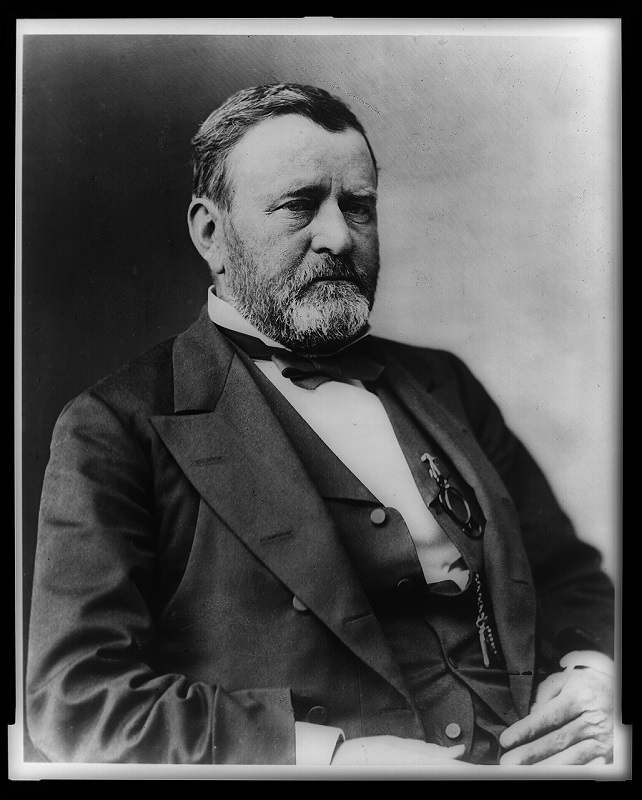 Former U.S. President Ulysses Grant marked the Fourth of July in unprecedented fashion in 1879. That afternoon, he and his wife, Julia, attended an audience with Emperor Meiji and Empress Shoken at the Imperial Palace in Tokyo. Grant was the first U.S. president ever to visit Japan.
He had gained global fame during the American Civil War as the top general of the victorious Union Armies under President Abraham Lincoln. After the war, Grant was elected to serve two terms in the White House himself, from 1869 to 1877. As president, he welcomed a historic Japanese diplomatic mission led by the statesman Tomomi Iwakura.
After leaving office, Grant embarked on a round-the-world tour, with stops in Europe and Asia before coming to Japan. Some of the places he visited in Tokyo still exist or have been rebuilt, giving history buffs the opportunity to walk in his footsteps.
Old Shimbashi Station
After making his first Japan stop in Nagasaki, Grant arrived by ship in Yokohama on July 3, 1879. Iwakura was there to welcome the former president ashore. John Young, a member of Grant's entourage who was writing a book about the journey, described it as a reunion of "old friends."
From Yokohama, Grant rode Japan's first railway line, then just seven years old, to Shimbashi Station in Tokyo. Young wrote that the nonstop ride took "a little less than an hour, over a smooth road, through a pleasant, well-cultivated and apparently prosperous country."
A reconstructed version of Old Shimbashi Station is one of the Grant-related historic sites you can visit today. A few blocks east of today's bustling Shimbashi Station, the white, Western-style structure, with a fanlight window on a gable overlooking the passenger platform, must have been quite a landmark in its day. Now it seems quaint and cozy, dwarfed by the surrounding skyscrapers of the Shiodome business district.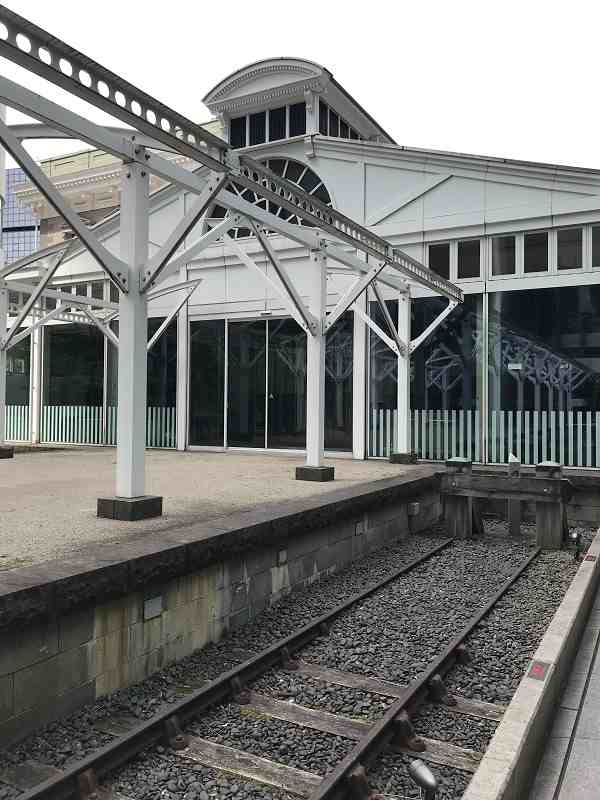 Inside the station building is a railway history museum (free admission) whose exhibits include an excavated "station teapot" decorated with a hand-painted image of a steam locomotive.
But Grant may not have had time for tea at the station. As described by University of Florida historian Richard Chang in a 1969 article in Sophia University's Monumenta Nipponica journal, Grant was greeted there by "a cheering multitude" in a ceremony that included a speech by Eiichi Shibusawa, a notable figure of the Meiji era (1868-1912) who was then the leader of the Tokyo Chamber of Commerce.
Garden dweller
From Shimbashi Station, Grant and his party were taken to the nearby Enryokan, a stately Western-style house where he would stay until he left Japan in early September. The building no longer exists, but a sign marks its location in what is now a Tokyo metropolitan park called the Hama-rikyu Gardens (adult admission ¥300).
Then as now, it was a beautifully landscaped waterfront plot of land. "In the art of gardening," Young wrote in introducing it, "Japan excels the world." The Tokugawa shoguns of the Edo period (1603-1867) had used its network of ponds for recreation such as duck hunting. With the Meiji Restoration, the garden had become property of the Emperor. Grant stayed there as his guest.
When the former president visited his host at the Imperial Palace on July 4, they exchanged formal greetings, during which the Emperor congratulated Grant on the anniversary of American independence. When the Emperor stepped forward and shook Grant's hand — a remarkable gesture for the time — Young rather endearingly described him as displaying "the manner of a man doing a thing for the first time, and trying to do it as well as possible."
The two would meet again, including for a longer and more private conversation on Aug. 10 at the Nakajima teahouse, on a small island in one of the Hama-rikyu Garden's large ponds.
Tension between Japan and China over the Ryukyu Islands was the highest-profile item on the agenda, but Chang writes that the Emperor also asked Grant for his views on "the foreign policy of European powers, treaty revision, popular suffrage, and foreign indebtedness." Chang writes that the Emperor sometimes cited Grant in policy discussions years later.
For Grant's part, Young writes that he told the Emperor at some length how impressed he was with the quality of Japanese schools. This was not mere politeness; Grant also praised the schools in many of his letters to the United States.
The current Nakajima teahouse building is a reconstruction. But if you step inside to relax with an ¥850 set of tea and sweets, you may notice on the wall a framed painting of the 1879 meeting. It depicts Grant and the Emperor at a small table with the pond and an arched bridge in the background. Turn your head, and you will see the same view — although today it includes high-rise condos on the horizon.
Shibusawa's guest
Shibusawa, who had welcomed Grant to Shimbashi Station, was then 39 years old, and was not yet halfway through his long career in business and public affairs. According to exhibits at the Shibusawa Memorial Museum in Asukayama Park in Kita Ward, Tokyo, he had already founded what is today the Oji Paper Co. and served as superintendent of the First National Bank. He had even helped to standardize the nation's currency. He would later play roles in the hotel, railway, gas, brick, sugar and beer industries, among others.
His involvement with Grant's time in Japan was also extensive. Shibusawa and the Chamber of Commerce arranged public and private events that included a visit to Shibusawa's hilltop estate — now in Asukayama Park, adjacent to Oji Station. Admission to the park is free, while an adult ticket to the museum is ¥300. Shibusawa's house no longer stands, but a museum ticket will get you into two of the estate's slightly newer buildings, a 1917 teahouse and a 1925 library.
Part of the entertainment provided on the day of Grant's visit to this spot was a demonstration of jujitsu. One of the participating athletes, according to his own later writing, was then 18-year-old Jigoro Kano. Today, Kano is revered as the founding father of a related martial art that is now an Olympic sport — judo.
Putting down roots
Today, the only living witnesses to Grant's sojourn are trees, some of which were planted by Grant himself.
One of these is at Zojoji temple in Minato Ward, Tokyo. The temple is famous for its enormous gate, and for the fact that its grounds include the tombs of six shoguns from the Edo period. The tombs are in a walled-off outdoor area that is open to the public only on special occasions, but you can visit Grant's tree anytime. The enormous Himalayan cedar stands almost in the center of your path after you walk through the gate on Hibiya-dori avenue.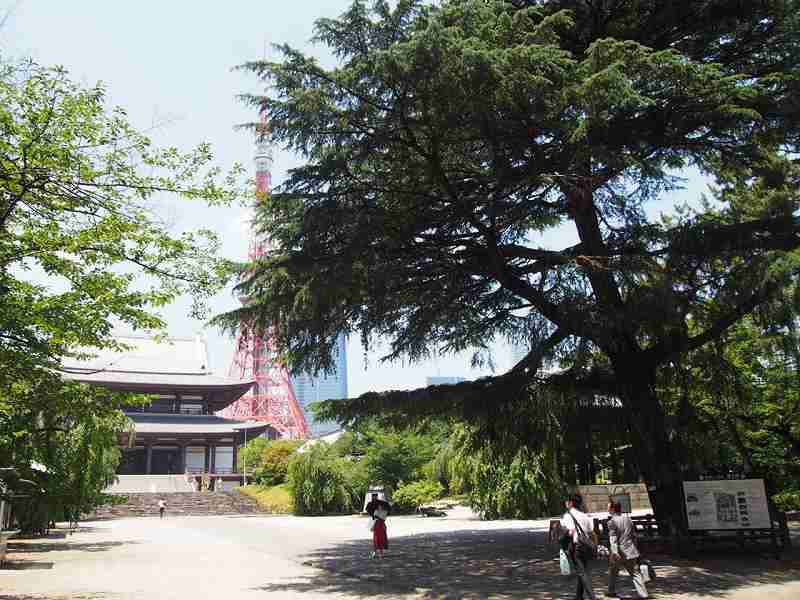 And to the left, you can find a smaller presidential tree, about a century younger. This one is a pine planted by George H.W. Bush when he visited Japan as Ronald Reagan's vice president in 1982.
While Grant's tree at Zojoji is still robust, a cypress tree he planted in Ueno Park is looking rather scraggly these days. This tree is part of a pair, the other being a magnolia planted by his wife, Julia. Her tree is in beautiful shape 143 years on, still sprouting large white blossoms among its glossy leaves.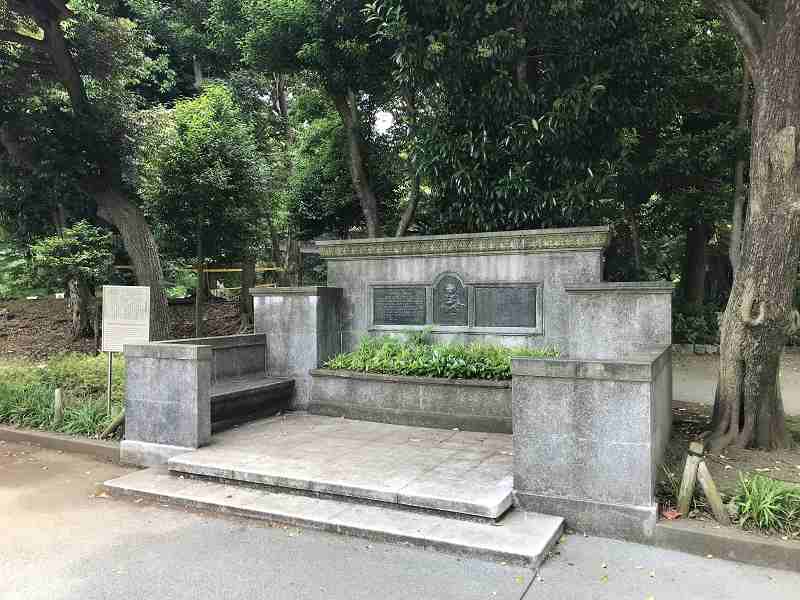 These two trees stand just to the left of the main entrance to the Ueno Zoo. A monument nearby, which includes a pair of stone benches facing a metal relief portrait of Grant, was set up in 1929, commemorating the 50th anniversary of the visit.
Shibusawa, who was 89 by then, had a hand in setting up the monument. At his museum in Asukayama Park, you can watch old movie footage of his appearance at the monument's unveiling ceremony.
It is strangely fitting that Shibusawa was a recurring figure in Grant's visit to Japan. Grant's portrait appears on today's U.S. $50 bill. And starting in 2024, Shibusawa's portrait will appear on the Japanese ¥10,000 note. Future travelers between the two countries are thus likely to see both men's faces when their trips begin — at the currency exchange counter.
Add TheJapanNews to your Google News feed.