Tottori Wagyu: Discovering the finest beef paradise in Tottori Pref.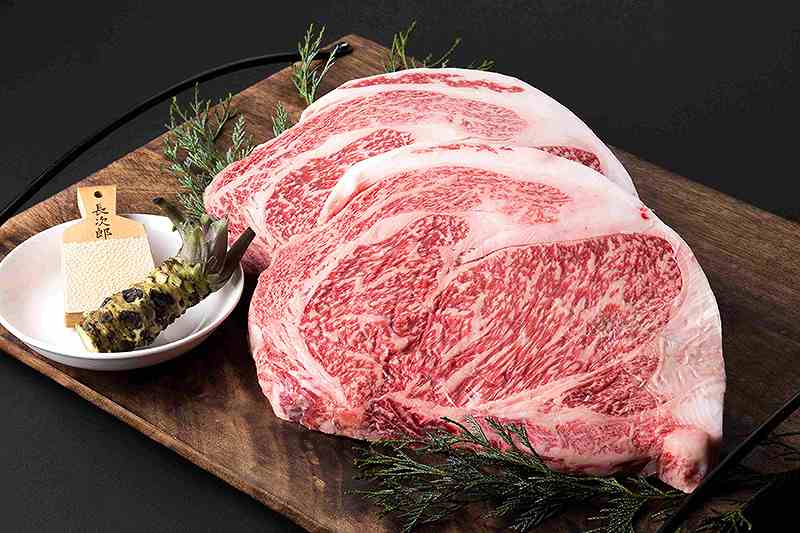 21:02 JST, December 24, 2021
Tottori Prefecture is known for seafood such as Matsuba snow crab and agricultural products such as Nijisseiki pears (Asian pears), but it should be famous for its Tottori Wagyu, a brand of beef that is the highest quality in the world. I visited people who are striving to further improve the beef and make it more well-known.
The city of Kurayoshi lies in central Tottori Prefecture with Mt. Daisen, the highest mountain in the Chugoku region at 1,729 meters above sea level, standing to the west.
"Welcome. You've come a long way, haven't you?" said an older woman in work clothes with a friendly smile as I gazed at black cattle being loaded onto a truck.
Ikuko Torikai is 72 and works at the Torikai Chikusan livestock farm. She is certified as a livestock artificial insemination specialist and works almost every day without a break.
"Just moving around here, I can easily walk 10,000 steps a day," she said with a smile.
Kengo, her 39-year-old second son, says beside Ikuko: "There's breeding, in which mothers are bred to produce calves, and fattening, in which calves are fattened to produce quality meat. We've been doing both for more than 30 years. We have one of the highest number of breeding mothers in the prefecture."
There are two barns separated by a 10 meter wide aisle — one barn for breeding, the other for fattening. They have about 240 cattle, of which about 90 are breeding mothers. The calves are raised with their mothers in the breeding barn until they are about 8 to 10 months old, when they are moved to the fattening barn. They are then shipped when they are about 28 to 30 months old.
It was feeding time when I visited at around 9 a.m. The cattle were doing their best to eat, but when they noticed me, they turned to me and stared with their big, adorable eyes.
Ikuko (left) and Kengo smile in the breeding barn.

A cow eating feed.

Cattle in the fattening barn

Japanese black cattle raised at Torikai Chikusan livestock (Cortesy of Akamaru Beef Store)

Japanese black cattle raised at Torikai Chikusan livestock (Cortesy of Akamaru Beef Store)
"Cattle are very small-minded animals for their size and are easily stressed," Kengo said.
He emphasized the stress-reducing benefits of combined cattle raising.
The interior of the fattening barn

The breeding barn (left) and the fattening barn are adjacent to each other

A calf being raised with its mother
For farmers whose job is only to fatten the cattle, cattle are first stressed when they are moved from one place to another, including remote areas such as Okinawa and Hokkaido. Then there are the changes in climate, the people raising the cattle, feed, and the barn environment. Cattle also have a delicate balance in their hierarchical relationship with each other, with the stronger cattle eating their food before the weaker ones. In a combined cattle raising system, cattle are not exposed to the stress caused by these changes. In the case of Torikai Chikusan, the cattle are fattened while listening to the voices of their mothers in the neighboring barns, relaxing them. They drink fresh subterranean water from Mt. Daisen. It is said that not only the feed, but also creating such an environment has had a great impact on the quality of meat.
"Wagyu Olympics" winner
Ketaka, the seed bull ⓒTottori Pref.

The seed bull, "Hakuho 85-3" ⓒTottori Pref.
Tottori Wagyu won first place in Japan for meat quality at a national Wagyu competition in 2017 that is held once every five years. The meat evaluated was from cattle raised by three fattening farmers, and the meat came from the offspring of the prefecture's leading seed bull, Hakuho 85-3. The bull is of the "Ketaka" bloodline, which had become the source of not only Tottori Wagyu, but also brand-name beef in many parts of Japan. Even before they became the best in Japan, the calves of "Hakuho 85-3" and his younger brother "Yurishirakiyo 2" were highly regarded and traded at a high price. Being awarded the top prize has further enhanced the reputation of the beef.
Mt. Daisen. Japanese black cattle from Tottori Prefecture grow up drinking the subterranean water from there. ⓒTottori Pref.

A cattle and horse market at the foot of Mt. Daisen in 1931 ⓒTottori Pref.
Tottori Wagyu has a long history; since the Heian period (794-late 12th century), it was common to visit Mt. Daisen with cattle and horses. In the Edo period (1603-1867), a cattle and horse market was held at the foot of the mountain, and the market was so lively that thousands, to tens of thousands, of cattle and horses were traded each time. In the Taisho period (1912-1926), a Wagyu cattle registration system came into being, with bloodlines registered and improvements to the the quality of cattle marked. This led to the breeding of the "Ketaka." With 9,000 offspring in his lifetime, Ketaka, along with seed bulls from Hyogo and Shimane prefectures, went down in history as the origin of the nation's beef brands.
Another feature of Tottori Wagyu is the high percentage of oleic acid in its fat. Oleic acid is also found in olive oil and is said to be effective in reducing bad cholesterol. Tottori Prefecture certifies beef that contains more than 55% oleic acid and is from the Ketaka bloodline as "Tottori Wagyu Olein 55." This is the highest quality of meat you can enjoy, with a spectacular flavor and melt-in-your-mouth sensation the moment you take a bite.
Tottori Wagyu of the World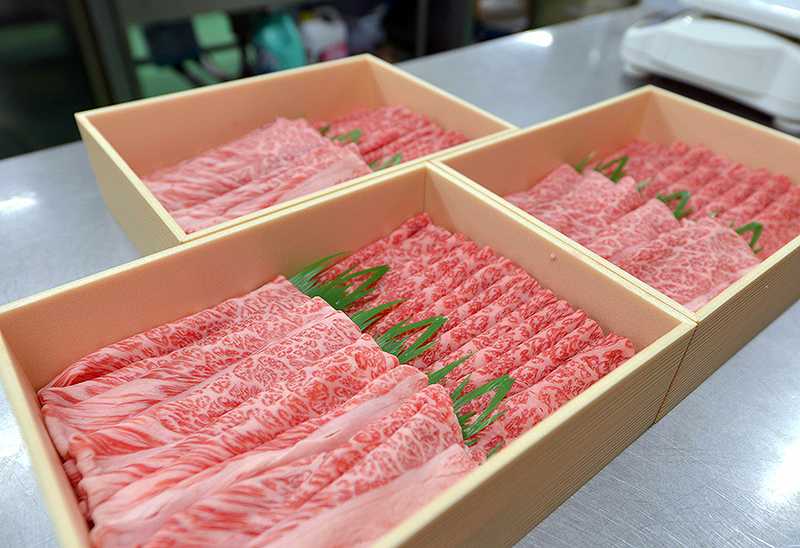 "Do you have Wagyu in Tottori, too?"
When Kengo used to do door-to-door sales in Tokyo, he was often shocked by the question and left feeling frustrated. "It is still known in Osaka, which is geographically close to Tottori, but to the east of Nagoya, it's almost unknown," Kengo said at the office of Akamaru Beef Store, which he runs in Kurayoshi.
Sirloin for shabu-shabu, or thinly sliced beef that is boiled. (Cortesy of Akamaru Beef Store)

Tottori wagyu beef fillet (Cortesy of Akamaru Beef Store)

Sirloin for shabu-shabu (Cortesy of Akamaru Beef Store)

The Akamaru Beef Store's main factory
Kengo used to work as a news anchor for a local cable TV station, but left the job to establish the company in 2014. He now runs four businesses: meat retail, wholesale, restaurant, and online shopping. His 36-year-old brother, Yutaro, took over Torikai Chikusan, which had been run by his father, in January, 2021. Kengo purchases and sells meat from Torikai Chikusan as well as from farmers who are engaged in combined cattle raising with Kobe Beef.
Akamaru means "red circle" in Japanese, which is the mark of the Akamaru Beef Store.
The mark of the Akamaru Beef Store
"It's the idea of the circle of life," Kengo said. "I wanted to express the idea of connecting lives. Red is for the color of the beef."
As his parents and younger brother spent a lot of time and love raising the cattle, Kengo is full of confidence about the beef's quality and taste.
"The beef excels in the three elements of oleic acid, glycogen [the umami of meat], and flavor," he said.
The Torikai family. From left: Ikuko, Yutaro, Osamu and Kengo. (Cortesy of Akamaru Beef Store)

Japanese black cattle raised with love and care (Cortesy of Akamaru Beef Store)
When I had lunch at a yakiniku restaurant run by Kengo in the neighboring town of Yurihama, I was duly impressed with the taste; it was one of the best yakiniku I have ever had.
A meat shop and yakiniku restaurant for the Akamaru Beef Store

There is a meat vending machine outside the store.

Tottori wagyu beef loin for sukiyaki sold at the store.

A view of the store

Yakiniku restaurant have a variety of seasonings.

All of the lunch meats were excellent.

Table seating for two in the restaurant

A blackboard in the store with a map of Tottori Prefecture
The problem is the beef is still not well known to the general public. One reason is that not many are shipped. There are about 90 fattening farmers for Tottori Wagyu, including those with combined cattle raising, meaning only about 3,000 cattle are shipped a year (such as in 2020). This is about 1% of the Wagyu cattle shipped nationwide, and much less than the approximately 8,000 cattle shipped from Hyogo Prefecture, the home of Kobe beef.
This means despite the beef being served at high-end restaurants in Tokyo, it is not recognized by the general public. Tottori Prefecture has focused on calf production while neglecting to promote its meat. Brand-name beef-producing areas around Japan, where calves are purchased and fattened, have advanced fattening techniques and promotion capabilities that have given them an advantage over Tottori Wagyu.
For Kengo — an ardent athlete who competed in Ekiden relay races in junior high school and played baseball in high school while aiming for the National Championship in Koshien — the higher the goal, the better.
"I would like to make the area more attractive by promoting the quality of Tottori Wagyu beef and collaborating with restaurant and lodging businesses so that people who know how good it tastes will want to come here to eat it," he said. "In the future, I would like to export Tottori Wagyu beef overseas and make it a global brand."
Tottori Wagyu Beef in Tokyo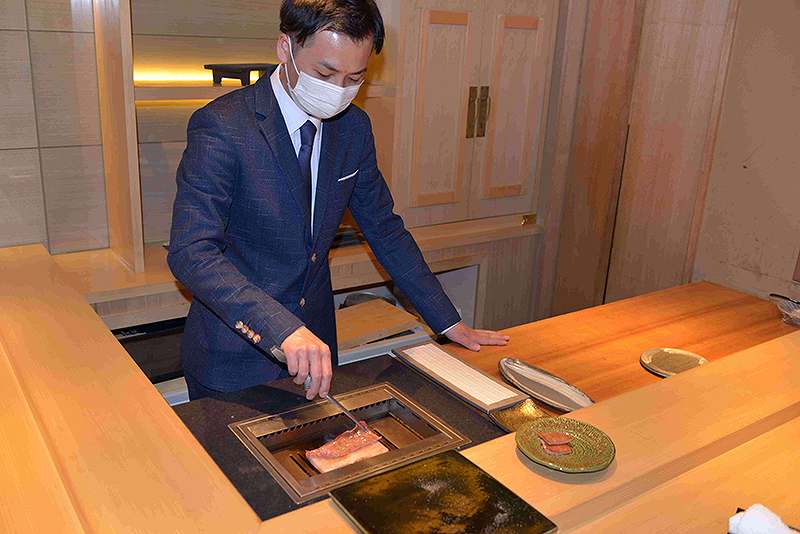 Tottori Wagyu beef is also available in some places in Tokyo.
Kyoshotei GINZA is a high-class yakiniku restaurant specializing in Tottori Wagyu beef. The ¥15,000 course includes appetizers, sushi, grilled meat, yaki-shabu, and sukiyaki, all of which feature Tottori Wagyu beef. The staff carefully cooks each meat in front of you. All the meat was melt-in-your-mouth delicious, and I was extremely satisfied. The restaurant serves beef raised by Yoshiki Nishida, one of the fattening farmers who won Japan's top prize at the Wagyu Olympics in 2017, and customers are given a copy of the registration to prove it.
Beef sushi. Sea urchin and caviar rest on top.

Beef tongue and thighs used for yakiniku

The taste is amazing.

Ichibo beef with clam broth

Ichibo beef with clam broth

Ichibo beef with clam broth

Sukiyaki with thinly sliced sirloin beef.
Tottori Wagyu roast beef with rice (¥1,680) can be found at the restaurant Tottori Okayama Shinbashikan, an antenna shop in Tokyo, along with some retort curries made with Tottori Wagyu beef.
The exterior of Kyoshotei GINZA

The full-course menu at Koshotei GINZA

A certificate of registration for Tottori wagyu beef

Lunch served at the restaurant in Tottori Okayama Shinbashikan. Roast beef and rice is on the right, and snow crab and rice on the left.

Various curries using Tottori wagyu beef sold at Tottori Okayama Shinbashikan

The exterior of Tottori Okayama Shinbashikan
---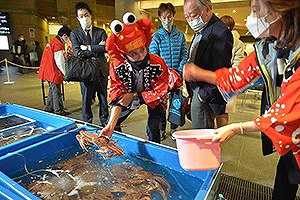 Tottori:Event information
An event Tottori Prefectural government held at Roppongi Hills in central Tokyo to celebrate the opening of the Matsuba snow crab fishing season (photo taken on November 19).
■Tottori Prefecture's Tottori Wagyu information page

■Akamaru Beef Store

■The link to the online store is

■Akamaru yakiniku restaurant

1455-1 Tago, Yurihama-cho, Tottori Prefecture. There is a retail store and a yakiniku restaurant. The yakiniku restaurant serves lunch from 11:00 a.m. to 3:00 p.m., and dinner from 5:00 p.m. It closes at 7:00 p.m. from Tuesday through Thursday, and 9:00 p.m. from Friday through Sunday. The store sells meat from 10 a.m. to 8 p.m. Both are closed on Mondays

■Kyoshotei GINZA

7-12-4 Ginza, Chuo Ward, Tokyo. Open from 5:00 PM to 11:00 PM.
https://kyoshotei-ginza.com/

■Tottori Okayama Shinbashikan Shinbashi Center Place

1-11-7 Shinbashi, Minato Ward, Tokyo. Open from 10:00 a.m. to 9:00 p.m. The upstairs restaurant is open from 11:00 a.m. to 10:00 p.m. Open seven days a week except from December 31 to January 3.
https://www.torioka.com/about/english/
---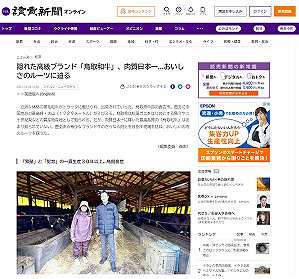 Hidden luxury brand "Tottori Wagyu", the best meat quality in Japan … Approaching the roots of deliciousness
Publish:Japanese version on Yomiuri Shimbun Online
---