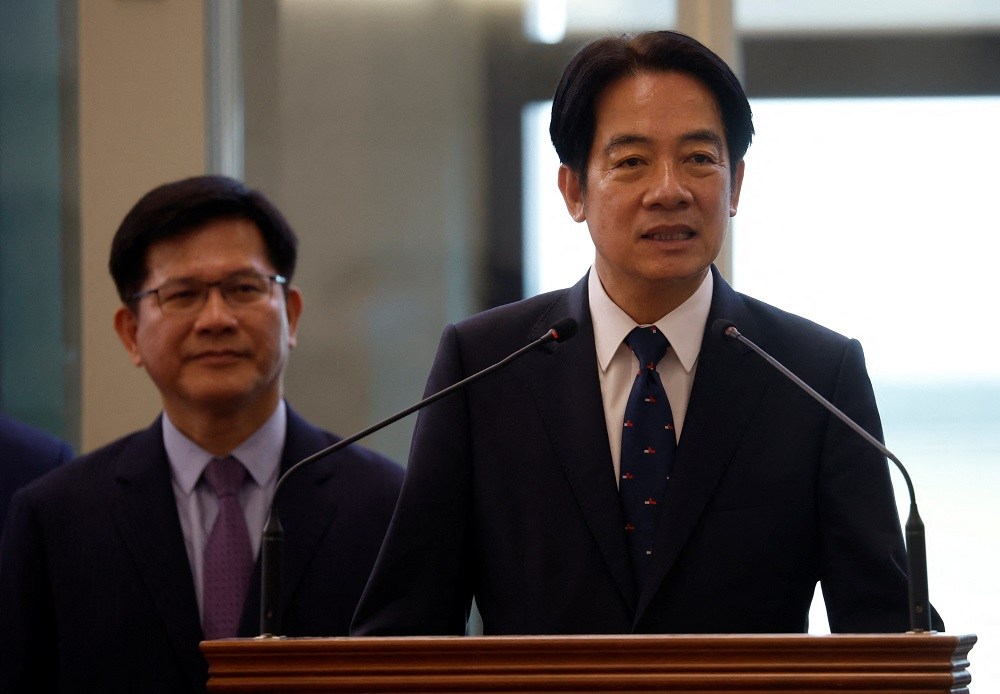 18:32 JST, August 12, 2023
TAIPEI (Reuters) — Taiwan Vice President William Lai leaves on Saturday for a sensitive trip to the United States, which China has condemned and Taiwanese officials fear could prompt more Chinese military activity around the democratically governed island.
Lai, the front-runner to become Taiwan's president in elections in January, is officially making only transit stops in the United States on his way to and from Paraguay for the swearing in of its president.
Taipei and Washington say such stopovers are routine and no cause for China to take "provocative" actions, but Beijing has reacted with anger at what it sees as a further sign of U.S. support for Taiwan, which it claims as sovereign Chinese territory.
China is likely to launch military drills next week near Taiwan, using Lai's stopovers in the United States as a pretext to intimidate voters ahead of a next year's election and make them "fear war," Taiwanese officials say.
Beijing particularly dislikes Lai, who has in the past described himself as a "practical worker for Taiwan independence." Lai has, however, repeatedly said during the election campaign he does not seek to change the status quo.
Lai, who goes first to New York, wrote in English on social media platform X, formerly called Twitter, he was "excited to meet with US friends in transit" and to be going to Paraguay, one of just 13 countries to maintain formal ties with Taipei.
Laura Rosenberger, chair of the Virginia-based American Institute in Taiwan (AIT), a U.S. government-run non-profit that carries out unofficial relations with Taiwan, responded on X that AIT was looking forward to welcoming him "during his transit en route to Paraguay."
Neither Taiwan nor the United States have given exact details about his U.S. schedule. Lai's official schedule for Sunday states merely that he is going to Paraguay.
Lai, scheduled to speak to reporters at Taiwan's main international airport on Saturday afternoon before leaving, is to return from Paraguay via San Francisco.
The Paraguay leg of the trip is also important given China's increasing efforts to take Taiwan's remaining allies.
Honduras, once a stalwart Taiwanese partner, switched relations to China in March. Lai went to Honduras last year for the inauguration of its president and had a brief though symbolic chat while there with U.S. Vice President Kamala Harris.
Add TheJapanNews to your Google News feed.