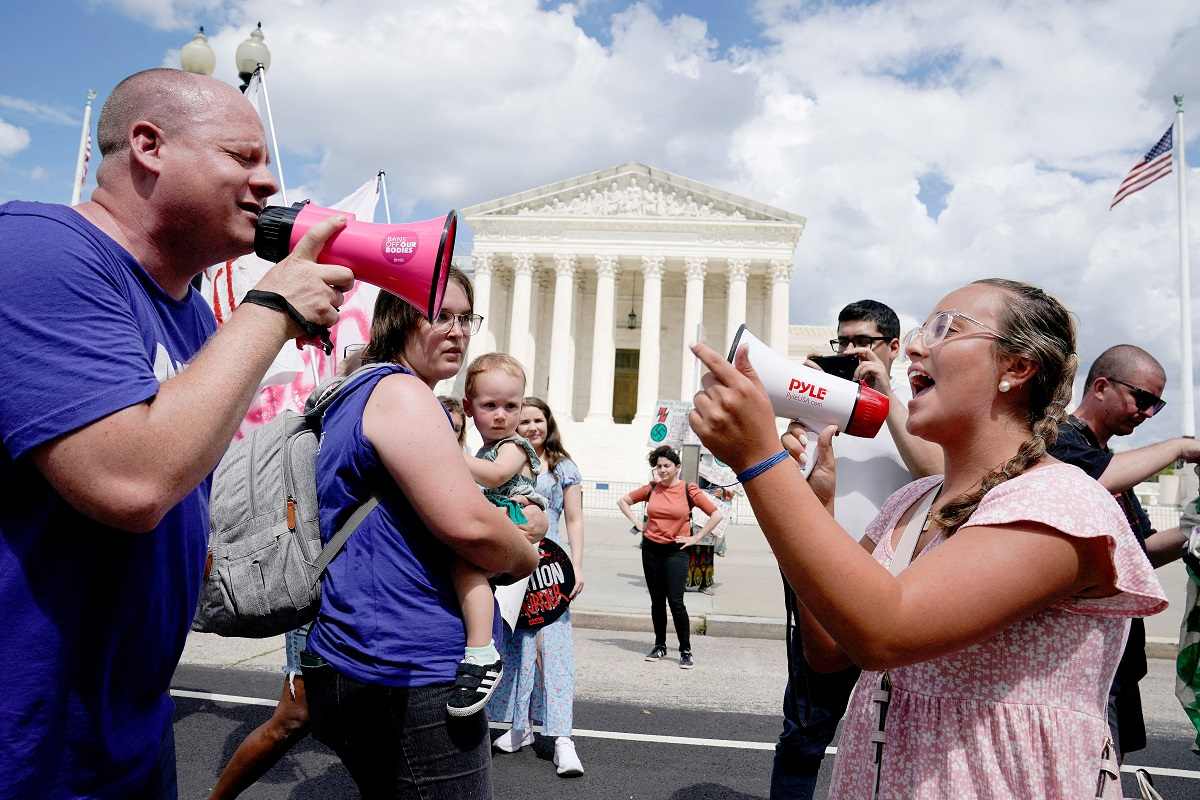 14:47 JST, June 25, 2023
Abortion rights supporters and opponents held dueling rallies around the U.S. on Saturday, the first anniversary of the Supreme Court's decision to overturn the 1973 Roe v. Wade ruling that had legalized the procedure nationwide.
In Washington, speakers from national abortion rights groups, including Women's March and NARAL Pro-Choice America, assembled in Columbus Circle to celebrate the defeat of some abortion opponents in the 2022 midterm races and to rally voters ahead of next year's congressional and presidential elections.
Across town at the Lincoln Memorial, anti-abortion groups, including Students for Life America, hosted a "National Celebrate Life Day Rally." Former Vice President Mike Pence, a 2024 Republican presidential candidate, was among the speakers.
"We're never going to rest, we're never going to relent, until we restore the sanctity of life to the center of American law in every state in the country," Pence said on Saturday at a pre-rally "tele-townhall" for Iowa, the state that will be first to nominate a Republican candidate for president next year.
A live crowd chanted "four more years" in Charlotte, North Carolina, as Democratic Vice President Kamala Harris spoke in favor of national legislation to protect abortion rights. A new Republican-backed law takes effect in North Carolina on July 1, cutting the legal window for abortions from 20 to 12 weeks of pregnancy.
"We know this fight will not truly be won until we secure this right for every American, which means ultimately the United States Congress must put back in place what the Supreme Court took away," Harris said.
The June 24, 2022, Supreme Court ruling allowed U.S. states to ban abortion care for the first time in nearly 50 years. Conservative states have passed a flood of legislation to restrict the procedure, while other states have moved to protect abortion access.
Near-total abortion bans have taken effect in 14 states in the past year, even as opinion polls show that a majority of Americans want abortion legal in all or most cases.
The issue is expected to remain central in next year's congressional and presidential races, with activists on both sides using the anniversary to mobilize their base to get more politically engaged.
Leading reproductive rights groups — EMILYs List, NARAL Pro-Choice America and Planned Parenthood Action Fund — on Friday announced their endorsements of President Joe Biden and Harris for reelection in 2024.
Add TheJapanNews to your Google News feed.