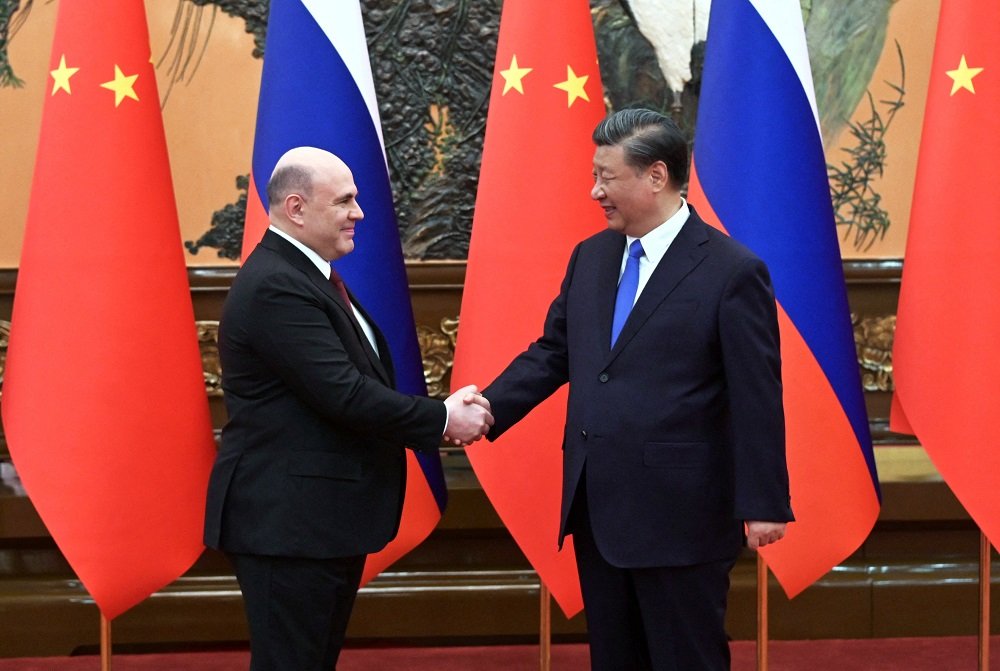 17:25 JST, June 6, 2023
BEIJING (Reuters) — China and Russia conducted a joint air patrol on Tuesday over the Sea of Japan and East China Sea for a sixth time since 2019, prompting neighboring South Korea to scramble fighter jets.
China's defense ministry said the patrol was part of the two militaries' annual cooperation plan. South Korea scrambled fighter jets, according to its military, after four Russian and four Chinese military aircraft entered its air defense zone in the south and east of the Korean peninsula.
In China's last joint aerial patrol with Russia in November, South Korea also scrambled fighter jets after Chinese H-6K bombers and Russian TU-95 bombers and SU-35 fighter jets entered its Air Defence Identification Zone (KADIZ).
Japan similarly scrambled jets when Chinese bombers and two Russian drones flew into the Sea of Japan.
An air defense zone is an area where countries demand that foreign aircraft take special steps to identify themselves. Unlike a country's airspace — the air above its territory and territorial waters — there are no international rules governing air defense zones.
The joint aerial patrols, which began before Russia sent its troops in Ukraine and Beijing and Moscow declared their "no-limits" partnership, are a result of long expanding bilateral ties built partly on a mutual sense of threat from the United States and other military alliances.
In their May 2022 patrols, Chinese and Russian warplanes neared Japan's airspace as Tokyo hosted a Quad summit with the leaders of the United States, India and Australia, alarming Japan even though China said the flights were not directed at third parties.
China's increasing military assertiveness in the region has coincided with an increase in military manoeuvers and drills by the United States and its allies in the region.
Since last week, the coast guard of the United States, Japan and the Philippines have held their first trilateral naval exercise in the South China Sea.
The White House said on Monday that recent encounters between U.S. and Chinese forces in the Taiwan Strait and South China Sea reflect a growing aggressiveness by Beijing's military that raises the risk of an error in which "somebody gets hurt."
Over the weekend, a Chinese warship came within 137 meters of a U.S. destroyer while the U.S. and Canadian navies were conducting a joint exercise in the sensitive Taiwan Strait, prompting complaints about the safety of the manoeuver.
Shortly before that, a video showed a Chinese fighter jet passing in front of a U.S. plane's nose with the cockpit of the RC-135 shaking in the turbulence caused by the flight.
"U.S. military ships and aircraft have travelled thousands of miles to provoke China at its doorstep," China's foreign ministry spokesperson Wang Wenbin said during a regular news conference on Tuesday.
"Insisting on conducting close reconnaissance and flexing its muscles near China's territorial waters and airspace is not safeguarding freedom of navigation, but promoting of navigation hegemony and is a blatant military provocation," he said.
Add TheJapanNews to your Google News feed.