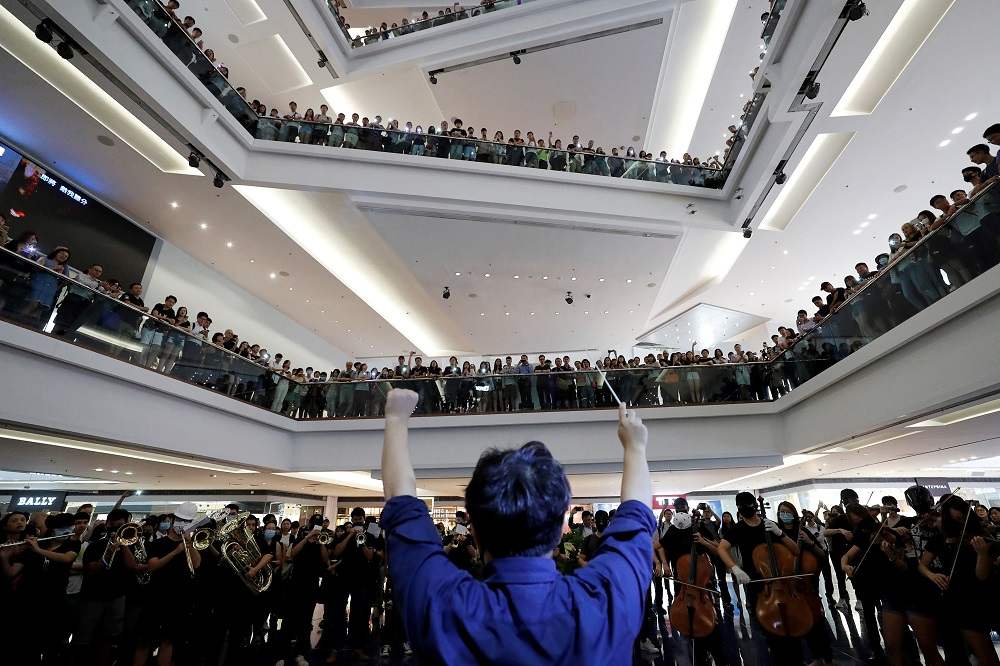 15:43 JST, June 6, 2023
HONG KONG (Reuters) — The Hong Kong government said on Tuesday that it asked a court to ban a protest song in a bid to prevent people from inciting secession or insulting China's national anthem.
"Recently, the song has also been mistakenly presented as the 'national anthem of Hong Kong' repeatedly," the government said in a statement. "This has not only insulted the national anthem but also caused serious damage to the country and the HKSAR."
According to a writ seen by Reuters, the Department of Justice seeks make it illegal to perform or disseminate the song or its melody, including online.
It would also ban 32 videos of "Glory to Hong Kong" on YouTube, including the English, Dutch and Japanese versions of the song. Google, which operates YouTube, did not immediately respond to a request for comment.
The injunction application comes after "Glory to Hong Kong" – the unofficial anthem of Hong Kong's 2019 pro-democracy protests – has been played at several international events, including an ice hockey competition in February.
Hong Kong does not have its own anthem. The protest anthem was played mistakenly instead of the Chinese national anthem "March of the Volunteers", after the Hong Kong ice hockey team beat Iran at an international competition.
After the incident, the city's top sports federation reprimanded the Hong Kong Ice Hockey Association and updated guidelines to require teams to boycott award ceremonies at international competitions until organisers agree to let them ensure the song will not be played.
Google has said it would not change its search results to display China's national anthem, rather than a protest song, when users search for Hong Kong's national anthem.
"Glory to Hong Kong" was written in 2019, just as Hong Kong's protests erupted against a now-withdrawn extradition bill that allowed for suspects to be sent to mainland China for trial, and was considered by many demonstrators in the former British colony to be their national anthem.
The song was banned at schools in 2020 after China imposed a sweeping national security law on the financial hub to punish what Beijing defines as secession, subversion, terrorism and collusion with foreign forces with up to life in prison.
The government said it is awaiting for directions from the court and a hearing date is yet to be fixed.
Add TheJapanNews to your Google News feed.