Russia Says It Thwarts Another Major Attack in Ukraine, Inflicting Heavy Losses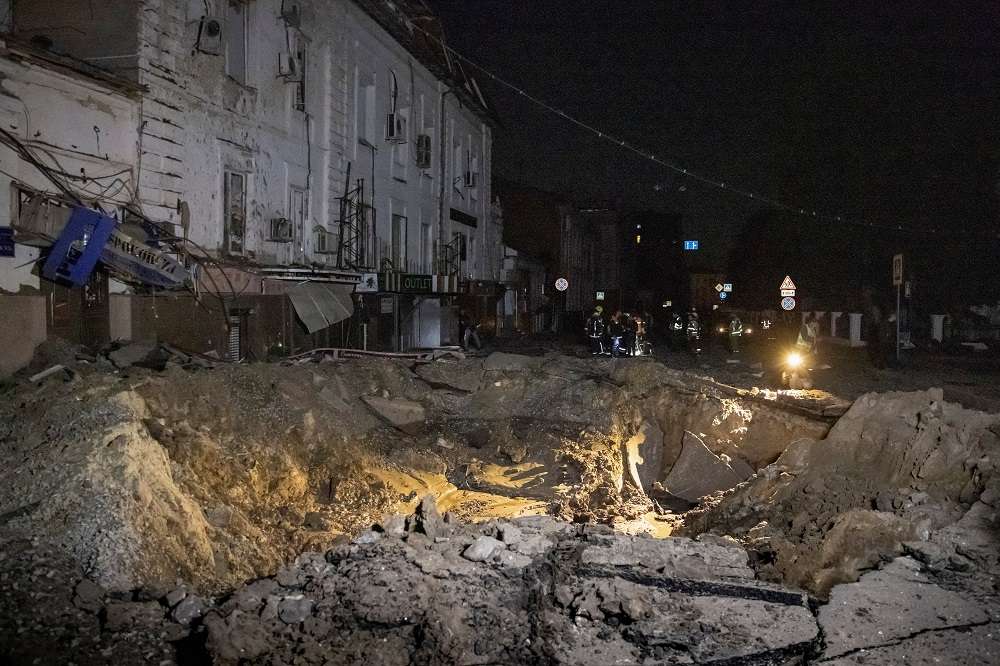 13:12 JST, June 6, 2023
KYIV (Reuters) — Russia said on Tuesday it had thwarted another major Ukrainian offensive in Donetsk, inflicting heavy losses, while Ukraine hailed progress in fighting in the east, although it was unclear if it marked the start of a long-anticipated Ukrainian counteroffensive.
On Monday, Russia said Ukrainian forces over the weekend had begun a major offensive in the southern part of the Donetsk region, which it had also thwarted.
Ukrainian officials have made no mention of any broad, significant new campaign, although in his nightly address on Monday, Ukrainian President Volodymyr Zelenskiy was enigmatic, hailing "the news we have been waiting for" and forward moves in Bakhmut in Donetsk.
Russian President Vladimir Putin sent troops into Ukraine on Feb. 24 last year in what the Kremlin expected to be a swift operation, but its forces suffered a series of defeats and regrouped in the country's east.
Tens of thousands of Russian troops dug in over the winter, besieging Bakhmut for months and bracing for an expected Ukrainian counter-attack to try to cut Russia's so-called land bridge to the Crimean Peninsula.
The latest Russian defence ministry statement said Russian forces had inflicted huge personnel losses on attacking Ukrainian forces and destroyed 28 tanks, including eight Leopard main battle tanks and 109 armoured vehicles. It said total Ukrainian losses amounted to 1,500 troops.
"Having suffered heavy losses the day before, the Kiev regime reorganized the remnants of the 23rd and 31st mechanized brigades into separate consolidated units, which continued offensive operations," the ministry said on Telegram.
"A complex fire defeat was inflicted by army forces, assault and operational-tactical aviation, missile forces and artillery, as well as heavy flamethrower systems."
Reuters could not independently verify the reports. There was no immediate comment from Kyiv about Russia's assertions.
Russia and Ukraine have often made claims of inflicting heavy human losses on each other which could not be independently verified.
The Washington Post reported that some U.S. officials thought the counteroffensive was underway, but White House national security spokesperson John Kirby declined to say whether he thought this was the case.
"I'm not going to be talking for the Ukrainian military," he told a regular briefing.
"(But) whenever they decide to step up and whatever they decide to do, the president is confident that we did everything we could over the last six, eight months or more to make sure that they had all the equipment, the training, the capabilities to be successful."
In a promotional video released on Sunday and urging silence in regards to any military actions, Ukraine's defence ministry said: "Plans like silence – the beginning will not be announced."
The success or failure of a counteroffensive, expected to be waged with billions of dollars worth of advanced Western weaponry, is likely to influence the shape of future Western diplomatic and military support for Ukraine.
Ukrainian Foreign Minister Dmytro Kuleba told Reuters on Monday Ukraine now had enough weapons for a counteroffensive but declined to comment when asked whether it had begun.
Russia's defence ministry said previously Ukraine had launched a large-scale offensive on Sunday in five sectors of the front in southern Donetsk, an area where Moscow has long suspected Ukraine would seek to drive a wedge through Russian-controlled territory.
"The enemy's goal was to break through our defences in the most vulnerable, in its opinion, sector of the front," it said. "It had no success."
In its evening report on Monday, Ukraine's General Staff made no mention of any large-scale offensive, nor did it suggest any deviation from the usual tempo or scope of fighting along front lines that have not changed significantly for months.
Deputy Defence Minister Hanna Maliar said on Telegram Ukraine was "shifting to offensive actions" along parts of the front but dismissed suggestions of a major operation.
"The main focus now is on the Bakhmut sector," said Maliar. "This has resulted in certain successes, including advances. We have taken control of certain heights."
Russian Wagner group mercenaries captured Bakhmut last month and handed their positions there to regular Russian troops.
Writing on Telegram, Wagner militia leader Yevgeny Prigozhin, who has often clashed with the Russian defence ministry, said its latest statement and the huge Ukrainian losses it described was "simply wild and absurd science fiction."
Russia now controls at least 18% of internationally recognized Ukrainian territory and has claimed four more regions of Ukraine as Russian territory after annexing Crimea in 2014.
Add TheJapanNews to your Google News feed.