BRICS Ministers Put on Show of Strength as Putin Arrest Warrant Looms Large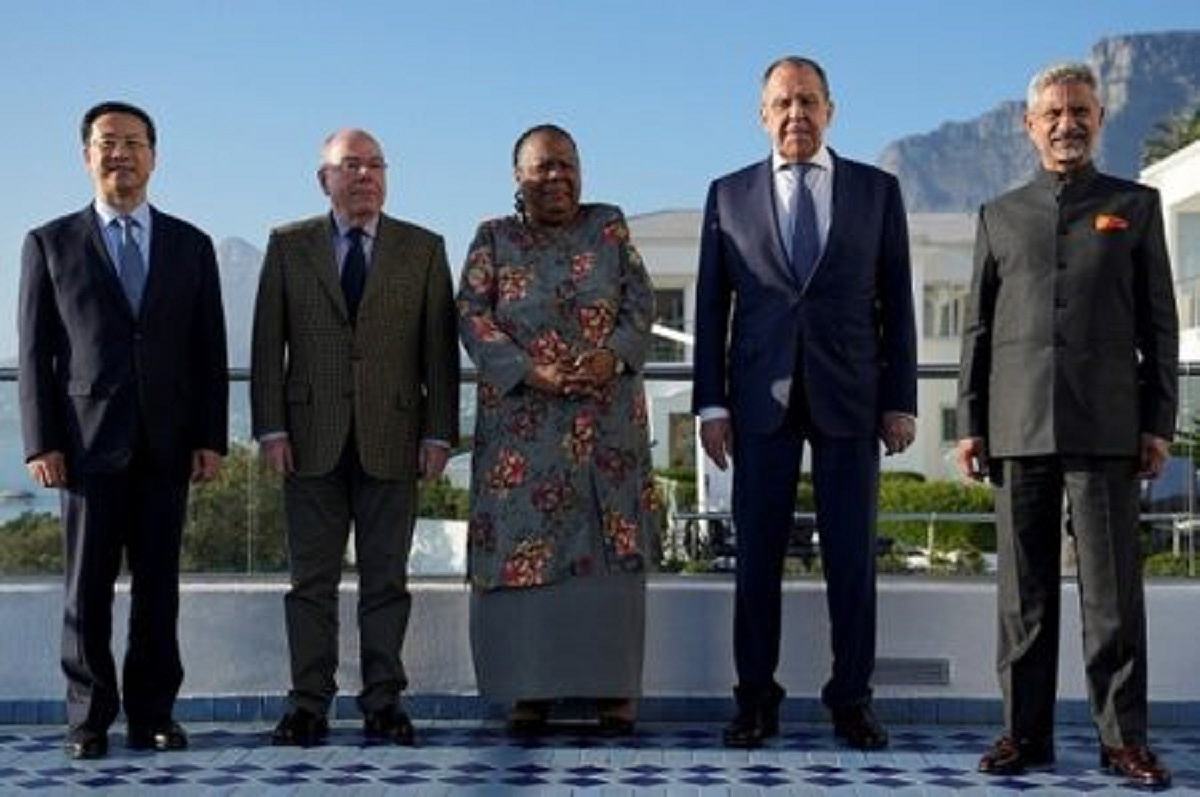 14:49 JST, June 2, 2023
CAPE TOWN, June 1 (Reuters) – BRICS foreign ministers on Thursday asserted their bloc's ambition to rival Western powers but their talks in South Africa were overshadowed by questions over whether Russia's president would be arrested if he attended a summit in August.
South Africa's foreign minister Naledi Pandor said her country was mulling options if Vladimir Putin, the subject of a war crimes arrest warrant issued by the International Criminal Court (ICC), came to the planned BRICS summit in Johannesburg.
As a member of the ICC, South Africa would theoretically be required to arrest Putin, and Pandor was bombarded with questions about that as she arrived for a first round of talks with representatives from Brazil, Russia, India and China.
"The answer is the president (Cyril Ramaphosa) will indicate what the final position of South Africa is. As matters stand an invitation has been issued to all (BRICS) heads of state," she said.
At a news conference later, the ministers side-stepped a barrage of questions about the Putin issue.
The ICC accused Putin in March of the war crime of forcibly deporting children from Russian-occupied territory in Ukraine. Moscow denies the allegations. South Africa had invited Putin in January.
Putin has not confirmed his plans, with the Kremlin only saying Russia would take part at the "proper level".
The ministers sought to focus attention on their ambition to build up their influence in a multi-polar world.
India's Subrahmanyam Jaishankar spoke of the concentration of economic power which he said "leaves too many nations at the mercy of too few", and of the need to reform global decision-making including by the United Nations Security Council.
"Old ways cannot address new situations. We are a symbol of change. We must act," he said.
ENLARGEMENT
Once viewed as a loose association of disparate emerging economies, BRICS has in recent years taken more concrete shape, driven initially by Beijing and, since the start of the Ukraine war in February 2022, with added impetus from Moscow.
The bloc launched a New Development Bank in 2015, though that has stopped funding projects in Russia to comply with sanctions imposed by Western countries following the invasion of Ukraine.
Pandor said a senior executive from the bank had briefed the ministers about "the potential use of alternative currencies to the current internationally traded currencies".
She said the aim was "to ensure that we do not become victim to sanctions that have secondary effects on countries that have no involvement in issues that have led to those unilateral sanctions".
The ministers also discussed plans to potentially admit new members to the club. Pandor said more work was needed to make that possible and she hoped a report on the matter would be ready by the August summit.
China's Vice Minister Ma Zhaoxu said his country was happy about the prospect of more countries joining BRICS as it would increase the influence of the bloc and give it more power to serve the interests of developing countries.
The BRICS bloc "was inclusive … in sharp contrast to some countries' small circle, and so I believe the enlargement of BRICS will be beneficial to the BRICS countries," he said.
Iran's Foreign Minister, Hossein Amir-Abdollahian, and his Saudi counterpart Prince Faisal bin Farhan Al Saud were both present in Cape Town to participate in the BRICS meeting, which continues on Friday.
Their two countries, along with Venezuela, Argentina, Algeria and the United Arab Emirates are among those that have either formally applied to join BRICS or expressed interest, officials said.
Add TheJapanNews to your Google News feed.