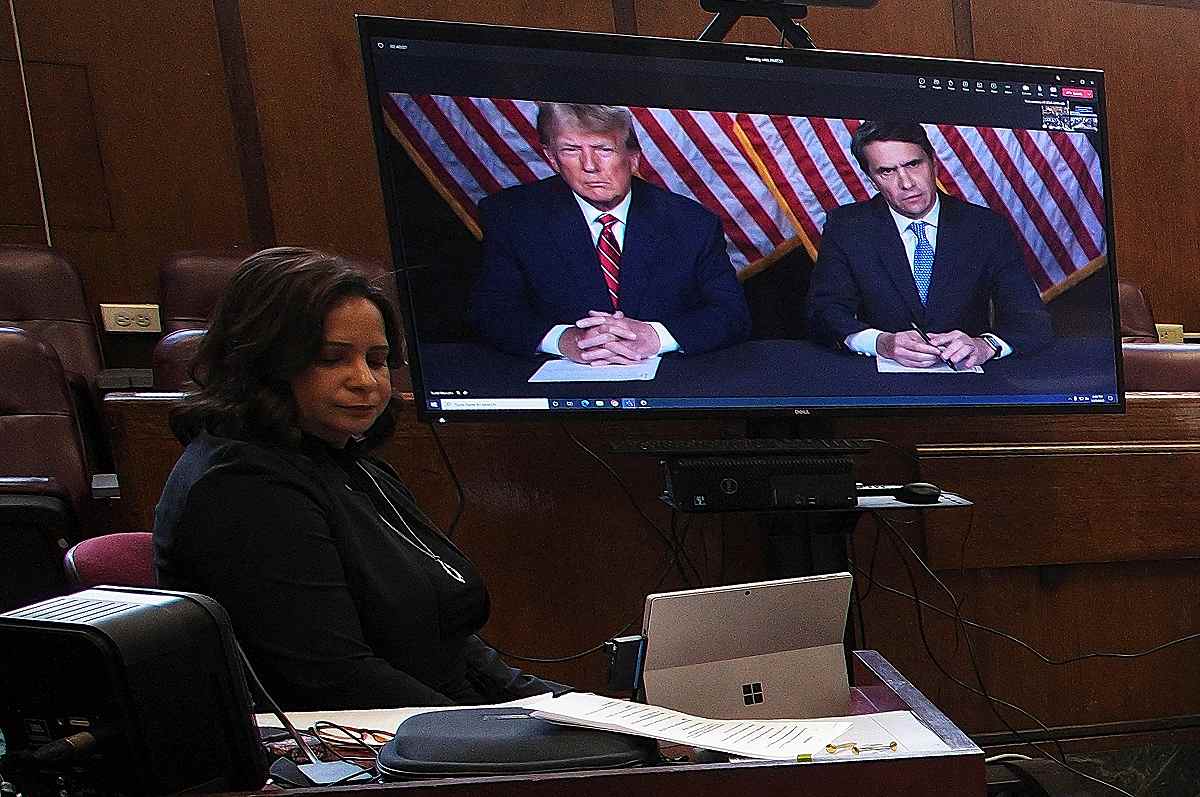 16:32 JST, May 24, 2023
NEW YORK, May 23 (Reuters) – Donald Trump will face a criminal trial in New York on March 25, 2024, a judge said on Tuesday, meaning the former U.S. President will be on trial as his campaign for the 2024 Republican nomination is in full swing.
Trump, who is charged with falsifying business records to conceal a hush money payment to a porn star, is expected to be crisscrossing the country next spring along with his rivals as states host presidential nominating contests.
Justice Juan Merchan in Manhattan state court announced the date at a hearing in which Trump, the front-runner for the Republican nomination in 2024 and the first former U.S.president to be criminally charged, appeared remotely from Florida.
Merchan also advised Trump of restrictions on his ability to publicly discuss certain evidence handed over by prosecutors.
At least four screens in Merchan's courtroom showed Trump and his lawyer Todd Blanche seated in front of U.S. flags.
Trump has pleaded not guilty to 34 criminal counts. In a post on his Truth Social platform after the hearing, Trump said his rights to free speech had been violated.
"They forced upon us a trial date of March 25th, right in the middle of the Primary season," Trump wrote in the post.
"It's called ELECTION INTERFERENCE."
New York prosecutors say Trump sought to conceal reimbursements to his then-lawyer Michael Cohen for a $130,000 payment to Daniels, whose real name is Stephanie Clifford. Cohen has said he paid her in exchange for her silence before the 2016 election about a sexual encounter she says she had with Trump, which Trump denies.
The reimbursements concealed violations of New York election law and violations of campaign contribution limits under federal election law, according to prosecutors.
Judge says restrictions do not impede Trump's campaign
During the hearing, Trump spoke only to tell the court he had a copy of the May 8 order restricting him from disclosing certain evidence to third parties, including news outlets and on social media.
Blanche said Trump was concerned the order violated his First Amendment rights to freedom of speech. But he said he had told his client that Merchan did not intend to impede his speech and that the restriction was not a gag order, which would bar him from speaking publicly about the case at all.
Merchan said he did not mean to restrict Trump's ability to campaign, and that Trump "is certainly free to deny the charges, he is free to defend himself against the charges."
The judge said on Tuesday that if Trump violates the restrictions, he could be held in contempt of court.
The restrictions on Trump concern grand jury minutes, witness statements, and other materials that prosecutors are required to turn over to the defense to prepare for trial.
Prosecutors have said the order was needed because of Trump's history of attacks on social media, and the risk that witnesses might be harassed.
Add TheJapanNews to your Google News feed.