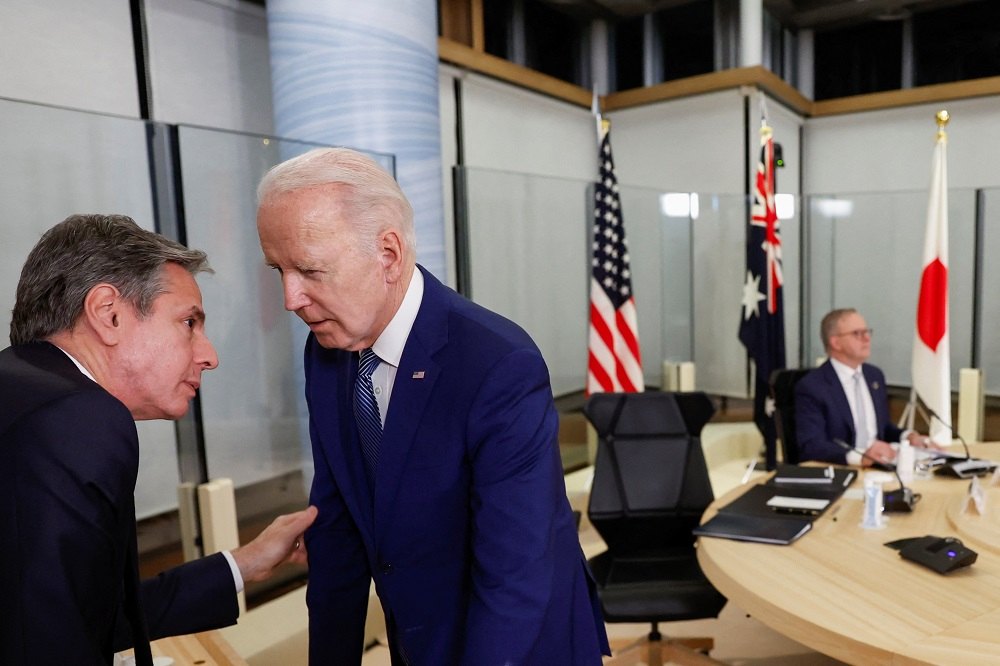 17:56 JST, May 22, 2023
U.S. Secretary of State Antony Blinken signed a defense cooperation agreement with Papua New Guinea on Monday, which he said would expand the Pacific island nation's capabilities and make it easier for the U.S. military to train with its forces.
Blinken was also set to meet with 14 Pacific island leaders. India's Prime Minister Narendra Modi had earlier pledged support for the Pacific Islands at a summit in the capital Port Moresby.
Washington and its allies are seeking to deter Pacific island nations from forming security ties with China, a rising concern amid tensions over Taiwan.
Leaders of the Pacific islands, whose territories span 40 million square kilometers of ocean, have said rising sea levels caused by climate change are their most pressing security priority.
Meeting with PNG Prime Minister James Marape, Blinken said the United States would deepen its partnership across the board with PNG. They discussed economic development, the climate crisis, and the importance of continuing U.S. engagement with the Pacific, the State Department said in a readout.
"The defence cooperation was drafted by the United States and Papua New Guinea as equals and sovereign partners," Blinken said at a signing ceremony.
It will expand PNG defense capabilities to enhance humanitarian assistance and disaster response, and make it easy for United States and PNG forces to train together, Blinken said.
"It will be fully transparent," he added.
A separate agreement would increase maritime surveillance of PNG's exclusive economic zone through U.S. Coast Guard patrols, protecting its economy from illegal fishing.
Blinken said partnerships with businesses would bring tens of billions of dollars' worth of new investment to PNG.
U.S. President Joe Biden sent "his regret that he was not able to be here," he added. Biden was forced to cancel his travel to PNG amid debt ceiling negotiations in Washington.
Marape said the agreement would boost economic security by giving PNG's defense force "the ability to know what is happening in its waters — something we have never had since 1975".
Several universities held protests at campuses against the signing of the Defence Cooperation Agreement, with opposition politicians saying it would upset China. Marape has denied it would stop PNG from working with China, an important trade partner.
The U.S. defence agreement was an extension of an existing agreement, he said earlier.
Marape told media on Sunday the defense agreement would also see an increase in U.S. military presence over the next decade.
Washington will provide $45 million in new funds as it worked with PNG to strengthen economic and security cooperation, including protective equipment for the PNG defense force, climate change mitigation and tackling transnational crime and HIV/AIDS, the U.S. State Department said.
Modi told the 14 leaders of the Forum for India-Pacific Islands Cooperation that India would be a reliable development partner to small island states, and was committed to a "free, open and inclusive Indo Pacific".
"Without any doubt we are willing to share our capabilities and experiences in digital technology, space technology, health security, food security, climate change and environment protection," he said in opening remarks.
The Quad leaders of Australia, United States, Japan and India had agreed in Hiroshima to increase cooperation with Pacific Island countries, he added.
In his opening remarks, Marape urged India to think of small island states who "suffer as a result of big nations at play".
Marape said Russia's war with Ukraine, for instance, had caused inflation and high fuel and power prices in the region's small economies.
Historians have said PNG and the Solomon Islands – which last year struck a security pact with Beijing — were essential to the U.S. drive across the Pacific to liberate the Philippines in World War Two.
Add TheJapanNews to your Google News feed.