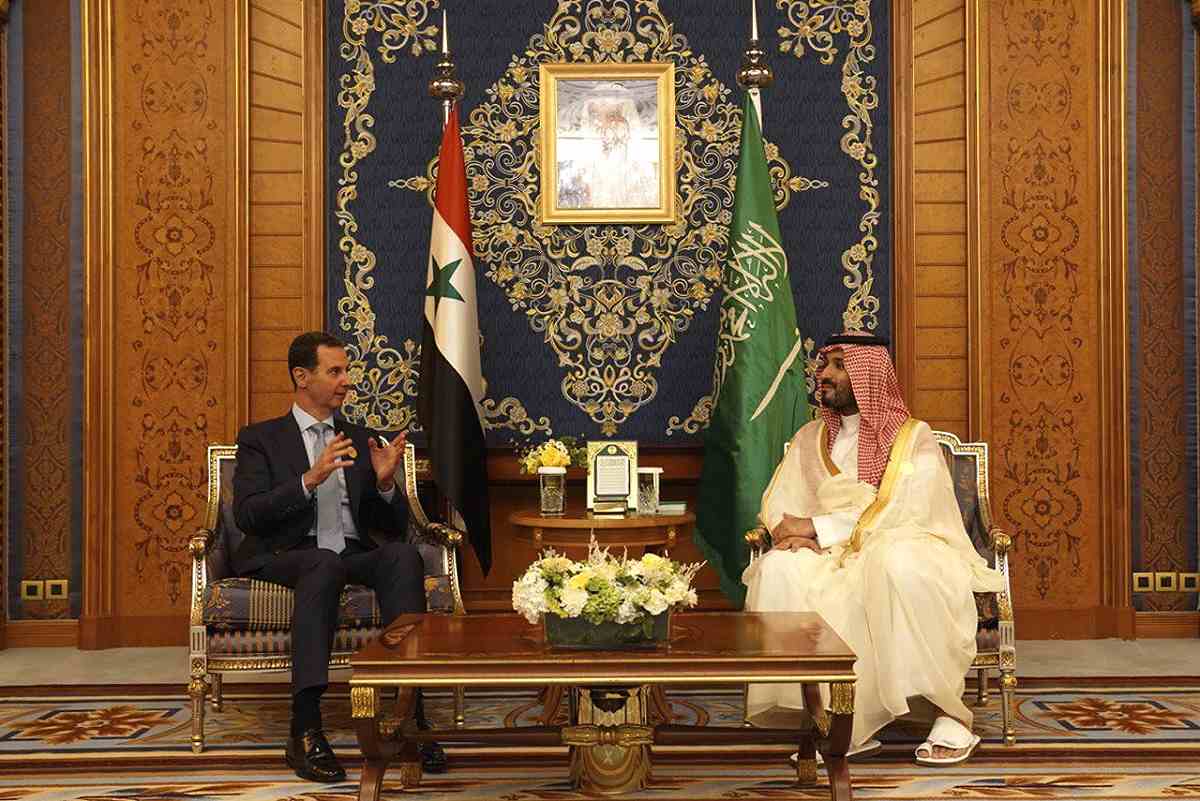 15:27 JST, May 20, 2023
JEDDAH, Saudi Arabia (Reuters) – Syrian President Bashar al-Assad was given a warm welcome at an Arab summit on Friday, winning a hug from Saudi Arabia's crown prince at a meeting of leaders who had shunned him for years, in a policy shift opposed by the U.S. and other Western powers.
Saudi Crown Prince Mohammed bin Salman shook hands with a beaming Assad as the summit got underway in Jeddah, turning the page on enmity towards a leader who drew on support from Shi'ite Iran and Russia to beat back his foes in Syria's civil war.
The summit showcased redoubled Saudi efforts to exercise sway on the global stage, with Ukrainian President Volodymyr Zelenskiy in attendance and Crown Prince Mohammed restating Riyadh's readiness to mediate in the war with Russia.
Oil powerhouse Saudi Arabia, once heavily influenced by the United States, has taken the diplomatic lead in the Arab world in the past year, re-establishing ties with Iran, welcoming Syria back to the fold, and mediating in the Sudan conflict.
With many Arab states hoping Assad will now take steps to distance Syria from Shi'ite Iran, Assad said the country's "past, present, and future is Arabism," but without mentioning Tehran – for decades a close Syrian ally.
In an apparent swipe at Turkish President Tayyip Erdogan, who has backed Syrian rebels and sent Turkish forces into northern Syria, Assad noted the "danger of expansionist Ottoman thought," describing it as influenced by the Muslim Brotherhood – an Islamist group seen as a foe by Damascus and many other Arab states.
Crown Prince Mohammed said he hoped Syria's "return to the Arab League leads to the end of its crisis," 12 years after Arab states suspended Syria as it descended into a civil war that has killed more than 350,000 people.
Saudi Arabia would "not allow our region to turn into a field of conflicts," he said, saying the page had been turned on "painful years of struggle."
Washington has objected to any steps towards normalization with Assad, saying there must first be progress towards a political solution to the conflict.
"We understand the point of view of the United States and our partners in the West, but addressing the ongoing challenges requires a new approach and that will not come without dialog," Saudi Foreign Minister Prince Faisal bin Farhan Al Saud told a news conference.
"We will dialog with our partners in Europe and the United States to address the sources of their worry."
"The Americans are dismayed. We (Gulf states) are people living in this region, we're trying to solve our problems as much as we can with the tools available to us in our hands," said a Gulf source close to government circles.
A Gulf analyst told Reuters that Syria risked becoming a subsidiary of Iran, and asked: "Do we want Syria to be less Arab and more Iranian, or … to come back to the Arab fold?"
Having welcomed back Assad, Arab states also want him to curb a flourishing Syrian trade in narcotics, which are produced in Syria and smuggled across the region.
ZELENSKIY THANKS RIYADH
Addressing the summit, Zelenskiy, who wants to build support for Kyiv's battle against Russian invaders, asked the delegates to support Ukraine's formula for peace and thanked Riyadh for its role in mediating a prisoner release last year.
In a letter to the summit, President Vladimir Putin said Russia attached "great importance to the development of friendly relations and constructive partnership" with regional states.
Gulf states have tried to remain neutral in the Ukraine conflict despite Western pressure on Gulf oil producers to help isolate Russia, a fellow OPEC+ member.
Arab leaders attending included Qatari Emir Sheikh Tamim bin Hamad al-Thani, who said in 2018 the region could not tolerate "a war criminal" like Assad. Qatar has reluctantly withdrawn its opposition to Riyadh's move to readmit Syria.
The Syrian state news agency said Sheikh Tamim shook hands with Assad, though Qatari media made no mention of that and Sheikh Tamim left the gathering as the speeches were getting underway. A regional official said the two did not speak.
Salem Al-Meslit, a prominent figure in the Syrian political opposition to Assad, wrote on Twitter that Assad's attendance was a "free reward for a war criminal."
The war has shattered Syria's economy, demolishing infrastructure, cities and factories. Assad could benefit from Gulf investment in his country, though U.S. sanctions complicate any commercial ties with Damascus.
Then U.S. President Donald Trump branded Assad an "animal" for using chemical weapons in 2018 – a weapon he consistently denied using.
While Washington opposes normalization with Assad, State Department deputy spokesperson Vedant Patel said there are "a number of shared objectives" such as bringing home Austin Tice, a former U.S. marine and journalist kidnapped in Syria in 2012.
Assad's return to the Arab fold is part of a wider trend in the Middle East where adversaries have been taking steps to mend ties strained by years of conflict and rivalry.
The rapprochement with Assad gained momentum after China negotiated an agreement in March that saw Riyadh resume diplomatic ties with Iran, which with Russia has helped Assad defeat Sunni rebels and regain control of some major cities.
A large swathe of Syria, however, remains under Turkish-backed rebels and radical Islamist groups as well as a U.S.-backed Kurdish militia.
According to UNHCR since 2011, more than 14 million Syrians have fled their homes, and about 6.8 million remain displaced in their own country, where 90% of the population live below the poverty line. About 5.5 million Syrian refugees live in neighboring Turkey, Lebanon, Jordan, Iraq and Egypt.
Add TheJapanNews to your Google News feed.