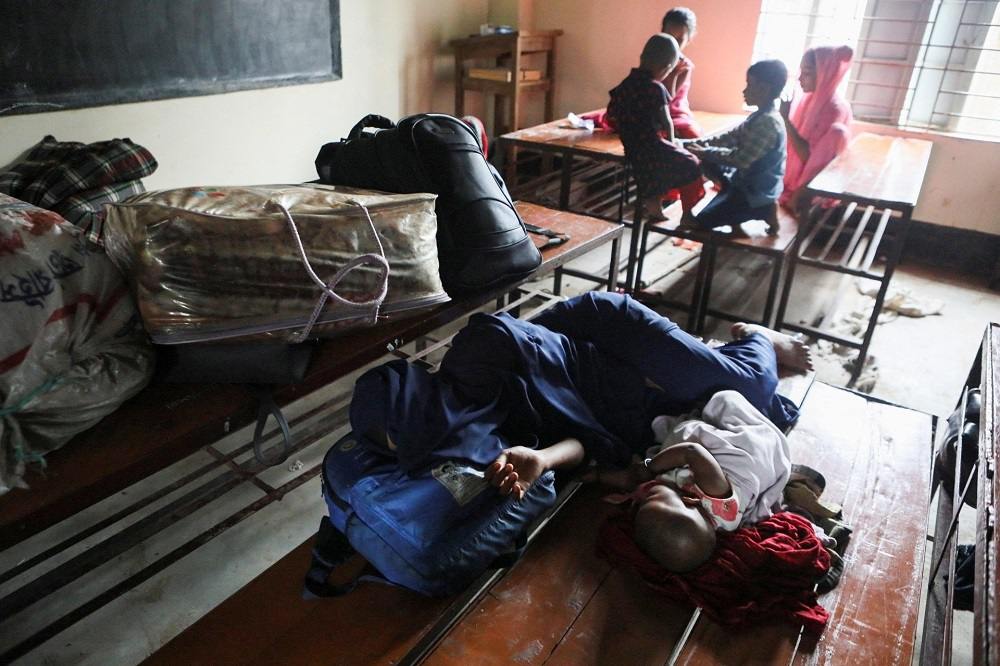 14:57 JST, May 14, 2023
DHAKA (Reuters) — A powerful storm closed in on the coasts of Bangladesh and Myanmar on Sunday, forcing the evacuation of hundreds of thousands of people to safer locations, many from frail homes in low-lying areas.
Cyclone Mocha, packing winds of up to 210 kph (130 mph), could bring sea surges of up to 12 feet (4 m) affecting more than 2 million people directly in its path, most of them in Myanmar's Rakhine and Chin states.
But many more could suffer as the storm moves inland from the Bay of Bengal, the United Nations Satellite Centre has warned.
"Saving lives is our main priority," said disaster relief official Mijanur Rahman in neighboring Bangladesh, which has moved about 300,000 people before the storm is expected to hit land around noon.
Aid workers are worrying about the risk to more than a million Rohingya refugees, half-a-million children among them, living in camps in the beach town of Cox's Bazar near the cyclone's path.
"People at risk are in the process of being transferred to safe shelters and we are also arranging relief packages," said Farah Kabir of ActionAid Bangladesh.
Most refugees live in makeshift dwellings in the densely packed camps after having fled a military-led crackdown in Myanmar in 2017.
At least 100,000 people in Myanmar's impoverished Rakhine state have moved to safer areas since last week, said a major ethnic militia and the U.N. humanitarian office (OCHA).
"We are using monasteries and schools as shelters," said Arakan Army spokesperson Khine Thu Kha.
"We have arranged for meals in co-operation with local residents but if this becomes long-term, there will be more problems."
Uniformed soldiers wearing orange life vests moved residents in wooden boats, in pictures and videos provided by the militia, but Reuters could not immediately verify these.
About 6 million people are already in need of humanitarian assistance and 1.2 million are displaced in Rakhine and the northwest, OCHA says.
Myanmar has been plunged into chaos since a junta seized power two years ago. After a bloody crackdown on protests, a resistance movement is fighting the military on various fronts.
A junta spokesperson did not immediately answer a telephone call from Reuters to seek comment.
Add TheJapanNews to your Google News feed.