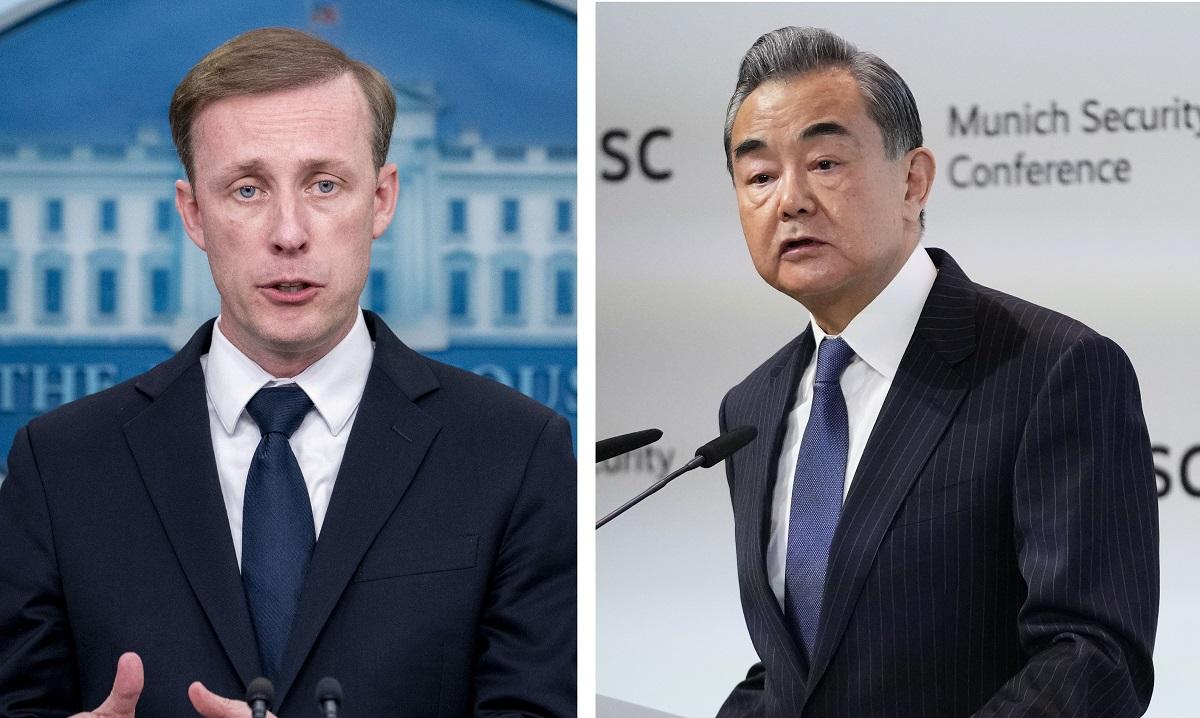 10:21 JST, May 12, 2023
WASHINGTON (Reuters) — U.S. President Joe Biden's national security adviser met China's top diplomat this week and both sides recognized the need to move beyond an alleged spy balloon incident that caused a pause in relations between the superpowers, a senior U.S. official said on Thursday.
The White House hoped the eight hours of talks in Vienna on Wednesday and Thursday between U.S. national security adviser Jake Sullivan and China's top diplomat Wang Yi would pave the way for more communications between the world's two biggest economies, the official said.
China's Washington embassy said the two had "candid, in-depth, substantive and constructive discussions … on removing obstacles in China-U.S. relations and stabilizing the relationship from deterioration."
The U.S. official, who briefed reporters on condition of anonymity, said Sullivan and Wang did not discuss dates for a possible rescheduled visit to Beijing by U.S. Secretary of State Antony Blinken, but said the White House expects the two sides to continue engaging in the coming months.
Biden has been seeking to hold a phone call with Chinese President Xi Jinping but the official had no update on this effort.
Blinken canceled a planned trip to Beijing in February after the U.S. shot down a Chinese balloon that flew over sensitive military sites, plunging the rivals into a diplomatic crisis.
Asked what was discussed about the incident, the official replied: "I think both sides recognized that that unfortunate incident led to a bit of a pause in engagement. We're seeking now to get beyond that, and reestablish some just standard, normal channel of communications."
The official said the U.S. side had made clear where it stood on the breach-of-sovereignty issue, but was "trying to look forward from here on" and seek issues where China and the U.S. could potentially work together.
Keeping an open channel for communication
U.S.-China ties have been on a downward slide over issues ranging from accusations of Chinese spying and human rights abuses to U.S. efforts to build up military alliances to curb China's ambitions toward Taiwan and in the Pacific.
The official said both sides agreed to maintain the channel of communication between Sullivan and Wang and that Sullivan had stressed that Washington did not seek conflict or confrontation.
Sullivan raised concerns about American citizens detained in China and stressed that this was a personal priority of Biden. He also raised concerns about the potential for Chinese military assistance to Russia in Ukraine.
A White House statement earlier said the talks sought to build on Biden and Xi's meeting in Indonesia in November.
The Vienna meeting came ahead of an expected visit to Asia by Biden starting with a G7 summit in Japan from May 19-21 that is expected to look for closer alignment of the group's approach towards China.
Blinken's canceled trip had been intended to help repair relations after an earlier rupture over a visit by then-House Speaker Nancy Pelosi's to Taiwan, the self-governed island that China considers its own.
The United States has expressed its eagerness to reschedule Blinken's visit and arrange other senior-level meetings as part of an effort to keep relations from veering toward conflict.
Blinken did meet Wang Yi at the Munich Security Conference after the balloon incident, but this did not soothe tensions.
Daniel Russel, the top U.S. diplomat for East Asia in the Obama administration, said communication between the U.S. national security adviser and the top Chinese foreign affairs official has been historically important and today "appears to be virtually the only significant channel still operating."
He said the avoidance of damaging public sparring seen in the past was encouraging, but did not mean relations were necessarily on the mend.
Both sides are delivering stern – sometimes angry – messages, he said, "but these meetings create the possibility they may find some common ground that can help stabilize a relationship that is dangerously volatile."
Add TheJapanNews to your Google News feed.