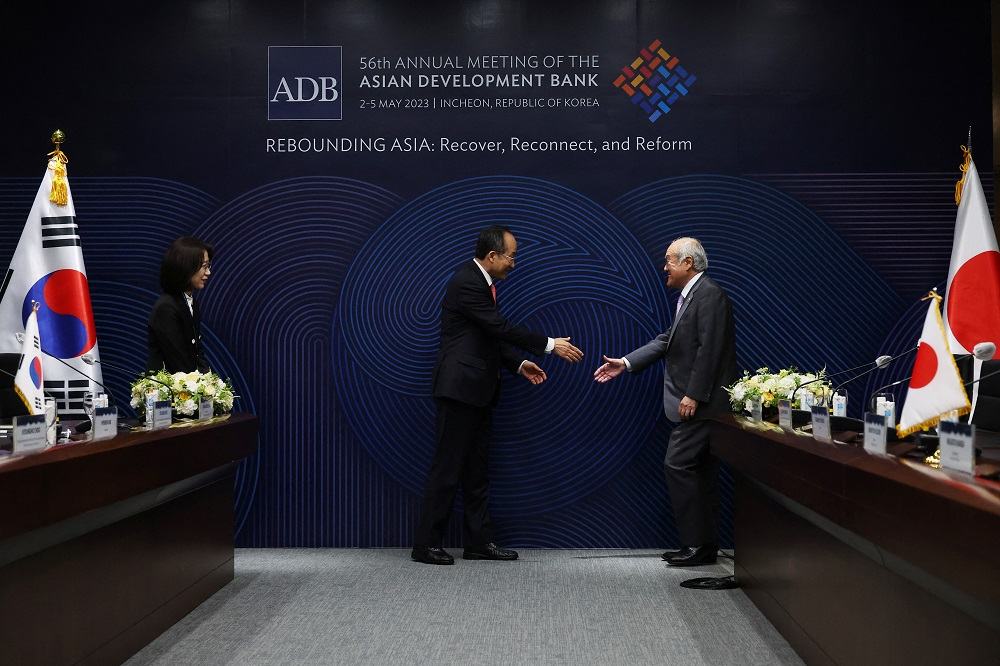 13:26 JST, May 2, 2023
INCHEON, South Korea (Reuters) — Japan and South Korea held their first bilateral finance leaders' meeting in seven years on Tuesday, a sign relations between the two are thawing as they confront shared challenges from geopolitical tensions and slowing economic growth.
The two countries agreed to resume regular finance dialog "at an appropriate timing," Japanese Finance Minister Shunichi Suzuki told reporters after the meeting.
The dialog will likely be held on an annual basis, Suzuki said.
The resumption of bilateral financial discussions comes ahead of Japanese Prime Minister Fumio Kishida's planned visit to South Korea next week for talks with President Yoon Suk Yeol.
"Japan and South Korea are important neighbors that must cooperate to address various challenges surrounding the global and economy, as well as the regional and international community," Suzuki said at the meeting with his South Korean counterpart Choo Kyung-ho.
"As for geo-political challenges, we're experiencing incidents like North Korea's nuclear missile development and Russia's invasion of Ukraine. Japan sees these as unacceptable, and something the two countries must address together," he said.
Choo said the two countries can strengthen private and government partnerships in high-technology industries such as semiconductors and batteries.
In the meeting held on the sidelines of the Asian Development Bank (ADB) gathering this week, Choo also urged Japan to swiftly restore South Korea back to a "white list" of countries with fast-track trade status.
Choo is expected to visit Japan this year for another meeting with Suzuki, South Korea's finance ministry said.
Regular annual dialog between the two countries' finance ministers has been suspended since 2016 due to disputes over wartime history.
But ties between the U.S. allies have improved in recent months in the face of North Korea's frequent missile launches and China's more muscular role on the global stage.
In a landmark summit in Tokyo last month, Kishida and Yoon agreed to put aside their difficult shared history and pledged to work together to counter regional security challenges.
Suzuki said he hoped Japan and South Korea can continue with bilateral financial dialog and that doing so would contribute to improving relations between the two countries.
Add TheJapanNews to your Google News feed.