BOJ Chief Wants 'Quite Strong' Inflation before Tweaking Yield Control Policy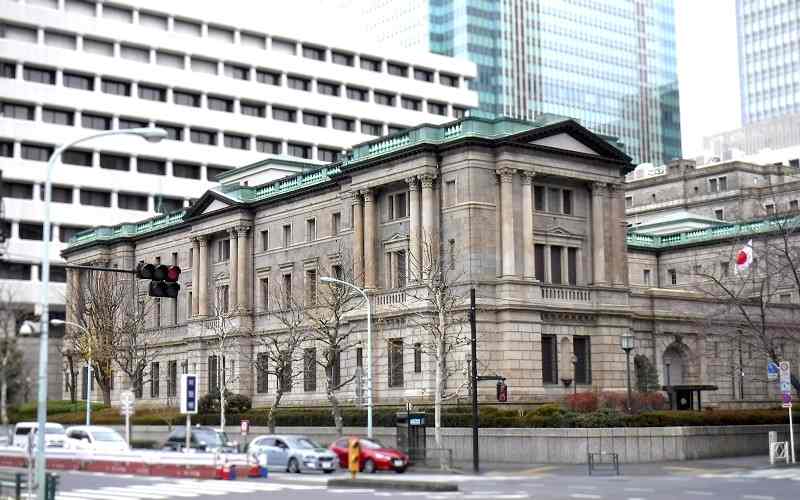 14:37 JST, April 24, 2023
TOKYO, April 24 (Reuters) – Bank of Japan Governor Kazuo Ueda said on Monday the central bank's inflation forecasts must be "quite strong and close to 2%" in the coming year to consider tweaking yield curve control.
"At present, trend inflation is below 2% so we must maintain monetary easing," Ueda told parliament. "But when trend inflation is projected to reach 2%, the BOJ must normalize monetary policy," he added.
Ueda's comments come ahead of a two-day BOJ policy meeting that kicks off on Thursday, where the board will produce fresh quarterly growth and inflation forecasts.
Sources have told Reuters the BOJ is likely to maintain its ultra-easy monetary policy at the first rate review to be chaired by Ueda, who assumed the post in April.
While companies are passing on rising import costs to consumers more than expected, Japan's inflation is likely to peak soon and slow back below the BOJ's 2% target in the latter half of the current fiscal year ending in March 2024, he said.
"The BOJ's forecasts of trend inflation for half a year, one year and one-and-a-half years ahead must be quite strong and close to 2%. We also need to judge that the likelihood of the forecasts materializing is high," Ueda said when asked by an opposition lawmaker to clarify the conditions for tweaking yield curve control.
Under yield curve control (YCC), the BOJ guides short-term interest rates at -0.1% and the 10-year bond yield around zero with an implicit cap of 0.5%.
Ueda declined to specify how the BOJ might phase out YCC, saying that would depend on the economy, the pace of inflation and many other factors at the time.
"At present, I can't say how this could be done," Ueda said on the BOJ's exit strategy.
But Ueda said he will consider the idea of disclosing in advance the BOJ's exit strategy from ultra-loose policy, when the right timing to do so arrives.
"The BOJ has already been conducting many estimates on how a normalization of monetary policy could affect its finances," he said.
How to unload the BOJ's huge holdings of exchange-traded funds (ETF), accumulated through its heavy asset buying to fire up inflation, will be among key challenges the bank will debate when it considers ending ultra-loose monetary policy, Ueda said.
Add TheJapanNews to your Google News feed.