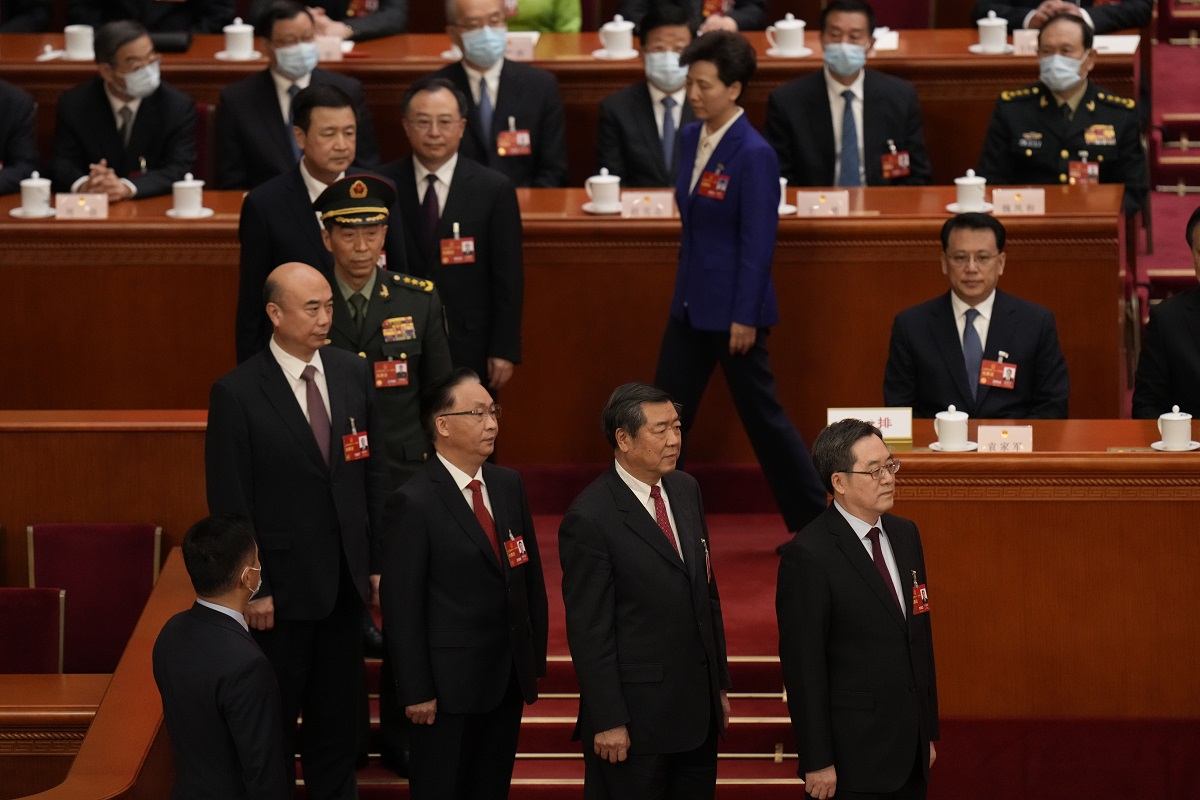 15:25 JST, March 12, 2023
BEIJING (Reuters) — China unexpectedly kept its central bank governor and finance minister in their posts at the annual session of the rubber-stamp parliament on Sunday, prioritizing continuity as economic challenges loom at home and abroad.
President Xi Jinping, who has been installing allies in key roles in a government reshuffle as he begins a third five-year term, broke with convention to retain Yi Gang, 65, as governor of the People's Bank of China (PBOC) and Liu Kun, 66, as finance minister. Both men have reached the official retirement age of 65.
Across the slate of appointments, there were fewer changes than anticipated, with most cabinet ministers keeping their posts. However, further announcements are expected in coming weeks as China implements a reorganization of its financial regulatory structure and other government bodies.
Opting for continuity in these critical economic roles suggests an emphasis on credibility and stability, said Mattie Bekink, China director at the Economist Intelligence Corporate Network.
It is also perhaps a tacit acknowledgment of some of the challenges for Beijing at the moment, she said. "The real challenge for this third Xi administration is whether it will address structural imbalances in China's economy and undertake reforms necessary to ensure China's long-term competitiveness."
The government has set a 2023 economic growth target of around 5%, up from 3% last year, which was among the weakest performances in decades.
China's statistics bureau head, Kang Yi, told the parliamentary session on Sunday that China's economy still contains deep structural "contradictions" and "problems," according to state media.
Chinese policymakers face the challenge of getting the economy back on track after three years of COVID-19 restrictions, weak consumer and business sentiment and increasingly adversarial relations with the West, with many global firms looking to hedge their China exposure.
Also on Sunday, China as expected appointed Li Shangfu, who is sanctioned by the United States over the purchase of Russian weapons, as defense minister, and named a slate of four vice premiers, led by Ding Xuexiang, who has long served as Xi's chief of staff.
Positive signal
The biggest change at the parliament session was the promotion on Saturday of Li Qiang, 63, a longtime Xi confidant, to premier. The former Shanghai Communist Party boss takes a role charged with managing the economy, replacing Li Keqiang, 67, who stepped down after two five-year terms.
The government sent a positive signal to the market by keeping these senior financial experts in the cabinet, said Zhang Zhiwei, chief economist at Pinpoint Asset Management.
The U.S.-educated central bank chief Yi, appointed PBOC governor in 2018, had widely been expected to retire after being left off the ruling Communist Party's Central Committee during the party's once-in-five-years congress in October.
Analysts had anticipated that once Yi and Liu stepped aside, they would be replaced by people with far less international experience.
The U.S. side will be much more comfortable with someone like Yi Gang in charge, said Alfred Wu, assistant professor at the Lee Kuan Yew School of Public Policy at the National University of Singapore.
It shows China wants to at least have a dialog with the United States on monetary policy and financial cooperation, he said.
Sources had told Reuters last month that Zhu Hexin, chairman of state-run financial conglomerate CITIC Group Corp, was likely to succeed Yi as head of the central bank.
The appointments "indicate that the government put professionalism, management and the art of fine-tuning on the front burner when it comes to picking the central bank governor and finance minister, as positions at the helm of core economic departments need tremendous professional skill," said Sun Fei, an economist.
As expected, Wang Wentao stayed on as commerce minister.
Zheng Shanjie, governor and deputy party secretary of Zhejiang province, was approved to take over as head of the National Development and Reform Commission, the powerful state planner.
The parliamentary session will end on Monday, with Xi expected to give a speech and Li, the new premier, scheduled to hold a televised media conference afterwards.
Add TheJapanNews to your Google News feed.