ASEAN Defense Chiefs Call for the Fighting in Gaza to Cease, but They Struggle to Address Myanmar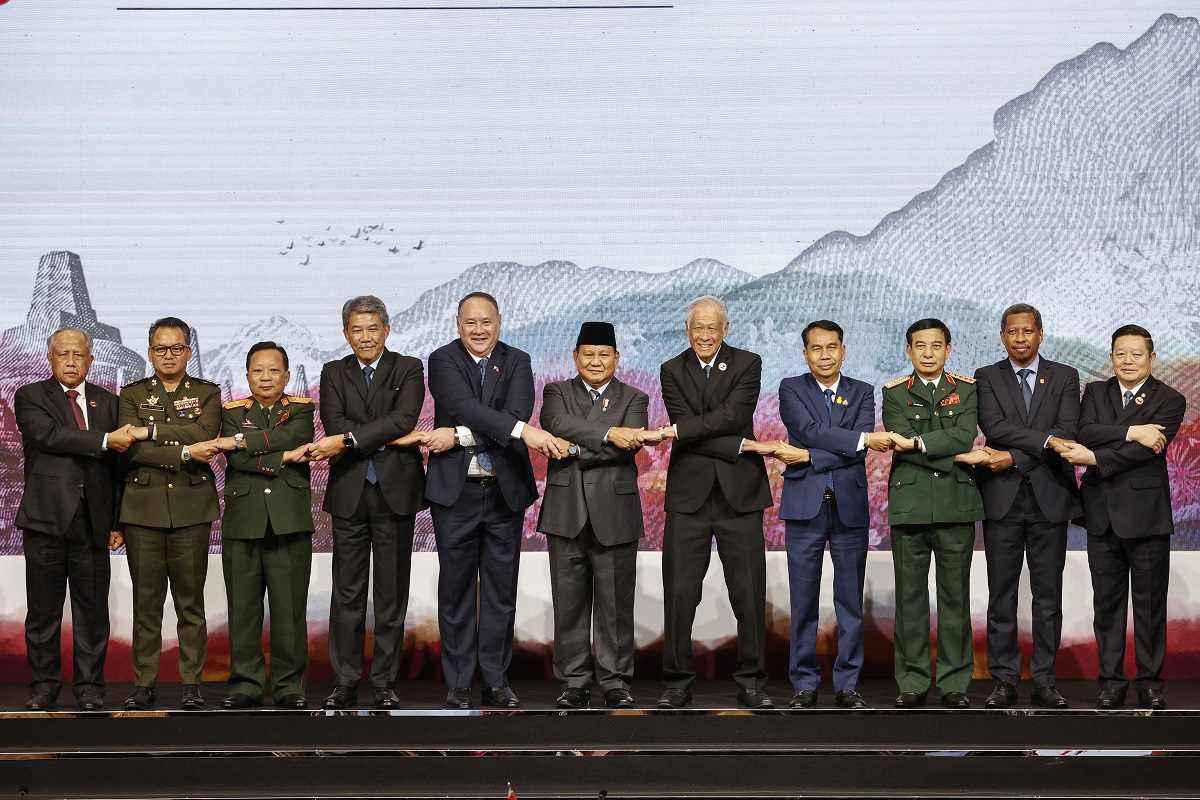 18:23 JST, November 15, 2023
JAKARTA (AP) — Southeast Asian defense ministers called Wednesday for the fighting in Gaza to cease immediately and for the world to collaborate on setting up humanitarian aid corridors in Gaza, but they struggled on how to address the prolonged civil strife in Myanmar.
The Myanmar crisis was high on the agenda when defense chiefs from the Association of Southeast Asian Nations met in Indonesia's capital, Jakarta. The 10-nation bloc includes Myanmar, but its defense minister was again barred from attending this week's meetings due to the military government's failure to comply with a five-point emergency plan drafted to ease the violence.
"We are saddened with a deteriorating situation in Myanmar," Indonesia's Defense Minister Prabowo Subianto said in an opening speech. "Indonesia encourages other ASEAN member states to support Myanmar to find a peaceful and durable solution to the current situation."
ASEAN has been trying to enforce the plan it forged with Myanmar's top general in 2021, which calls for an immediate end to the violence, the start of talks brokered by a special envoy among contending parties, and the delivery of aid to displaced people. But Myanmar's military government has done little to enforce the plan.
The defense ministers on Thursday will be meeting with ASEAN's eight dialog partners, with the territorial disputes over the South China Sea expected to be raised.
Subianto in his speech also touched on Israel's war with Hamas. "Indonesia is deeply saddened by the deteriorating situation in Gaza, particularly the horrid humanitarian conditions," he said, adding violence against civilians "must stop."
"Conversely, efforts to achieve a cease-fire must continue and the safe passage of humanitarian aid must be wide and accelerated," he said.
ASEAN has not made a formal statement about the Israel-Hamas war, which is not surprising given each member of the bloc sees the conflict differently.
Indonesia, Malaysia and Brunei — the three ASEAN members with Muslim-majority populations where religion is significant in domestic politics — have long been strong supporters of the Palestinians' struggles. None of them has diplomatic relations with Israel.
Malaysia's Defense Minister Mohammad Hasan in his speech on Wednesday condemned the bombings of civilians, homes and hospitals in Gaza and "the consequential massacre of innocent lives, children, women and men."
Conversely, Singapore took a firm position against Hamas and strongly condemned the attacks the militant group launched inside Israel on Oct. 7, starting the war. Singapore has close defense relations with Israel, and its strong stance against Hamas leaves it out of step with its larger Muslim-majority neighbors.
"The more important lesson for us is that peace can be stolen or lost very quickly," said Ng Eng Hen, Singapore's defense minister. "While we are now a relative area of peace and security, we can lose it if we as leaders in our nations do not pay attention to the deteriorating situation in the Middle East and Asia."
U.S. Defense Secretary Lloyd Austin and Russian Defense Minister Sergei Shoigu were set to join the meetings, but there is little likelihood of a talk between them.
Austin made earlier stops in Asia aimed at showing unity over Russia's war in Ukraine and preventing differences on the Israel-Hamas war from deepening. He also met with South Korean Defense Minister Shin Won-sik and others in Seoul to discuss boosting nuclear deterrence against North Korea.
China is represented at the meetings by Jing Jianfeng, the deputy chief of staff of China's Central Military Commission, but it is unlikely he will meet with Austin on the meeting sidelines. China's previous defense minister, Li Shangfu, was ousted last month, and Beijing has not named his successor.
Military contacts between the U.S. and China were largely severed after then House Speaker Nancy Pelosi visited Taiwan in August 2022, prompting China's military to hold unprecedented exercises near the self-governed island.
Add TheJapanNews to your Google News feed.