Wall Street Execs Host Biden Fundraisers as President Closes out an End-of-Quarter Campaign Blitz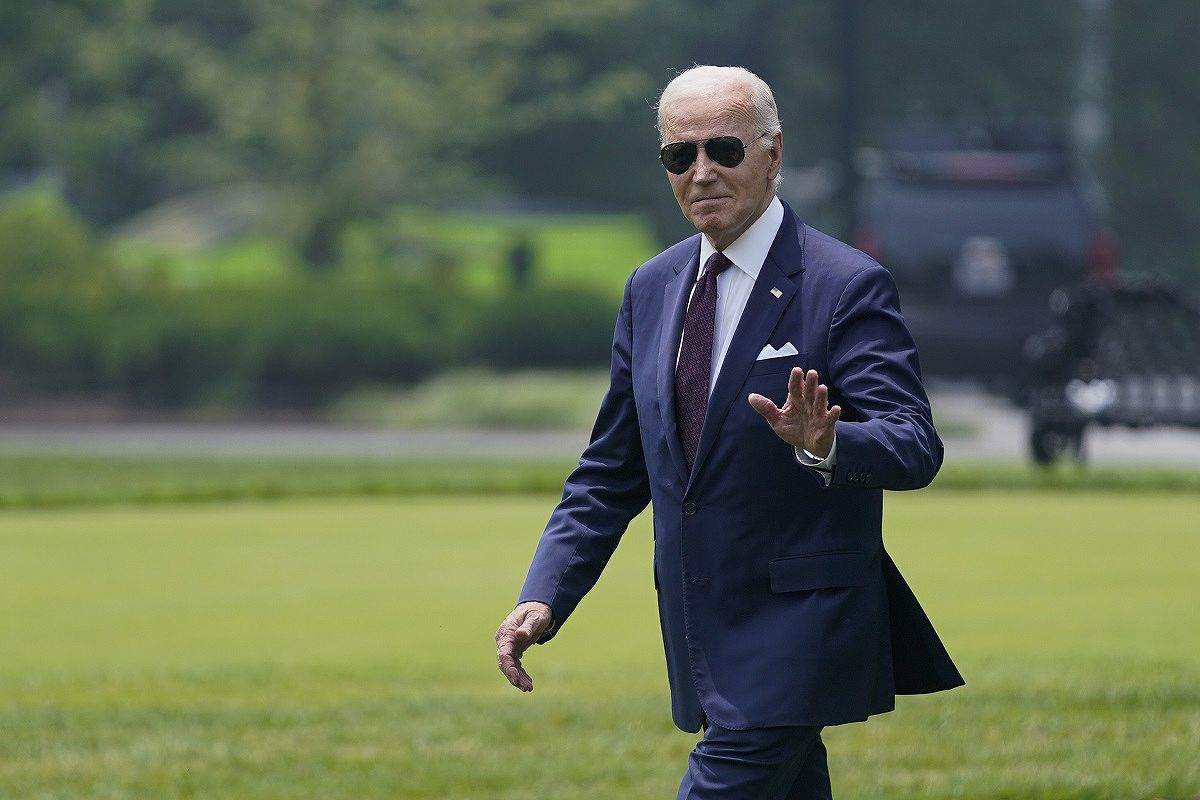 10:30 JST, June 30, 2023
NEW YORK (AP) — President Joe Biden closed out an end-of-quarter campaign blitz Thursday with a pair of Manhattan fundraisers hosted by Wall Street power brokers, a funding push designed to put Biden on strong financial footing for a 2024 White House contest expected to set spending records.
The pair of evening events are Biden's ninth and 10th fundraising receptions of the past two weeks, numbers matched by Vice President Kamala Harris, first lady Jill Biden and second gentleman Doug Emhoff. The Biden campaign has been mum before the July 15 reporting date about how much he has raised at the often freewheeling gatherings but is confident about the size.
"The reason I'm standing here is in large part because of you all," Biden said to a small crowd gathered in a high rise overlooking Central Park. "I'm not the essential man, but I represent the essential country."
The president is also marshaling the whole of the Democratic Party to dial for dollars, enlisting help from Govs. Gavin Newsom of California and J.B. Pritzker of Illinois as well as former President Barack Obama, among others.
Obama is featured in a new campaign video to encourage small-dollar online donations before Friday's donation deadline. Biden allies insist that despite polls showing lagging enthusiasm among the Democratic base for the 80-year-old president, his party is solidly behind him.
"I've been doing this for a really long time for a number of presidents and presidential candidates," said Jeffrey Katzenberg, the Hollywood mogul, major Democratic donor and co-chair of Biden's campaign. "I've never seen from top to bottom, the Democratic enterprise kick into gear this way, from President Obama, governors, senators, congressmen, just across the board — he's gotten outstanding support."
Aides say they are trying to motivate donors, especially small-dollar contributors, to dig deeper early on.
The recent blitz was also a function of Biden's official duties, Katzenberg said, adding that "his first, second and third job is to run the country." Biden had foreign trips in April and May, and the weekslong showdown over raising the nation's debt limit kept him in Washington. He is set to travel to Europe next month, giving the campaign a narrow window before the historically slow summer season to fit in donor events.
While the first quarter is widely viewed as a benchmark of campaign strength, Katzenberg said there is "no urgency right now" for Biden to raise or spend vast sums because he lacks a credible primary threat and the election is 16 months away. Still, Biden is aiming to make a statement with the early totals.
Katzenberg said there were "very optimistic signals" for the Biden campaign's ability to comfortably exceed its 2020 fundraising levels, including strong numbers of first-time Biden donors. Other campaign aides and allies have grown more bullish about the soon-to-be-reported total.
The president's fundraising events, closed to cameras and with limited media access, feature a far less guarded Biden than the public often sees. He sometimes uses them to test a new campaign line or dish out more candid remarks than in formal events.
On Thursday, he started as he often does, behind the lectern then shifting to a preferred handheld microphone. He talked about his climate agenda, leaning on the lectern as he talked about how he's brought both unions and environmentalists together to talk about climate change.
"Did you ever think that would happen?" he asked.
Other times, he roams the room and speaks more directly to guests. And he makes a personal nod to the hosts. On Thursday, he talked a lot about climate change — his host, Mark Gallogly, is a former hedge fund investor and climate activist.
During a May fundraiser at the New York home of Greek American shipping magnate George Logothetis, Biden noted that the lessons he learned from his family as a child weren't any different than "if my mom had been 'Bidenopoulos' instead of 'Finnegan'."
Though his aides make it a point not to engage with prospective 2024 opponents, Biden often does not shy away at these events from criticizing the Republican candidates, from Donald Trump on down.
"I've been stunned at the damage done by the last administration to us internationally and globally. I mean, I've been stunned how deep it goes,' Biden said Tuesday evening in Chevy Chase, Maryland.
And this veiled reference to Florida Gov. Ron DeSantis during a fundraiser in Greenwich, Connecticut: "Did you ever think you'd go through a time when the No. 2 contender on another team was banning books?"
In New York, he criticized Republicans who voted against his spending bills, then tout the projects to constituents. When a baby squealed while Biden was talking about Republicans to Chicago donors Wednesday, the president said, "I don't blame you, kiddo."
Biden's sometimes rambling remarks are full of anecdotes about his lengthy time in public office, peppered with references to issues such as tougher gun restrictions and abortion rights that animate Democrats. In more intimate settings, where cameras are barred, the president can open up. For example, he made a rare reference to his personal views on abortion when speaking about the issue at a separate Chevy Chase fundraiser on Tuesday.
"I'm a practicing Catholic," Biden said. "I'm not big on abortion, but guess what? Roe vs. Wade got it right." At the same event, he misspoke when talking about the Ukraine war, referring instead to Iraq.
At a fundraiser last week, Biden caused a diplomatic dust-up after calling Chinese President Xi Jinping a "dictator" — a comment coming hours after Secretary of State Antony Blinken had met Xi as part of a bid to thaw tensions between the countries. Biden insisted his remark would not affect that relationship.
"He wants to shake every hand and chat with everyone," Katzenberg said. "When there's something that is on his mind, he'll say it — and you know, that's what makes him authentic."
Sometimes his fundraisers seem to prove his argument that the U.S. economy has been favoring the wealthy. His second New York venue on Thursday was a swank space called The Pool, where the guests sat on velvet seats and were served specialty donuts with gold leaf. Biden attended events in San Francisco near homes whose Zillow price listings were about four times higher than an average U.S. worker's lifetime earnings.
"Mr. President, trust me, this is a fancy crowd," Newsom said to polite laughter at one event. "I know these folks."
Biden tries to draw connections to a blue-collar past, even as he touches on big-picture issues such as climate change, relations with China and the fate of democracy.
"How many of you are from smaller Midwestern towns?" he asked. "You know what happened when the factory closes. The soul of the community is lost. Not a joke."
Breaking with the level of transparency followed by the Obama campaign when Biden was vice president, Biden's campaign does not share the total amount raised from any individual event.
Those numbers will be shared when the campaign submits its filing to the Federal Election Commission in July, campaign spokesman Kevin Munoz said.
"We are encouraged by the strong response we are seeing from donors and our grassroots supporters, including a significant number of new donors since 2020," he said in a statement.
Add TheJapanNews to your Google News feed.