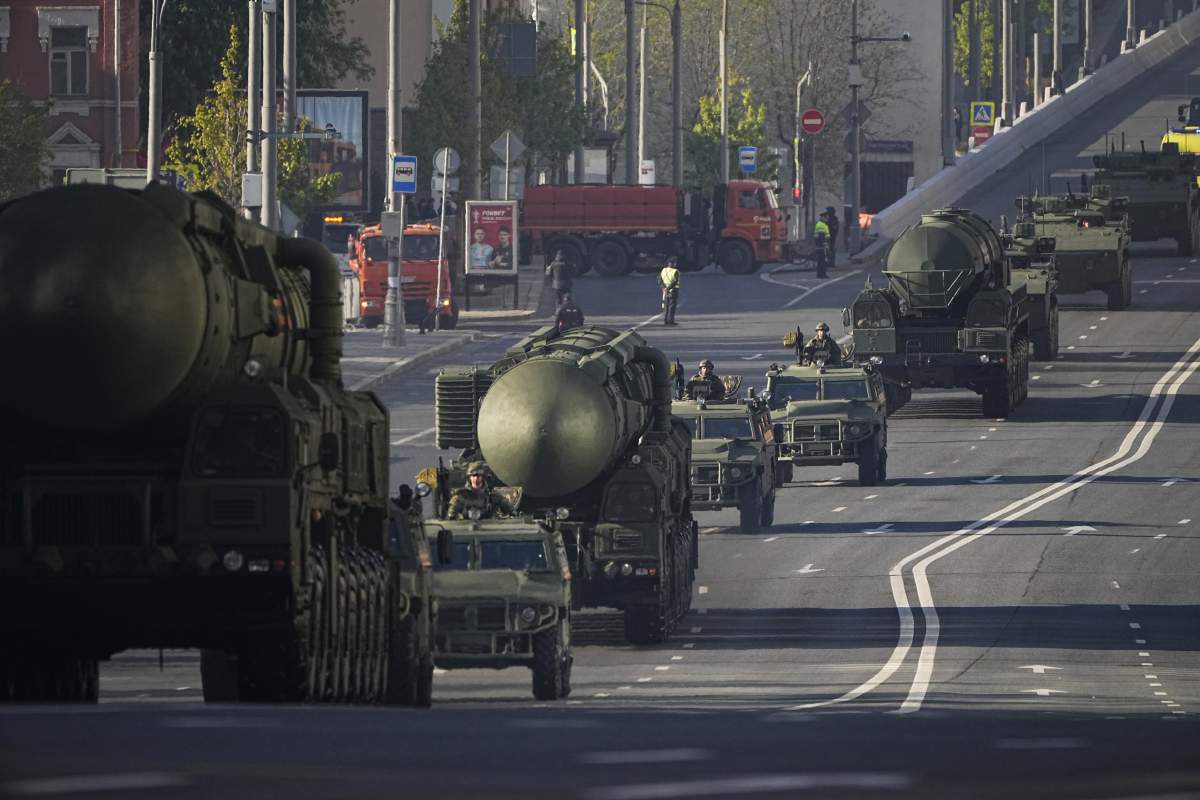 16:37 JST, May 9, 2023
Russian President Vladimir Putin has addressed his country's Victory Day parade on Moscow's Red Square, claiming that "a real war" has been unleashed against Russia — a reference to the war in Ukraine that the Kremlin portrays as being a proxy conflict with the West.
"Today civilization is once again at a decisive turning point," Putin said. "A real war has been unleashed against our Motherland."
He welcomed soldiers fighting in Ukraine who were present at the parade. "To Russia! To our brave armed forces! To Victory!" Putin concluded the speech.
THIS IS A BREAKING NEWS UPDATE. AP's earlier story follows below.
Russia unleashed a barrage of cruise missiles on Ukraine overnight into Tuesday, hours before the start of Moscow's annual commemorations celebrating the defeat of Nazi Germany in World War II, which this year is taking place amid tight security measures.
The Kremlin's forces launched 25 missiles overnight in a wave of attacks across Ukraine, the Ukrainian air force said, adding that air defense had successfully destroyed 23 of them.
In a Telegram post, the air force said eight Kalibr cruise missiles were launched from carriers in the Black Sea toward the east and 17 from strategic aircraft.
The barrage came as Moscow and other cities hosted military parades and other festivities marking Victory Day, Russia's biggest secular holiday that this year has been significantly overshadowed by the war in Ukraine.
At least 21 Russian cities canceled May 9 military parades — the staple of celebrations across Russia — for the first time in years. The Immortal Regiment processions, in which crowds take to the streets holding portraits of relatives who died or served in World War II — another pillar of the holiday — have also been canceled in multiple cities.
Regional officials blamed unspecified "security concerns." Some speculated, however, that the reason behind canceling Immortal Regiment marches was the fact that Russians might bring portraits of relatives who died in Ukraine to those processions, illustrating the scale of Russia's losses in the drawn-out conflict.
Moscow is expected to project a show of force during its flagship parade on Red Square, with top-notch military equipment rumbling through it and leaders of ex-Soviet nations standing beside President Vladimir Putin.
Initially, only one of them — Kyrgyz President Sadyr Zhaparov — was expected to attend, but at the last minute on Monday officials confirmed that leaders of Armenia, Belarus, Kazakhstan, Tajikistan, Turkmenistan and Uzbekistan were heading to Moscow as well.
The pared-down celebrations come after ambiguous official reports last week that two Ukrainian drones flew into the heart of Moscow under the cover of darkness and reached the Kremlin before being shot down. The Kremlin billed it as an attempt at Putin's life; Ukraine denied involvement.
Add TheJapanNews to your Google News feed.