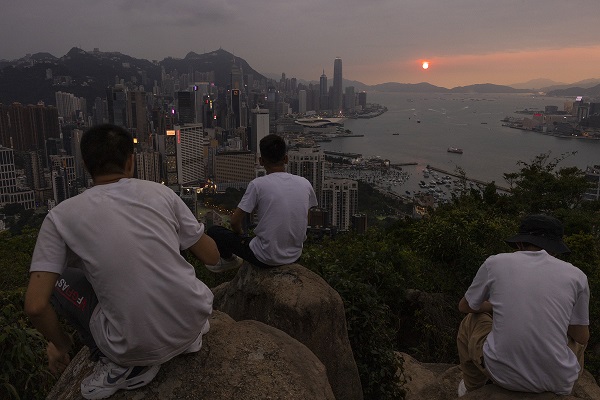 17:59 JST, April 28, 2023
HONG KONG (AP) — Like most people in Hong Kong, taxi driver Leung Tat-chong says it feels like the city is recovering after years of protests, crackdowns and pandemic restrictions, while it also has changed forever.
He's earning almost as much as he did before the pandemic. But, Leung said, the city has been divided since the 2019 protests, in which hundreds of thousands of people marched, and many battled police, in opposition to a government they saw as a proxy for Beijing.
For the first time since the start of the pandemic, the city welcomed more than 2 million visitors in the month of March. Crowds of art collectors and dealers spilled across two floors of a convention center at the Art Basel Hong Kong fair in late March. Excited chatter returned to a dim sum shop at the high-speed rail terminus.
Yet Leung sometimes doesn't turn on the radio in his cab because the news or a public affairs program could get his customers cursing. A supporter of the government, he watches what he says in front of friends to avoid starting fights.
Living in Hong Kong today means juggling contradictory feelings. In 20 interviews, many said that when they focus on business indicators and everyday life, they see a recovery gathering pace after years of travel restrictions. But when it comes to anything political, the openness and freedoms that were once hallmarks of the Chinese-ruled former British colony seem permanently gone.
Following the 2019 protests, Beijing declared "patriots must run Hong Kong," increasing its loyalists' control over elections and imposing a National Security Law that criminalized many forms of dissent. The government of Hong Kong used that law to arrest former opposition lawmakers and activists who participated in an unofficial primary election.
Hong Kong's government says things are back to normal, a message delivered in a tourism-promotion campaign it calls "Hello Hong Kong."
Economic indicators seem to support that message: retails sales are up, the country's GDP is growing and unemployment is a low 3.1%. In the first quarter of the year, the city received 4.41 million visitors, about 12 times more than the previous quarter, and about 30% of pre-pandemic levels.
Mak Kwai-pui, co-founder of dim sum chain Tim Ho Wan, said his business is reaping some of the benefits. Foreign tourists are filling his restaurants, something he had not seen in three years, helping drive revenue to more than 80% of pre-pandemic levels.
"It's really coming back. It's true," he said.
Anne Kerr, the chair of the British Chamber of Commerce in Hong Kong, said more U.K. firms are inquiring about setting up shop in Hong Kong.
A survey by The American Chamber of Commerce in Hong Kong in the first two months of 2023 showed its members are "cautiously optimistic" about business. Among those with headquarters in Hong Kong, 61% planned to remain for the next three years, up from 48% last year. But 9% plan to move, compared to 5% last year.
Local artist Wong Ka-ying said cultural life is recovering, too. At Art Basel, she saw a rise in emerging artists, independent art spaces and cultural activities, offering her more exposure and opportunities.
But, she said, even at the glamorous art fair, she felt the chill of the National Security Law. The art felt tamer than in past years and overtly political art was rare. At the Chinese University of Hong Kong where she teaches, she advises her students to plan their work cautiously.
"Maybe it looks the same on the surface. But when you look with a magnifying glass, you'll see the essence isn't the same," the 32-year-old said.
When Cyrus Chan decided to organize a protest against a proposal on land reclamation and building waste-processing facilities in March, the changes were not subtle.
Hong Kong used to have a vibrant tradition of street politics, from massive marches to local issues. But Cyrus Chan, one of the march organizers, said police told organizers that they could have just 100 people. Participants were warned against wearing all black, as many protesters did during the 2019 protests. They also discussed their slogans with police in advance.
Even with official approval, it was a nerve-wracking experience, Chan said. For a week before the march, he checked news reports, online forums and social media hourly to see if anything had changed.
On the day, attendees were required to wear numbered badges around their necks and had to walk within a moving cordoned-off zone.
After the protest, Chan said he still could not let his guard down. On April 2, security minister Chris Tang said "some people" who likened the numbered tags to dog leashes or the armbands Nazis forced upon Jews were stirring hatred against the government — a red flag to many activists under the sedition law. Chan had previously made the Nazi analogy on a radio show.
"Those who say the city will go back to the old days … are lying. Everyone knows it's impossible," Chan said.
Weeks later, a former leader of a now-disbanded pro-democracy union withdrew his plan to hold a Labor Day march, his co-applicant said Wednesday. The National Security Law prevented disclosure of further details, he told the applicant.
Leung, the taxi driver, agreed that a part of Hong Kong will never come back. But life must go on.
"As an ordinary person, I can't do anything about politics," he said. "I will just keep living my simple and unadorned life."
Add TheJapanNews to your Google News feed.