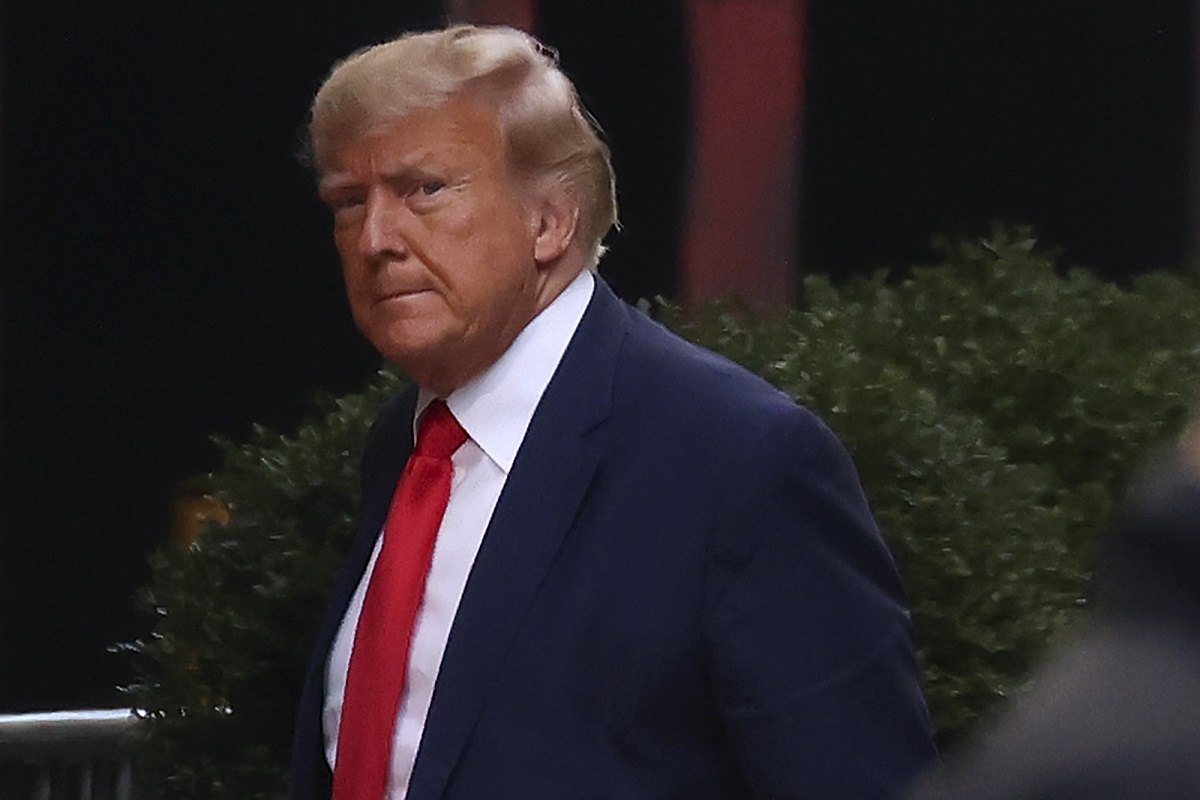 9:49 JST, April 4, 2023
NEW YORK (AP) — Former President Donald Trump returned to New York on Monday to face his historic booking and arraignment on hush money charges related to allegations of sexual encounters. The nation's largest city bolstered security and warned potential protesters it was "not a playground for your misplaced anger."
Trump's long day started with a motorcade ride from his Mar-a-Lago club in Florida to his red, white and blue Boeing 757, emblazoned with his name in gold letters — all carried live on television. The mini-parade took him past supporters waving banners and cheering, decrying the case against him, which stems from payments made during his 2016 campaign, as politically motivated.
Already months into a third campaign to reclaim the White House he lost to President Joe Biden in 2020, Trump and his advisers seemed to relish the attention. Cable networks followed his plane at airports in Florida and New York with video from the air, and a small group of senior campaign aides were joined aboard by his son Eric Trump, who eagerly posted photos of the wall-to-wall coverage from his seat.
The scene was quite different in New York, where Trump will be arraigned Tuesday — facing a judge in the city where he built a national profile in business and entertainment but became deeply unpopular as he moved into politics. Prosecutors say their case against him has nothing to do with politics and have defended the work of Manhattan District Attorney Alvin Bragg, who is leading it. City leaders urged calm.
"While there may be some rabble rousers thinking about coming to our city tomorrow, our message is clear and simple: Control yourselves," said New York Mayor Eric Adams. "New York City is our home. … We are the safest large city in America because we respect the rule of law."
Upon arrival at New York's LaGuardia airport, Trump stepped off his jet alone and directly into a waiting black SUV, with no one greeting him. Only small, sparse groups of supporters lined the route as his motorcade used a police escort to whisk him into Manhattan. From the air, the procession conjured images of a current president on the move rather than a former one facing criminal charges.
Advisers said Trump spent the flight working. In New York, he was meeting with his attorneys, then spending the night at Trump Tower before surrendering to authorities at the courthouse.
The return to New York opened an unprecedented chapter in American history, with Trump the first former president to face criminal charges. He's betting it could actually boost his chances at winning the presidency again next year and his team has boasted of raising $7 million since word of the indictment broke last week.
But even as Trump aims to find a political advantage, there appeared to be some limits to the publicity he's seeking. In a Monday filing, Trump's lawyers asked the judge overseeing the case to ban photo and video coverage of his arraignment.
Following his court appearance, Trump plans to return to Mar-a-Lago for a press conference Tuesday evening. At least 500 people have been invited, according to a Republican familiar with the planning and granted anonymity to discuss it. Invitees include members of Congress who have endorsed Trump's presidential campaign as well as donors and other supporters.
The former president also bolstered his legal team Monday, adding a third high-profile attorney, Todd Blanche. A former federal prosecutor, Blanche has previously represented Trump's former campaign chairman Paul Manafort.
Security in and around Trump Tower was tight. There were few supporters for Trump or people protesting against him nearby, with a small group hanging "Trump 2024" banners.
"I know that Donald Trump knows that we're out there fighting for him every day," said Brooklynite Dion Cini, who had stretched two pro-Trump banners along police barricades lining Fifth Avenue.
Officials haven't seen an influx of people coming into the city, as was the case in Washington in the days before a mob of Trump supporters overran the U.S. Capitol in January 2021. Still, they warned that possessing a weapon in certain areas of the city, including near courthouses, is a crime.
One of Trump's staunchest defenders in Congress, Republican Rep. Marjorie Taylor Greene of Georgia, was helping organize a Tuesday morning rally at a park across from the courthouse where Trump will appear, and Mayor Adams took the unusual step of calling her out by name.
"Although we have no specific threats, people like Marjorie Taylor Greene, who is known to spread misinformation and hate speech, she's stated she's coming to town," Adams said. "While you're in town, be on your best behavior."
Trump is facing multiple charges of falsifying business records, including at least one felony offense, in the indictment handed down by a Manhattan grand jury last week. The investigation is scrutinizing six-figure payments made to porn actor Stormy Daniels and former Playboy model Karen McDougal.
Both say they had sexual encounters with the married Trump years before he got into politics. Trump denies having sexual liaisons with either woman and has denied any wrongdoing involving payments.
Arriving in Minnesota, where he was touring a factory to promote his administration's economic policies, Biden was asked if he thought there would be unrest in New York.
"No, I have faith in the New York Police Department," the president replied. He also said he trusted the nation's legal system. About the same time Trump was touching down in New York, Biden contrasted his economic agenda with "the last guy who had this job."
As Biden flew back to Washington, a large TV on Air Force One ran Trump headlines as the president stood facing the screen in a conference room with his staff. Biden is expected to formally announce his reelection campaign in coming weeks.
Florida Trump supporters began gathering while the sun was still rising at a West Palm Beach shopping center on the way to the airport, hours before the former president was set to pass along the route.
Boca Raton firefighter Erik Solensten and his retired colleague, John Fischer, put up banners. One was 30 by 6 feet (9 by 2 meters), picturing police officers and firefighters saying, "Thanks for having our backs, President Trump."
"We are fire-rescue. We are prepared and don't like to wait for things to happen," said Solensten, who took a vacation day to show support for Trump. "He needs morale just like everyone else needs morale. He's done more for this country than any 10 presidents combined."
Add TheJapanNews to your Google News feed.