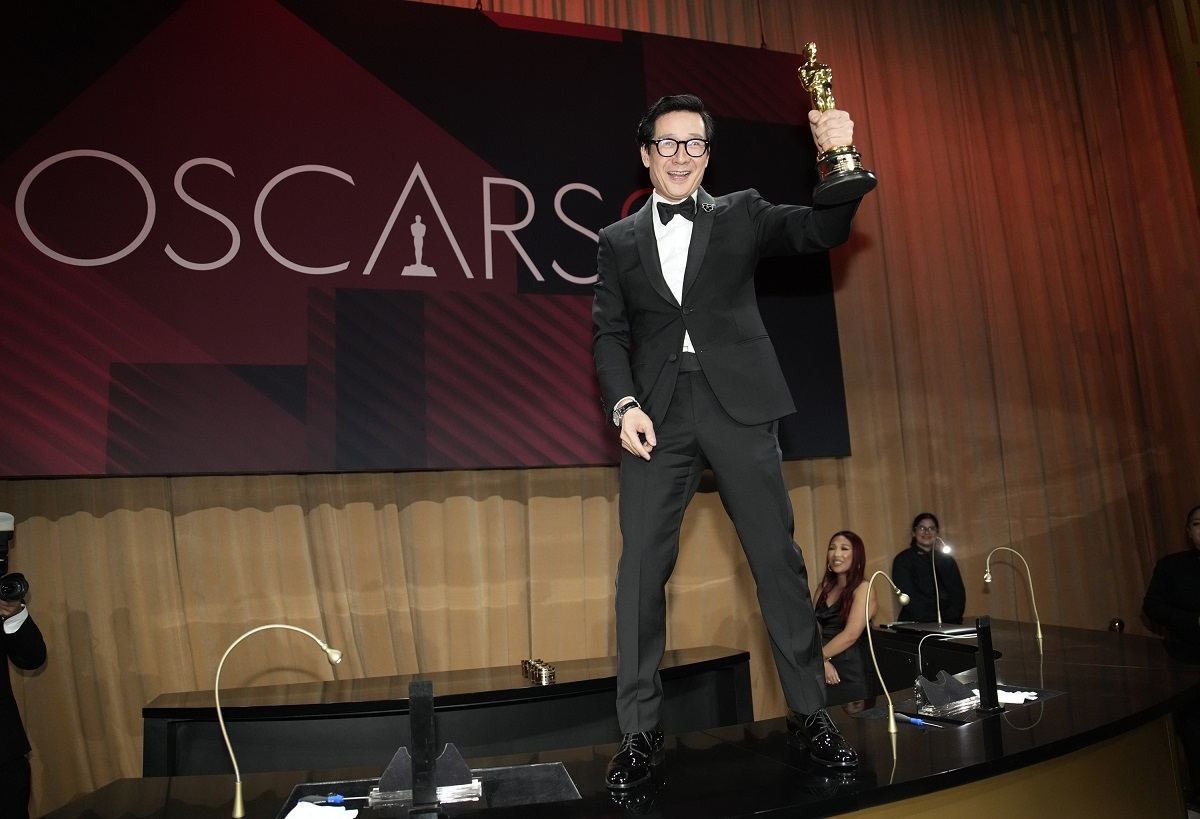 12:08 JST, March 14, 2023
LOS ANGELES (AP) — Edward Dion Fariñas watches the Academy Awards every year but the Filipino American didn't expect to have such a visceral reaction when hearing Ke Huy Quan and Michelle Yeoh's awards announced.
"I had a squeal come out that I was not expecting," said Fariñas, who was watching Sunday from his Austin, Texas, home, complete with "Everything Everywhere All at Once" themed pastries from a local Asian American-owned bakery.
"I was surprised by how heavily invested I got. It's not even about the acting. It really just kind of lets us feel like we can accomplish things that normally are not in our lane."
Quan's best supporting actor win and comeback story from childhood star of '80s flicks, coupled with Yeoh's historic win as the first Asian best actress winner ever had viewers of Asian descent shedding tears of happiness — and grinning. The "Everything Everywhere All at Once" co-stars bring the total number of Asians who have earned acting Oscars to just six in the awards' 95-year history.
For many Asian Americans, the film's seven Oscars, including Best Picture, feel like a watershed moment — that Hollywood is moving past seeing them only in tropes. It represents an opportunity for optimism after three years of anti-Asian hate brought on by the pandemic.
Written and directed by Daniel Kwan and Daniel Scheinert (known as the Daniels), who won best-directing and best original screenplay Oscars, the story centers on a glammed-down Yeoh as Evelyn Wang, a frazzled laundromat owner preparing for an IRS audit. Meanwhile, she is struggling with an unhappy husband (Quan), her critical father (James Hong) and an openly lesbian daughter (Stephanie Hsu).
When Yeoh said, in accepting her Oscar, that the award was for children who look like her, the message landed "straight to the heart" said Jasmine Cho, who is Korean American.
"Now I'm like looking at when I'm in my 60s," the 39-year-old said. "I want to be like Michelle. She's my forever badass woman role model."
Cho, of Pittsburgh, is nationally recognized for her cookie portraits of forgotten and famous Asian Americans and Pacific Islanders, and has drawn social media attention for her tributes to Yeoh and Quan. She hopes to give the cookies to them one day because she's been so inspired by their performances and how they've carried themselves.
"I feel like they already like completely made history with being like the most awarded film and just all the other awards that they've been receiving," Cho said of the possibility the two might not have taken home Oscars. "So yeah, I would have been somewhat disappointed" had they not won. "But in my mind, they already won."
Yer Vang, a Hmong American living in Minneapolis, was moved to tears by Quan and Yeoh's acceptance speeches. She recalls coming out of the theater hoping for this scenario. To actually see it happen was "phenomenal."
Quan's remarks about coming to the U.S. as a Vietnamese refugee and living in a refugee camp resonated particularly because that's what her parents lived through.
"It's crazy because … that's my mother's story," Vang said.
But all the movie's Oscars (it also won best supporting actress for Jamie Lee Curtis and film editing) mean a lot to Asian Americans, she said. "It does tell the community that we have done enough … and we deserve to be celebrated, whether in like the highest of courts or just back home."
Norman Chen, CEO of The Asian American Foundation, let out a scream and fist pump for every Oscar the movie picked up. Among the foundation's initiatives are scholarship and fellowship programs with the Sundance Institute. He called the impact of the wins massive.
This is going to elevate the narrative … to create more future actors, directors, screenwriters" of Asian descent, Chen said.
"The recognition is there finally. Just across society, people will be appreciating more even in education with more interest about Asian and Asian American history. It will change the mindset of Asian Americans being foreigners."
Yeoh's achievement was particularly poignant given the history of anti-Asian discrimination in Hollywood. Merle Oberon, a best actress nominee in 1935 for "The Dark Angel," hid her South Asian heritage and passed for white, according to birth records discovered after her death. In 1937, Chinese American actor Anna May Wong suffered the greatest disappointment of her life when she was rejected to play a lead role of a Chinese villager in "The Good Earth." Luise Rainer, who was white, was cast instead. She went on to earn the best actress Oscar.
The only previous Asian winners of acting Oscars have been Miyoshi Umeki ("Sayonara"), Ben Kingsley ("Ghandi"), Haing S. Ngor ("The Killing Fields") and Yuh-Jung Youn ("Minari"), according to Oscar historians. Only Kingsley's was for a leading role.
"Everything Everywhere All at Once" hopefully sends a message that those days of perceiving Asians as "meek not strong, followers not leaders" are behind us, Chen said.
"This changes that whole mindset for the community — even for our families. I bet you a lot of Asian American families will be more supportive if their kids want to be actors or directors," Chen said. "It's exciting being seen and being appreciated for who we are and where we are."
Add TheJapanNews to your Google News feed.