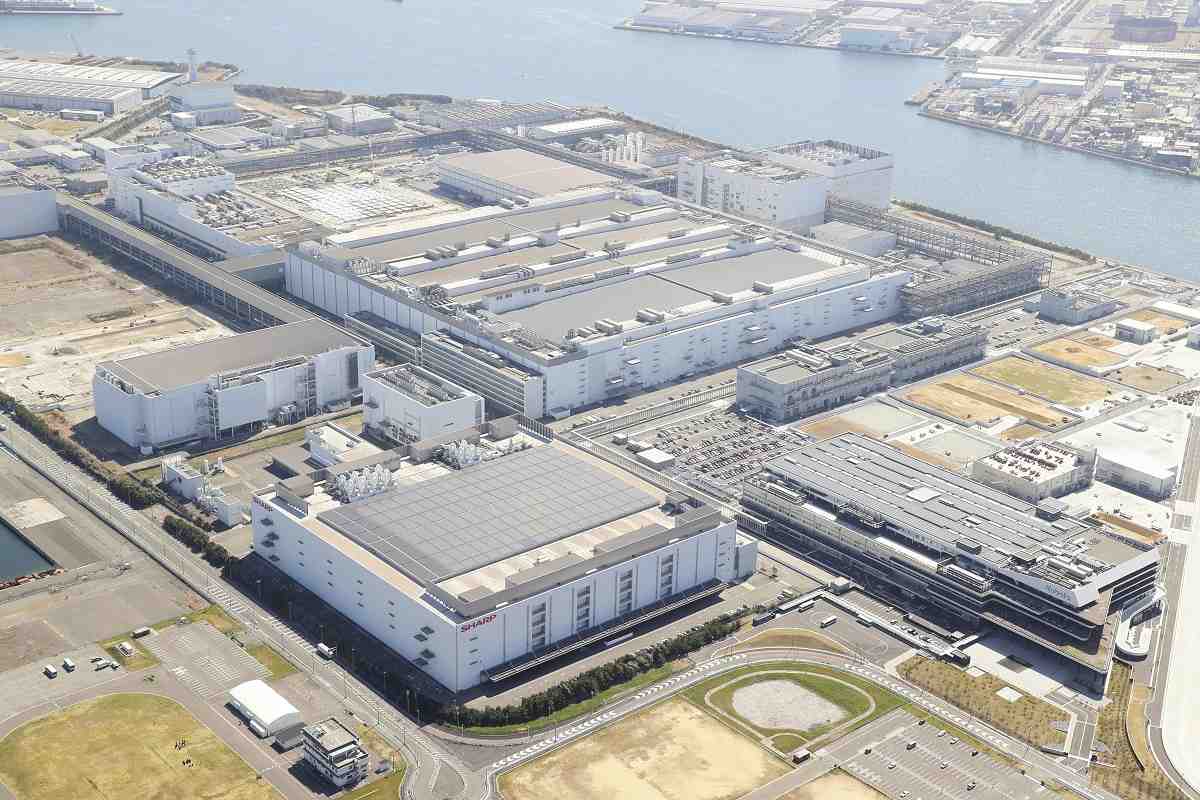 12:55 JST, July 31, 2023
Japan's display industry is in a battle for survival.
Displays — an integral component in TVs and smartphones — were once a specialty of the nation. In recent years, however, Japan's domestic industry has lagged China and South Korea in terms of market share. Compounding the issue, government-led restructuring efforts have failed to produce tangible results.
The industry is seeking to stay afloat by drawing on its technological strengths, but the road ahead looks rocky as investment capacity wanes.
Growing sense of urgency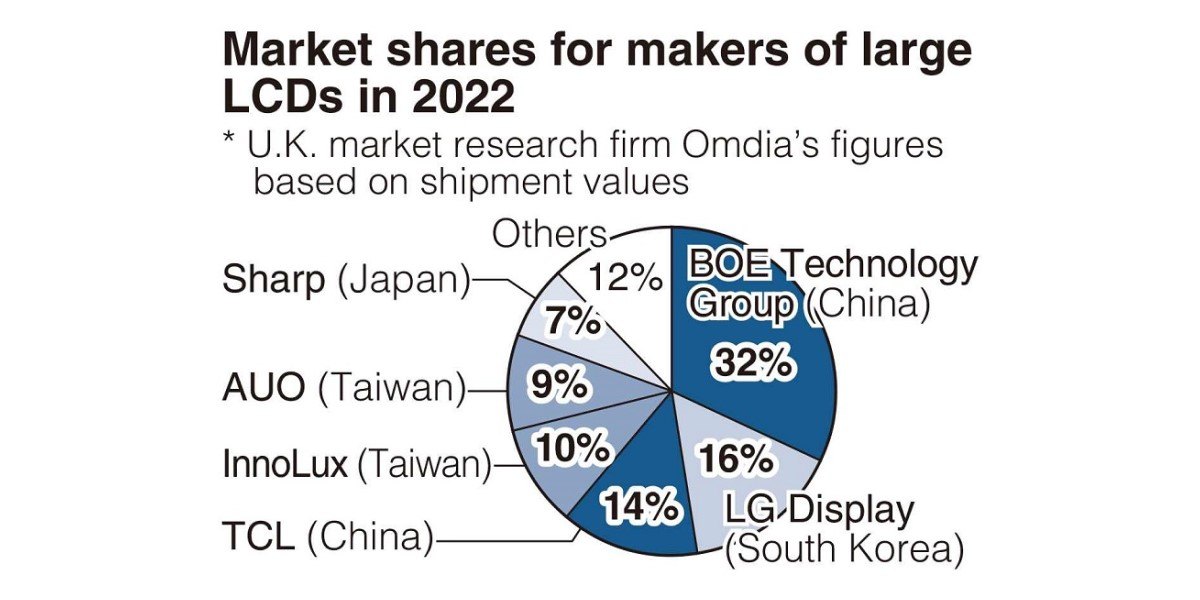 Japan Display Inc. (JDI), a major Japanese liquid crystal display maker recently acquired the research and development division of JOLED Inc., a now-bankrupt Japanese manufacturer of organic light-emitting diode (OLED) displays.
In an in-house video message delivered July 19, JDI Chairman and Chief Executive Officer Scott Callon called on 85 ex-JOLED employees to give their all at their new workplace, but his words were tinged with a sense of urgency.
JOLED was formed in 2015 following a merger of the then OLED arms of Sony Corp. and Panasonic Corp. However, following serious financial troubles, the firm filed for protection under the Civil Rehabilitation Law in March this year with debts of about ¥34 billion.
Initially, JOLED had aimed to produce high-resolution display panels using advanced technology, but mass production was delayed, causing it to lose out in a pricing war with South Korea's Samsung Electronics Co. and Chinese makers.
JDI, which bailed out part of JOLED, was formed in 2012 following the merger of the LCD operations of Hitachi Ltd., Sony and Toshiba Corp.
Both JOLED and JDI received support from a public-private fund known as INCJ Ltd., but JDI is still in a process of restructuring, following nine consecutive annual net losses, up until the end of the latest fiscal year on March 31.
At a JDI general shareholders meeting on June 24, some questioned if JOLED is really useful.
Withdrawal, selling out
Japan's display industry grew in tandem with the spread of TVs.
Sharp Corp. led the way in domestic LCD production. In the late 1990s, the firm's then President Katsuhiko Machida said the company's aim was for every TV in Japan to have a liquid crystal display. The TVs produced at Sharp's factory in Kameyama, Mie Prefecture, were hailed as "the Kameyama model of the world."
For its part, Panasonic built a large plasma-display production plant in Amagasaki, Hyogo Prefecture. The area around Osaka Bay, which became the world's main hub for panel production, was known as "Panel Bay," with Sharp and Panasonic grabbing large slices of the global market.
However, as design and manufacturing methods using standard components spread, the two companies began losing out to Samsung and government-supported Chinese firms from the 2010s onward.
As a result, Panasonic closed its Amagasaki plant and ceased production in 2013. Sharp, meanwhile, ran into severe financial troubles and was forced to become a subsidiary of Taiwan firm Hon Hai Precision Industry Co. Sharp's display business continues to perform poorly and may have to be sold off.
Overseas cooperation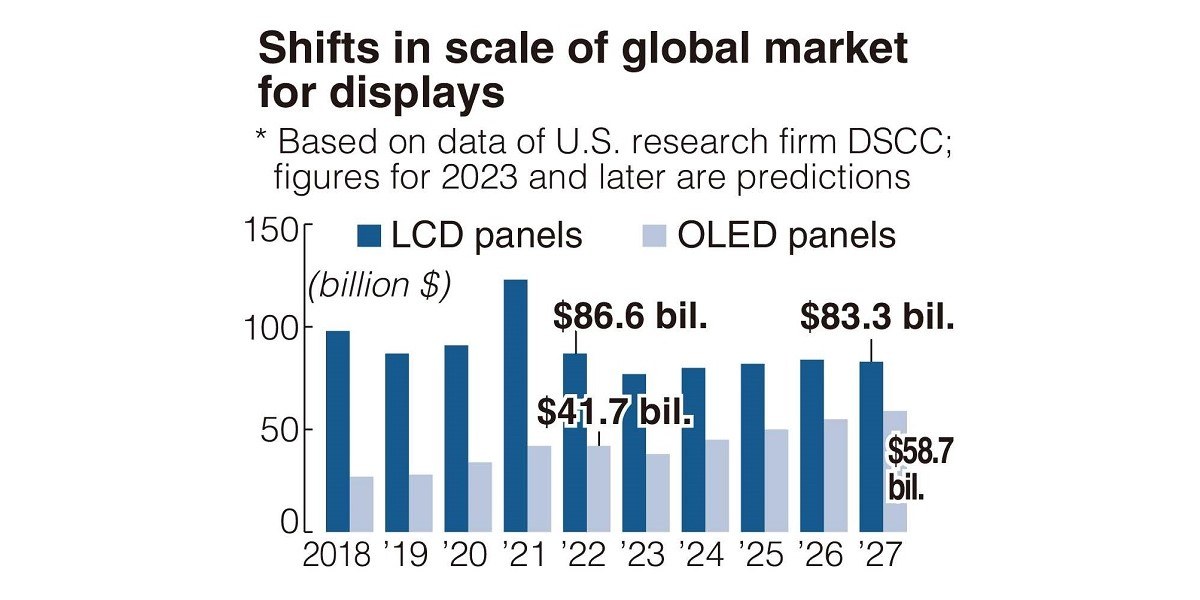 The mainstay of the display business has shifted from large TV panels to small and midsize panels for smartphones.
According to U.S. research firm DSCC, the global display market will be worth $142 billion (about ¥20 trillion) in 2027, with sales for high-definition OLEDs growing by 40% in the next five years.
Against this background, JDI has developed in-house technology to significantly increase the brightness and lifespan of OLEDs — factors that have long been seen as weak points. In April, the firm announced a partnership with HKC, a major Chinese display maker, in a bid to find ways to earn profits through technology licensing.
Sharp, meanwhile, has shifted its focus from large displays to small and midsize products, such as those for virtual reality (VR) devices.
Yoshio Tamura, president of Asia operations at DSCC, said: "Japanese manufacturers still have technological superiority, but they lack surplus investment capacity. They need to develop next-generation technologies to enter new fields such as VR, while also seeking out partnerships with overseas companies that have investment capacity."
---
Add TheJapanNews to your Google News feed.