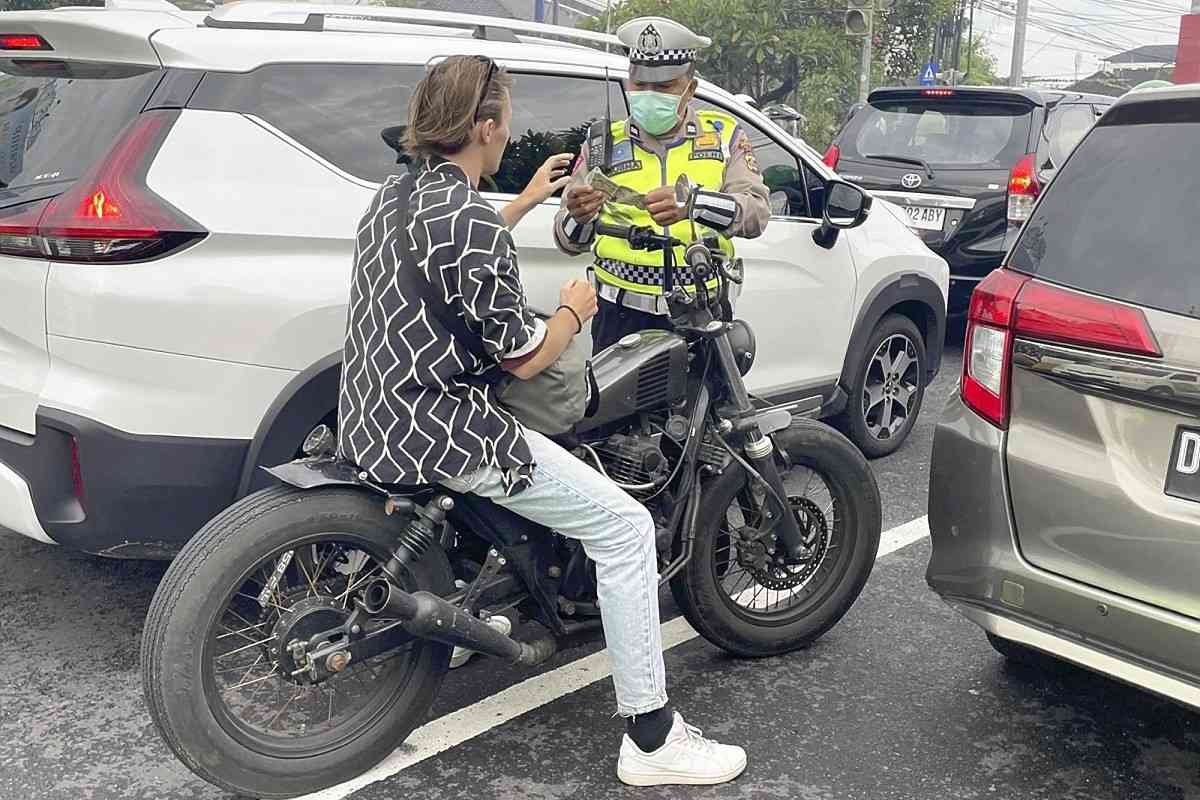 12:21 JST, April 24, 2023
BALI, Indonesia — Many Russians are traveling to Bali to avoid being mobilized amid their country's invasion of Ukraine.
A string of illegal stays and illicit employment involving Russian nationals prompted protests from locals that led the Bali provincial government to ask the central government — led by President Joko Widodo — to partially suspend the issuance of visas to Russians.
Despite Moscow's invasion, Joko's administration has maintained a certain degree of friendly relations with Russia, but it is now struggling to deal with the situation.
On April 15, a Russian man riding a motorcycle without a helmet was stopped by a police officer at an intersection in central Bali. The 33-year-old man, who had been in the country as a tourist since February, was also stopped a few days previously.
Some 58,000 Russians visited Bali in 2022. Of these, 80% entered after September, when the Kremlin ordered a partial mobilization of 300,000 reservists — it is thought that most of these people intended to avoid the call-up.
With Russian citizens prolonging their respective stays in Bali, an increasing number of problems have come to light. Many Russians have been working illegally to make ends meet while others have been overstaying their visas while living with family members.
The Indonesian government has deported 21 Russians this year, the largest number by nationality among the 82 foreigners removed from the country since January. Russians have also racked up many traffic violations, with 202 offenses in a recent one-month period.
A 30-day visa for Indonesia costs about $33; the application process is easy, and visas can be extended. The ease by which visas can be obtained is thought to be a factor in drawing so many Russians to the popular Indonesian tourist destination.
On April 14, Bali Gov. Wayan Koster told The Yomiuri Shimbun he had demanded in March that the Joko administration suspend some visas for Russians. "Strict measures are needed against those who break the rules," he said.
Ukrainians, too, are increasingly traveling to Indonesia. The governor has also called for restrictions on Ukrainians entering the country, but at a level around 10% of the number of Russians. Local residents' ire is primarily directed at the Russians.
"Illegal employment puts nothing back into the local community," said the head of a local tourism industry organization.
An executive of a local lodging and restaurant association opined, "If discipline isn't observed, our area's image as a tourist destination will be damaged and visitors will stay away," while a 51-year-old driver who ferries tourists around lamented, "If the situation goes unattended, it could cost us our jobs."
The central government has indicated to local media that it plans to discuss its response at a meeting of relevant organizations. However, Joko is believed to be unwilling to rile the Kremlin and is keen to avoid creating diplomatic problems over the issue.
The minister in charge of tourism suggested in March that the government was trying to calm the situation, saying, "There really aren't that many people causing trouble."
Add TheJapanNews to your Google News feed.