Russian ex-president's remarks heighten uncertainty over Japan's LNG procurement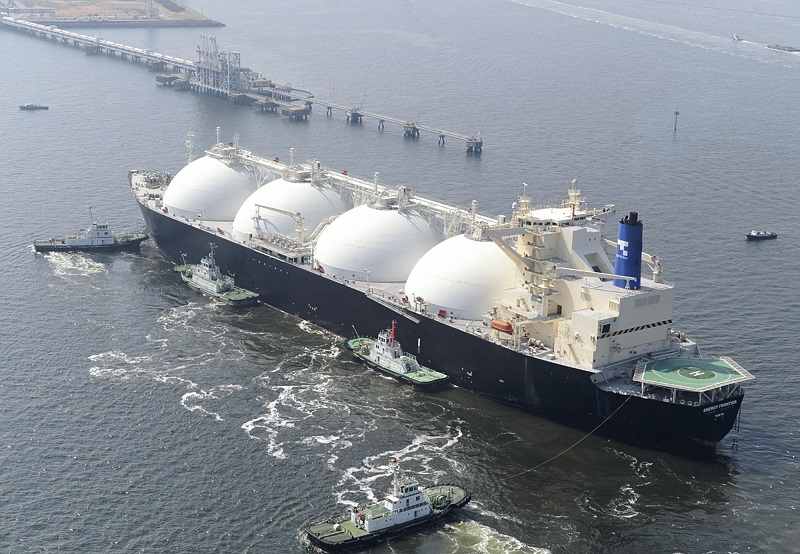 14:39 JST, July 8, 2022
Prospects for Japan's resource procurement have become even more uncertain as former Russian President Dmitry Medvedev hinted at the exclusion of Japanese companies from the Sakhalin-2 oil and natural gas project in the Russian Far East.
On July 5, Medvedev posted a message on social media saying that Japan "would have neither oil nor gas from Russia, as well as no participation in the Sakhalin-2 LNG project." The message was in response to the Group of Seven countries' consideration of new sanctions against Moscow.
The G7 countries are looking into setting a cap on the purchase price of Russian oil. Prime Minister Fumio Kishida said on July 3 that the price is expected to be about half the current level if the cap is set. Medvedev hit back, saying such a move would lead to significantly less oil on the market and push up prices.
Medvedev serves as the deputy chairman of Russia's Security Council and has increasingly made radical remarks to the outside world over the Russian invasion of Ukraine. It is likely that he intends to intimidate and upset Japan, where gasoline prices have soared and the electricity supply has been tight.
According to Russia's TASS news agency, a senior official of Russia's state-owned gas company Gazprom proposed to the Committee on Energy of the State Duma, the lower chamber of the Russian parliament, on Monday that "unfriendly countries," including Japan, be required to pay in rubles for the purchase of liquefied natural gas produced in Russia. As Japan procures LNG from Sakhalin-2, it will suffer a great impact if the proposal by Gazprom, which is the largest shareholder in the project, is approved.
In the past week, Russia has stepped up pressure on Japan. On June 30, Russian President Vladimir Putin signed a presidential decree ordering the transfer of the assets of Sakhalin-2 to a new Russian company without compensation. Within a month of the establishment of the new company, foreign companies participating in the Sakhalin-2 project must notify the Russian government whether they agree to transfer their shares in Sakhalin-2 to the new company under the terms and conditions proposed by Moscow.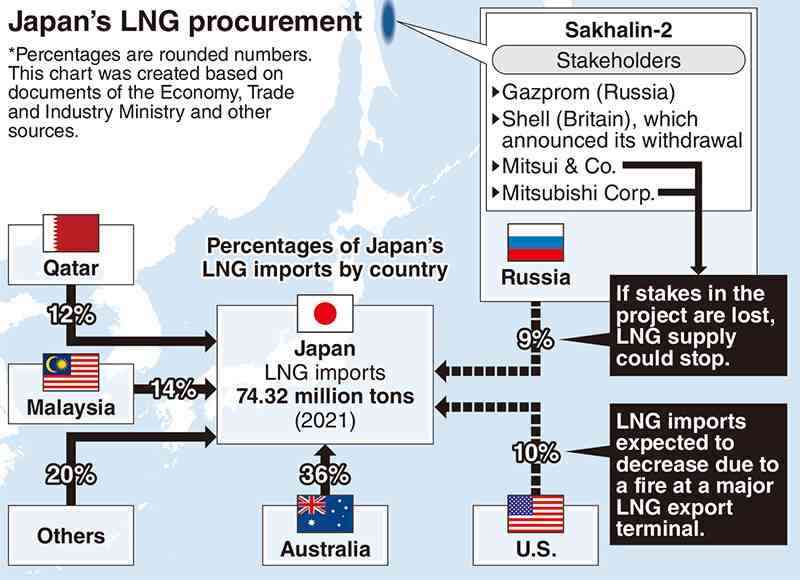 Japan's interests at stake
Mitsui & Co. and Mitsubishi Corp. have respective stakes of 12.5% and 10% in Sakhalin-2. About 9% of Japan's LNG imports are from Russia, with Sakhalin-2 accounting for most of that amount. Losing Russian LNG could disrupt electricity and gas supplies in Japan.
Japan has announced that it will ban or phase out Russian crude oil and coal imports in a concerted manner with the United States and some European countries. But at the same time, Japan has stopped short of imposing sanctions over natural gas, aiming to maintain its interests in Sakhalin-2.
However, whether those interests can be maintained has become unpredictable. Some major trading companies argue that it is necessary to maintain such interests, saying the participating companies cannot leave the project in light of the possible impact on Japan's economy and society. However, even if the Japanese side seeks to acquire a stake in the new Russian company, it is unclear whether the Russian government will allow it.
The supply destinations for LNG from Sakhalin-2 are decided by its operator Sakhalin Energy Investment Company Ltd. through negotiations with buyers. If no Japanese company invests in the new company, it is highly likely that opinions of the Japanese side will not be taken into account.
Yosuke Tsuchida, a deputy chief researcher at Mitsubishi UFJ Research and Consulting Co., described maintaining the stakes in Sakhalin-2 as "extremely difficult."
"Japan has no choice but to assert its claims to its interests and continue to put pressure [on Russia]," he said.
No alternative source
Finding an alternative for Russian LNG is no easy task. The Freeport LNG export terminal in Texas, which some energy companies once viewed as an alternative solution, is out of action due to a fire. Its operations are expected to partially resume in early October.
Without an alternative, electricity and gas companies would be forced to purchase LNG on the spot market, where gas is traded according to supply and demand. However, the spot price is 150% higher than the long-term contract price.
"Switching to the spot market to procure one tanker's worth of LNG [about 70,000 tons] would cause a ¥10 billion loss," an executive of an energy company said.
An increase in procurement costs is directly linked to higher electricity and gas bills. Utility rates have already risen by 10% to 30% from a year ago. If they continue to rise, it will squeeze household finances and have repercussions on the Japanese economy.
"[If Japan pays three times as much for LNG on the spot market as the usual purchasing method of long term contracts], Japan's import costs would increase by about ¥1 trillion a year, pushing down nominal GDP [gross domestic product] by about 0.2%," said Takahide Kiuchi, executive economist at Nomura Research Institute, Ltd.
Add TheJapanNews to your Google News feed.