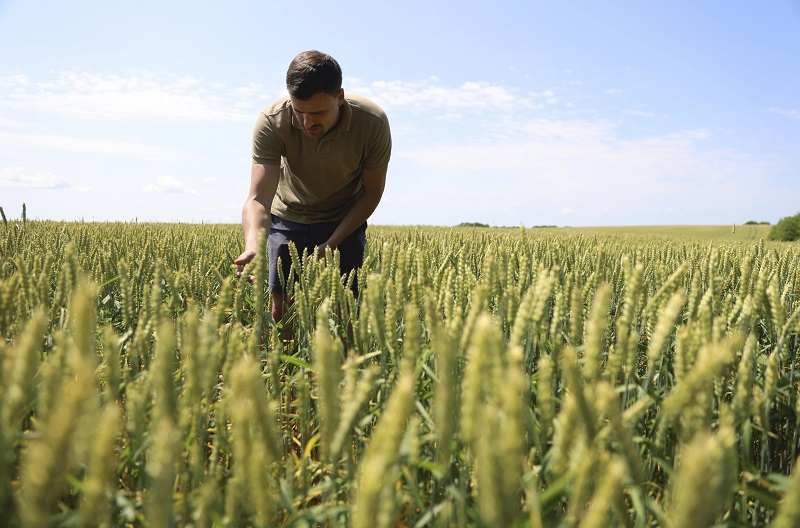 1:09 JST, July 8, 2022
HOROBIIVKA / POLKOVNYCHE, Ukraine — The Russian military's blockade of the Black Sea has prevented Ukraine from exporting wheat and soybeans, putting Ukrainian farmers in a dire situation as the domestic price of surplus grain has plummeted.
The war, if prolonged, could destroy agriculture in one of the world's largest breadbaskets.
In Horobiivka in the southern Kyiv Oblast, wheat was shining golden in abundance, ready to be harvested in three weeks. However, farmer Petro Potapenko did not look happy.
"The domestic wheat price is about one-third what it was before the war," the 33-year-old said. "Harvesting only increases the deficit, and we can't ship anything."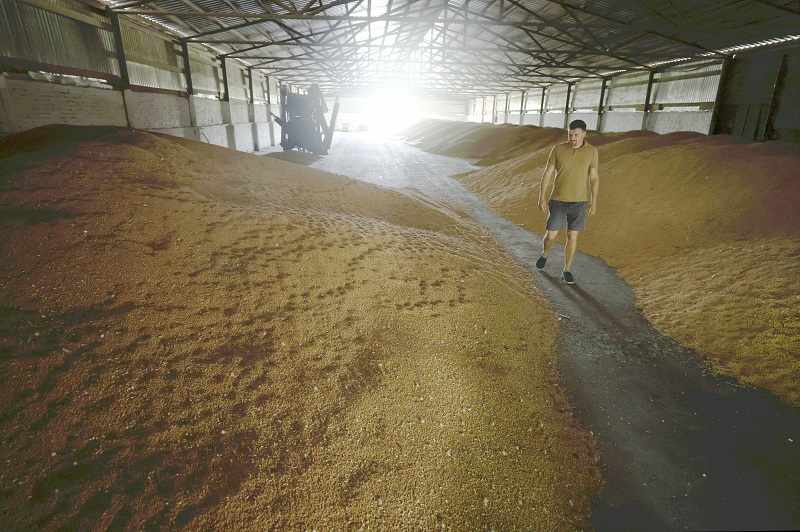 Most of his farm produce is for export. There was not enough storage space for last season's crop of wheat, soybeans and sunflower seeds as he waited for shipment.
Potapenko managed to store his crops in warehouses for farm equipment. The cost of fuel and fertilizer has ballooned, dealing a severe blow to his farm, which has 15 employees.
Due to Russia's invasion, Ukraine's crop acreage this spring decreased by 30% from the previous year. This year's crop is expected to be about 48.5 million tons, down from 86 million tons last year, a senior Ukrainian government official said.
"I'll hang on for another year," Potapenko said in his wheat field. "If the situation does not improve, many farmers will stop cultivating in autumn."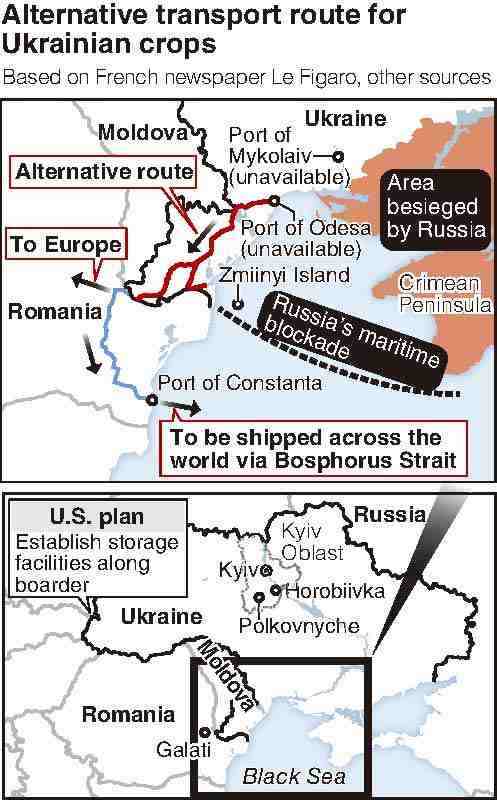 Shipping overland
In response to Russia's blockade of the Black Sea, Ukrainian farmers are instead transporting crops to neighboring countries first, and then sending them on from there. However, this involves additional cost and results in a massive amount of cargo being concentrated in a limited area.
Ukraine is seeking to resume maritime transport in cooperation with other countries, but no breakthrough is in sight.
Orlowski Vitali, 45, produces wheat for developing countries at a state-of-the-art farm funded by a German company in the rural village of Polkovnyche in southern Kyiv Oblast. Vitali is one of the farmers struggling to find ways to export his grain.
In June, he trucked grain he had harvested to a city on the border of neighboring Romania. However, the 400-kilometer round trip took more than 15 days as countless trucks lined the border area waiting for customs clearance. Stable transportation is not expected due to the high transportation costs.
"If we don't sell after harvesting, we can't prepare for next year," Vitali said.
Currently, grain exports to Africa and the Middle East are mostly restricted to routes using the Romanian port of Constanta. The border area where trucks and freight trains are concentrated is already jammed.
A grain trader said: "It takes three to four months for a shipping company to accept the order. It would take a few more weeks to actually transport it."
The rail width in Ukraine, once a part of the Soviet Union, differs from that of neighboring Romania and Poland. This means that even freight trains, which can carry more cargo than trucks, take time to transship at the border.
Efforts to solve problems related to land transportation are underway. The Romanian government has said it will build rails with the same width as those in Ukraine to the Romanian city of Galati, near the border, to avoid the hassle of transshipment.
U.S. President Joe Biden has announced a plan to build grain warehouses along the border with Poland and other countries to boost exports.
Such makeshift land routes are better than nothing, but not much help. According to the U.N. World Food Program (WFP), Ukraine exports about 1 million tons of grain per month through makeshift land routes, only about one-sixth of the level before the Russian invasion. Even if export efficiency is further raised, the monthly limit would be said to be only about 2 million tons.
An estimated 400 million people in the world depend on Ukrainian grain. The stagnant exports have caused a serious food crisis in Africa and the Middle East, but Russian President Vladimir Putin has blamed "unjust sanctions" by the United States and Europe against Russia.
The main reason for Russia's blockade of the Black Sea is to undermine Ukraine's economy by blocking exports as it continues resistance against Russia. It is also believed to be deliberately fanning the food crisis and trying to divide the international community by encouraging poor developing countries to import grains from Russia.
Add TheJapanNews to your Google News feed.