Zelenskyy Urges Unified Front by International Community Against Russia's Aggression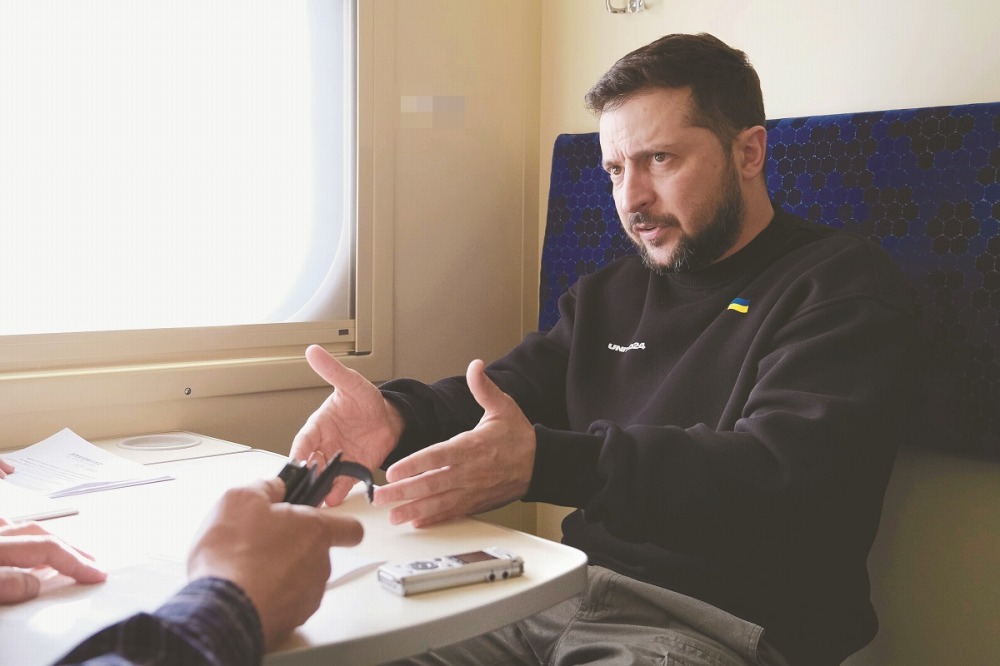 17:53 JST, March 25, 2023
KYIV — Ukrainian President Volodymyr Zelenskyy emphasized that the entire international order is under threat from the Russian aggression against his country in an exclusive interview with The Yomiuri Shimbun on Thursday. Zelenskyy's distrust of a 12-point proposal presented by China was also evident.
Appeal to global public
"It is not just about us. If we fall down, Russia will go further. There are some countries with imperialistic ambitions which can begin the same aggressive steps. That's very dangerous," Zelenskyy said, warning of the global political implications of Russia's aggression in Ukraine.
Asked what should be done to prevent such an invasion by a hegemonic military power, he replied, "Only Russia's defeat in this war."
Since February 2022, when the Russian aggression began, Zelenskyy has made efforts to gain support from the international community. In the Yomiuri interview, he said, "Help us win. It means helping yourself win." He was clear in his intention to appeal to international public opinion about the need for support for Ukraine.
He also expressed his intention to ask Japan for diplomatic support for the "Kyiv Security Compact," a new security framework that Ukraine is advocating to prevent Ukraine from being invaded again.
Tanks to be deployed soon
The fierce battle between Ukrainian and Russian forces has continued in Bakhmut, eastern Ukraine, with mounting causalities among Ukrainians.
Zelenskyy said: "We do not have ammunition. For us the situation in the East is not good. " He appealed for an acceleration of the supply of ammunition from the United States and European countries.
Tanks provided by Germany and other countries are expected to be deployed in battle from April. Zelenskyy showed his intention to deploy them to break through the Russian military defense line, saying "We need tanks for the deoccupation of Ukraine."
There is concern in the United States and European countries that providing weapons to Ukraine could lead to an escalation of fighting. However, Zelenskyy countered that notion by emphasizing, "I would like people to stop getting scared by threats of the Russian Federation." He said people should "clearly understand" that Ukraine's refusal to give up its territory posed no risk of a "third world war," allowing Ukraine to fall would pose such a risk. "The stronger we are, the less possibilities [there are] for Russia to go through Europe and thus for a third world war to [break out]."
In a strongly worded appeal for greater arms supplies, he said: "The world is paying only money and weapons. But it doesn't pay for the lives of our people."
Wary of China's proposal
Zelenskyy expressed doubt about China's 12-point proposal, which does not mention the complete withdrawal of Russian troops, or the return of all territory seized by Russia. Although China has been promoting itself as an active "mediator" for achieving peace, he poured cold water on China's stated intention.
Zelenskyy said "our sovereignty and territorial integrity" comes first, making it clear that he does not regard China's proposal as an actual peace plan.
Ukraine presented its own 10-point peace proposal last November. It includes the complete withdrawal of Russian troops from Ukraine and the restoration of the territorial integrity of Ukraine, including in southern Crimea, which Russia unilaterally annexed in 2014. Although China's 12-point plan does call for a ceasefire and peace negotiations, it is designed to accommodate the Russian government of President Vladimir Putin, which insists on recognition of areas Russia has unilaterally annexed as "Russian territory."
Zelenskyy expressed his intention to urge Chinese President Xi Jinping to cooperate with the Ukrainian peace plan, but it is likely to be difficult to persuade Xi, who also wants to avoid weakening Russia, in order to maintain it as a counterweight to the United States.
---
---
---
Add TheJapanNews to your Google News feed.