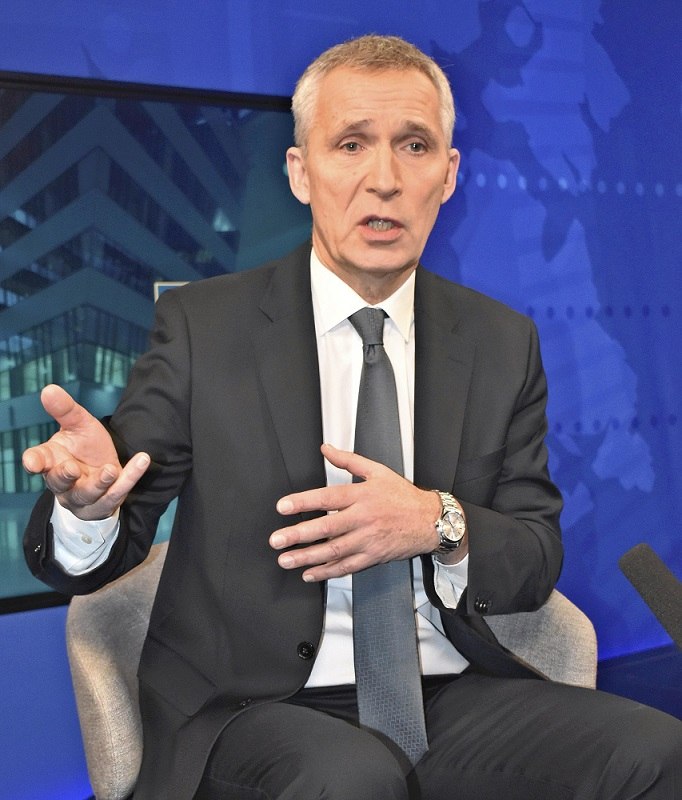 15:37 JST, January 30, 2023
BRUSSELS — NATO Secretary General Jens Stoltenberg has stressed the importance of cooperation with nations that value the rule of law amid the war in Ukraine.
"We are confident that when you [Japan] have the presidency of the G7, you will also continue to focus on the importance of economic sanctions [against Russia]," Stoltenberg said Friday during an interview with The Yomiuri Shimbun ahead of his visit to Japan on Monday.
"We see how China and Russia are operating more closely together," the former Norwegian prime minister said. "Russia is reaching out to other authoritarian powers, like Iran and North Korea."
Stoltenberg stressed his desire to strengthen the North Atlantic Treaty Organization's cooperation with partner nations such as Japan, stating, "It is even more important that we who believe in democracy, in the rule of law, in freedom, stand together."
He expressed NATO's support for Japan's Cabinet decision on three security and defense documents: the National Security Strategy, the National Defense Strategy and the Defense Buildup Program.
"I welcome the new security strategy," Stoltenberg said. "It demonstrates that Japan is a powerful partner for peace, a partner that NATO highly values, and no other partner is closer and more capable than Japan."
He added, "Deterrence is part of the strategy and deterrence is a way to preserve peace and to prevent aggression."
As for the aggression from Russia in its invasion of Ukraine since February 2022, Stoltenberg said: "We have seen no sign that [Russian President Vladimir] Putin is preparing for peace. We see the opposite: He is preparing for more war."
His remarks underscored the need for NATO, which includes the United States and most of western Europe, to continue to provide Ukraine with powerful weapons.
Putin's 'will to sacrifice soldiers'
Ukraine has been on the offensive since last summer, but the fierce fighting continues, especially in the eastern part of the country. On Jan. 25, Ukrainian forces admitted to having withdrawn from the town of Soledar, a suburb of Bakhmut, in the country's eastern region of Donetsk.
"Russia tries to compensate what they lack in quality with quantity," Stoltenberg said. "President Putin has demonstrated a will to sacrifice tens of thousands of Russian soldiers in his attempts to control Ukraine."
He said that Russia, despite being under Western sanctions, has stepped up production of ammunition and weapons. Moscow has also asked authoritarian states such as Iran and North Korea to provide "missiles and ammunition to the [Russian private military company] Wagner Group, which plays a key role in the fight against Ukraine."
Stressing that "we must not underestimate Russia," he expressed a sense of caution about Moscow's possible launch of a major offensive in the spring.
He called for the provision of heavier weapons to Ukraine to defend against such an offensive, highly appreciating the decisions by Germany to allow Leopard 2 tanks to be provided to Ukraine and the United States to send M1 Abrams tanks there.
"This is a war of aggression, a war of choice by President Putin," Stoltenberg said in reaction to Russian criticism that NATO is expanding its involvement in the war. "Ukraine has the right to self-defense."
As for the U.S. and European arms supplies, he said, "When we now see that the front lines have stabilized and that we are moving toward a grinding war of attrition, then we step up also the delivery of weapons that can help Ukraine to punch through the Russian defenses on occupied Ukrainian lands."
Russia's nuclear threat
"The likelihood of the use of nuclear weapons is still low," Stoltenberg said, "but of course the potential consequences are so big, so we need to take this threat seriously."
NATO has "communicated clearly" to Moscow that "any use of nuclear weapons would totally change the nature of the conflict," he said.
He acknowledged that it would be difficult to achieve peace negotiations at an early date.
"If Ukraine stops fighting, I think, then Ukraine will cease to exist as a sovereign, independent nation," he said.
Effective peace negotiations are "totally dependent on Ukraine's strength on the battlefield," he added. "Because that is the only way to convince President Putin that he will not win on the battlefield and that he has to sit down and negotiate with Ukraine."
Indo-Pacific region
At the NATO summit last July, the alliance "stated clearly that we want to step up our partnership, our cooperation with Japan and other partners in the Indo-Pacific region," Stoltenberg said.
"We did so because security is more and more interconnected," he added.
"China and Russia are operating more closely together, with military patrols, exercises, and supporting each other in the political and economic domain," he said.
He stressed that if Putin "wins in Ukraine," that will send the wrong message to all authoritarian leaders across the world, including Chinese President Xi Jinping.
Expressing concerns over China's "coercive behavior and Chinese intimidation" in the Indo-Pacific region, he said, "There is no justification for China's threats against Taiwan."
When he meets Prime Minister Fumio Kishida during his visit to Japan, Stoltenberg likely intends to deepen cooperation in cybersecurity measures and joint maritime exercises.
"We see many areas where we can expand our partnership with Japan, such as cyber, a truly global challenge where distance does not matter," Stoltenberg said.
NATO is also working to strengthen measures against cognitive warfare that disrupts residents during contingencies.
"Technology is a third area where I see potential for working more closely together," he said.
Add TheJapanNews to your Google News feed.