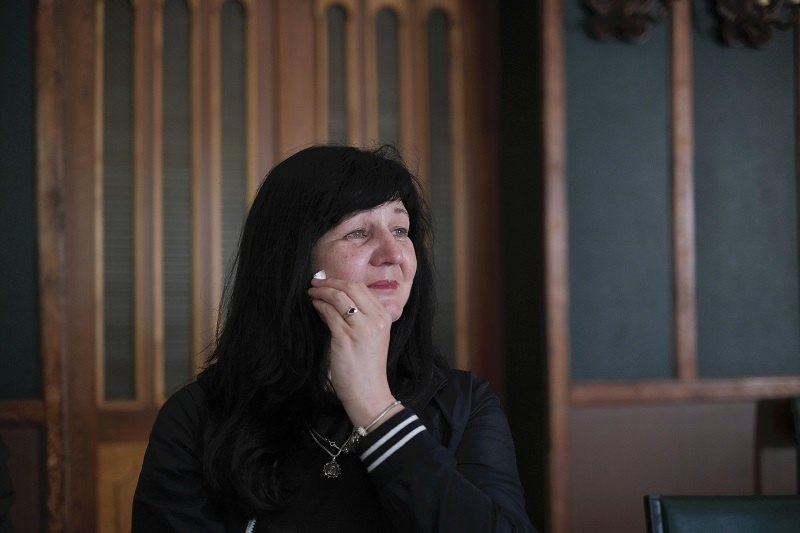 6:00 JST, June 6, 2022
BUCHA, Ukraine — The traces of blackened pools of blood in a vacant lot in Bucha, Ukraine, are a grim reminder of the horrors of the ongoing conflict. Eight lifeless bodies were found abandoned at the site in March, as Russian troops seized control of the city on their way toward Kyiv.
Details of Russian "war crimes" targeting civilians continue to emerge as witnesses and bereaved family members talk of their harrowing experiences.
The vacant lot adjoins a four-story building facing Yablonska Street, Bucha. Local resident Yulia Monastyrska saw several bodies sprawled in the lot on March 7. Some had their hands tied behind their backs, and there were signs they had been tortured. "Why are these innocent people being killed," Monastyrska, 29, said.
Andriy Verbovy was among the dead. The 55-year-old had joined a territorial defense force primarily comprising civilians on Feb. 26., two days after the Russian invasion. His last words to his family came just hours before he was detained on March 4: "I love you," he said during a hushed phone call.
On May 29, Verbovy's wife, Natalia Verbova, visited the vacant lot with her oldest son, Roman, 23. The red roses that Natalia had laid a few days earlier, were still at the site. Natalia, 50, said Andriy always gave her red roses on their anniversary. Now, she felt like she just wanted him to come home, she said.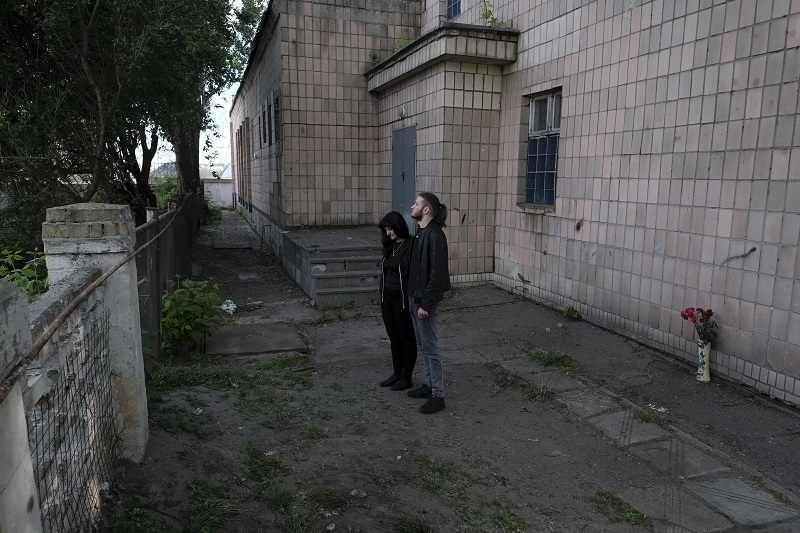 The Russian military had initially intended to take control of Kyiv, and temporarily seized Bucha and other suburban areas around March 3. Prior to his final message, there had been no contact from Andriy since March 4.
As part of his duties, he had been stationed at a checkpoint on Yablonska Street. Natalia searched for her husband, but was unable to turn up any clues. "It was a painful time because I didn't know what was going on," she recalled.
On April 1, shortly after Russian troops withdrew from the outskirts of Kyiv, she saw an image of eight people lying near Yablonska Street on a social media site that posted pictures of unidentified bodies.
Her eye was drawn to a figure wearing red T-shirt and jeans; the person's hands were tied and they were lying face-down. Natalia did not want to believe it was her husband, but she burst into tears.
Terrible injuries
More than 400 civilian bodies have been found in Bucha since the Russian military withdrew, but it has taken time to confirm their identities. Roman volunteered to confirm his father's identity after the prosecutor who examined the bodies told him, "You should do it, as it would be too shocking for your mother."
When Roman visited the prosecutor's office on April 11, he saw that his father's fingers and toes had injuries consistent with having been beaten with a blunt instrument. Additionally, both his knees had gunshot wounds.
No fatal injuries were found on his body and it is possible that Andriy had bled to death, Roman said.
"I felt like my heart was being torn apart, contrasting the happy days I'd spent with my father and the reality that lay before me," he said.
Andriy had been skilled with his hands and would assemble everything himself, from furniture to car engines.
"I'll never meet someone like my husband again," Natalia said. "Only people who've been in the same situation can understand how it feels to lose a loved one."
Message for the world
Learning that her husband may have been tortured further deepened Natalia's pain. "Whoever did that wasn't human," she said. "Wasn't it enough for the Russian soldiers to simply kill people?"
The eyes of one of the eight dead people had been gouged out.
The New York Times reported that security camera footage showed around 10 people being taken toward the grounds of a four-story building on March 4. Andriy was among them. Valeriy Kotenko, 53, was also in the group. Kotenko had allowed Andriy and others from the checkpoint to hide in his home.
"The people who died were wonderful people, Natalia said. "I want people to know that the Russians killed them. Please don't forget what happened here."
Add TheJapanNews to your Google News feed.