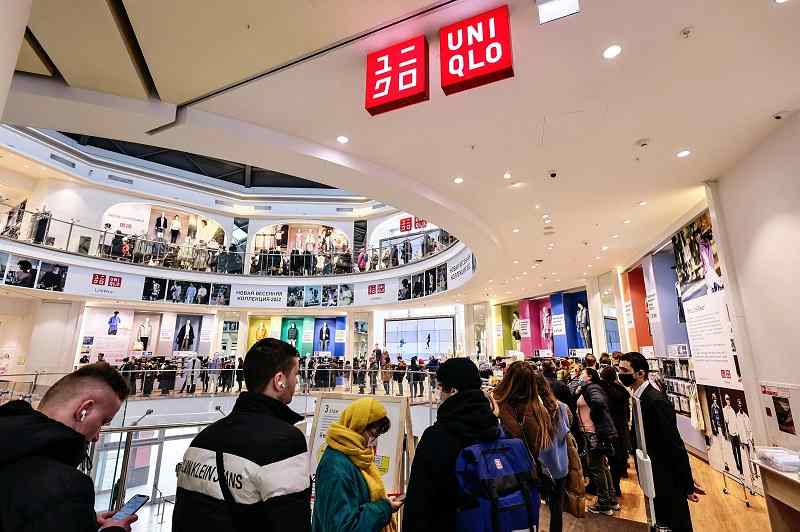 16:57 JST, March 12, 2022
LONDON — Two weeks have passed since the start of Russia's invasion of Ukraine, and the severe economic sanctions imposed by the United States, European countries and Japan are starting to bite.
Although Russia has the upper hand militarily against Ukraine, the pain felt by the Russian public could spark discontent within the country.
Russian President Vladimir Putin held talks with Belarusian President Alexander Lukashenko in Moscow on Friday, according to the Presidential Executive Office of Russia and other sources. Putin reportedly said the situation was generally progressing positively despite problems stemming from sanctions and other issues.
However, unrest is undoubtedly spreading in Russian society.
According to British public broadcaster BBC and other media, banks in Moscow have been crowded with people scrambling to withdraw U.S. dollars, euros and other foreign currencies.
The rush to withdraw deposits has been accelerating since Wednesday when the Russian central bank imposed a $10,000 limit on foreign cash withdrawals.
The ruble, which was worth about 80 rubles to the dollar before Russia invaded Ukraine fell to about 135 rubles to the dollar on Monday.
Russian banks have been banned from exchanging rubles for foreign currency.
Some Russian economic experts are pessimistically predicting that by the end of this year, Russia will be in a situation similar to that of the early 1990s when the country was in turmoil after the collapse of the Soviet Union.
In the week starting Feb. 26, the price of television sets rose by about 15% and the price of tomatoes increased by about 7%, according to consumer price indices released by the Federal State Statistics Service of Russia on Wednesday.
Major supermarkets have capped purchases of products such as chicken to prevent bulk buying. Hardships in the lives of the Russian public are likely to continue for some time.
The military invasion of Ukraine looks like it is developing into a protracted conflict and even young Russian conflicts are being sent to fight.
A woman in Moscow made her two sons fly to Egypt, shortly after the invasion began. Aged 19 and 30, the men have since traveled from Egypt to Georgia.
"I was worried they would be drafted and sent to the front lines. I won't have them to return to Russia until the war ends," she said.
When the invasion began, Putin and the Russian Defense Ministry claimed that only professional soldiers were participating in military operations in Ukraine. But the Defense Ministry recently acknowledged that young conscripts have been engaged in operations.
Aeroflot and other major Russian airlines suspended international flights on Tuesday. Air travel out of Russia is currently limited to Turkey and Armenia. "The suspension of international flight services is to prevent people from escaping military service. Eventually, it will be impossible to leave the country," read a social media post.
The Russian government has blocked access to social media platforms including Facebook and Twitter, intensifying its already strict control of information and sparking fears that access to the internet will be shut down completely in the days ahead.