Road to Decarbonization / EU fashioning new carbon tax rules to protect domestic companies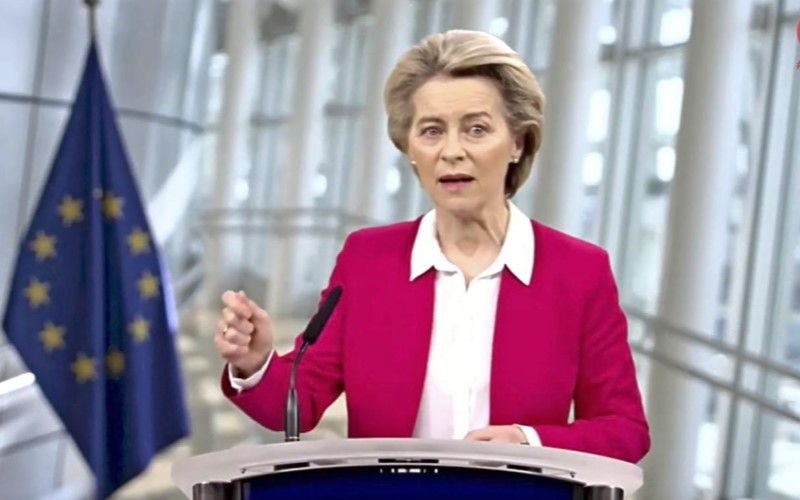 11:57 JST, April 19, 2021
"We stand ready for global leadership on climate change with our partners," Ursula von der Leyen, the president of the European Commission, which is the EU's executive arm, emphasized at a virtual event held on March 16 in Berlin by the German Foreign Ministry and others.
The European Union is creating new rules, known as a carbon border adjustment mechanism, which it aims to implement by 2023.
European countries impose taxes on companies according to the amount of carbon they emit, with tax rates varying from country to country. Under the new mechanism, tariffs will be levied on goods imported to the EU if they were manufactured in countries with low carbon tax rates.
This mechanism is intended to fill gaps in carbon cost differentials, so that EU countries with high carbon tax rates such as Sweden will not be in a disadvantageous position. For companies outside the EU, this measure will lead to a sales price increase.
Europe faces a shallow sea suitable for wind power generation and has stable westerlies. Within the EU, there are interconnector networks to send electricity. Even if the amount of energy from renewable sources drops due to bad weather or other reasons, EU countries can receive electricity from other countries like France, where more than half of electricity comes from nuclear energy, which does not emit carbon dioxide.
EU companies using such decarbonized power sources will not be at a disadvantage in competition even if rules like the carbon border adjustment mechanism become widespread around the world.
The administration of U.S. President Joe Biden is also positive about such systems. An analyst said the administration believes it will be easy to obtain the understanding of labor unions, which are a base of support for Biden's administration, if such mechanisms work in favor of U.S. companies.
Rules favoring domestic companies might contradict the concept of free trade. Discussions are likely to take place shortly at the World Trade Organization. A senior official at a Japanese economy-related agency said, "We should gain a solid footing so that Japan will not be left behind in the global trend."
Japan fears economic impact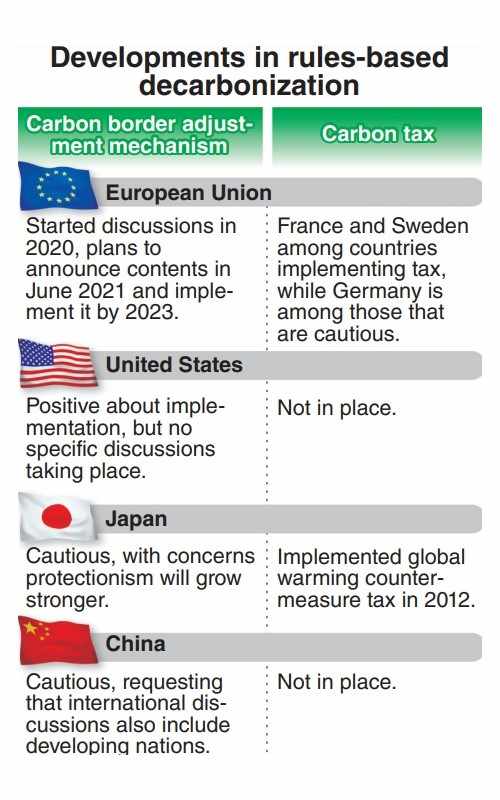 The EU is also trying to regulate economic activities in the region. This is called the EU taxonomy, under which the EU regards as "unqualified" companies that are not cutting greenhouse gas emissions enough or are continuing to produce products with less energy-saving performance. Such companies might become unable to keep operating within the EU.
The EU aims to implement the measure in 2022 and plans to release the final draft of the plan later this month.
However, EU countries are not monolithic.
On March 19, seven EU countries including France and eastern European countries sent a document to the European Commission, asking that nuclear energy qualify for the taxonomy. They said all zero- or low-emission technologies should be treated equally.
The EU set a goal of reducing greenhouse gas emissions to net zero by 2050. Since countries such as Poland and the Czech Republic in eastern Europe are highly dependent on fossil fuels, including coal-fired thermal power generation, they plan to build new nuclear power plants to change their energy mix. They are concerned that unless the EU endorses nuclear power as a sustainable energy source, it might be difficult for their domestic companies to raise necessary funds from investors and others.
On the other hand, Germany and Austria are negative about constructing new nuclear power plants, considering nuclear waste disposal costs and other issues. New rules for decarbonization could deepen the gap among EU states.
In Japan, discussions on how to promote decarbonization have just begun.
The Environment Ministry is willing to introduce and expand the carbon tax. The ministry is drawing up a plan to use revenues from taxes levied on emitted CO2 to encourage businesses to facilitate technological innovations for decarbonization. The ministry also believes that, if the EU's carbon border adjustment mechanism is implemented in the future, Japan will be able to actively explain its decarbonization measures to the rest of the world.
However, many businesses and others are cautious about the idea because decarbonization technologies have not been established and such measures will directly affect companies emitting large amounts of CO2, such as steel companies.
"It would become difficult to maintain ironworks within the country. If they are shut down, regional employment and economies will be seriously affected," a senior official at a large steelmaker said.
A compromise must be found to promote climate change countermeasures while minimizing economic damage.
Add TheJapanNews to your Google News feed.