Chinese N-plants Releasing Water Containing Tritium at Levels 6.5 Times Higher than Planned Fukushima Discharge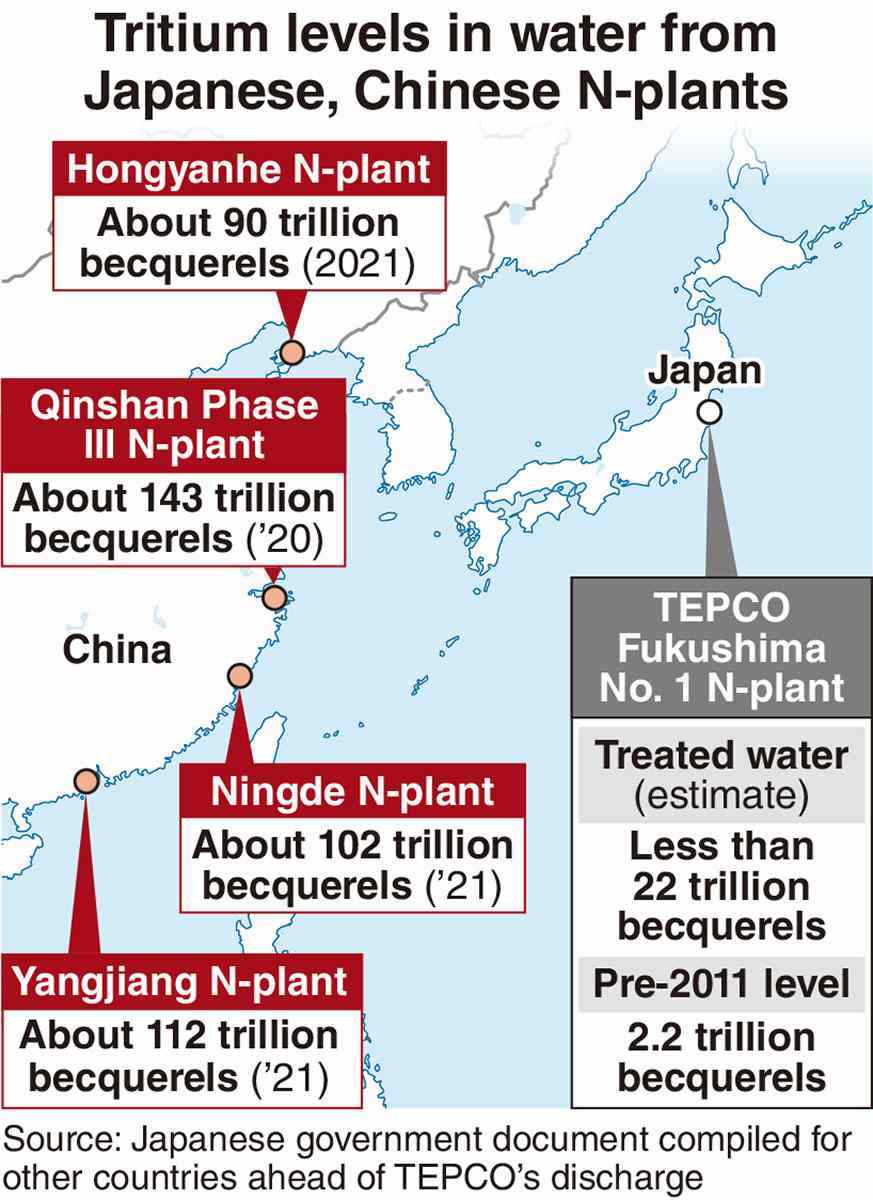 17:10 JST, June 23, 2023
Chinese nuclear power plants have been releasing into the ocean water containing tritium at levels up to 6.5 times higher than the annual amount scheduled to be released from Tokyo Electric Power Company Holdings, Inc.'s Fukushima No. 1 nuclear power plant, according to a document the Japanese government compiled for other countries ahead of TEPCO's discharge.
TEPCO plans to start discharging treated water as early as this summer.
Beijing has strongly opposed the plan, waging a campaign via state media, even though some Chinese nuclear power plants are discharging levels of tritium higher than the amount TEPCO plans to release.
Data in the Japanese government document is based on annual statistics on China's nuclear energy sector and reports from plant operators.
According to the document, water containing about 143 trillion becquerels of tritium was released from Qinshan III Nuclear Power Plant in Zhejiang Province in 2020. In 2021, water containing about 112 trillion becquerels was released from the Yangjiang Nuclear Power Station in Guangdong Province, 102 trillion becquerels from the Ningde Nuclear Power Plant in Fujian Province and 90 trillion becquerels from the Hongyanhe Nuclear Power Plant in Liaoning Province.
TEPCO plans to cap the annual level of tritium released from the Fukushima plant at 22 trillion becquerels. Tritium levels in the sea after the release will be far lower than standards set by the World Health Organization and other organizations, according to TEPCO.
Regarding the Fukushima discharge, a Chinese Foreign Ministry spokesman accused Tokyo of unilaterally trying to steamroll forward with the plan.
Chinese state media regularly condemn the planned release. Chinese Communist Party organ, People's Daily, quoted an official saying, "Japan's plan is not the country's private matter, but a major issue that has an effect on the global marine environment and public health."
However, a Japanese government official said Beijing does not have agreements with neighboring countries on the release of tritium from Chinese nuclear power plants, nor has it provided any explanations about the matter.
---
---
Add TheJapanNews to your Google News feed.